AMD: Radeon Inside New Apple iMac 5K Retina 2015 Computers – Seeking Alpha
Summary
AMD's discreet Radeon R9 GPUs were chosen by Apple to power its latest 5K Retina iMac computers.
The iMac is a pricey and very hard to repair all-in-one computer that is popular among Apple fans and creative professionals.
Apple also replaced the discreet Nvidia GPU of the MacBook Pro with a Radeon GPU earlier this year.
Every design win for Radeon GPUs is important toward AMD's survival.
Advanced Micro Devices (NASDAQ:AMD) got an important design inside Apple's (NASDAQ:AAPL) new gorgeous Retina 5K iMacs. Apple decided to go all-Radeon for its 2015 refresh of its very popular high-end iMac all-in-one desktop computer product. A glowing review of the 27-inch iMac 5K Retina product revealed it uses the Radeon R9 M290 and R9 M390 GPUs.
The base model uses the R9 290, while the more expensive version of the 2015 Apple iMac 5K Retina is equipped with a 2GB R9 M390. As per the Alphr review article, it is also possible for gamers and 4K Ultra-HD video editors to upgrade the GPU to the Radeon M295X.
(click to enlarge)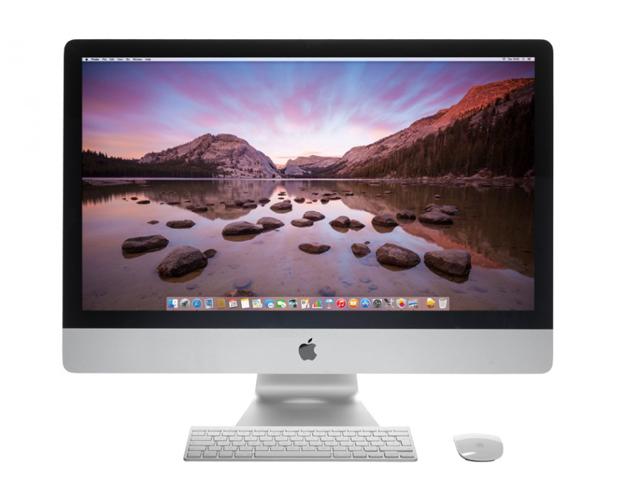 (Source: Apple)
The design win from Apple should inspire to AMD investors to not lose hope. The discriminating taste of Apple found the Radeon R9 to be satisfactory in performance and energy efficiency. The all-in-one design of the iMac required it to use notebook GPUs, and Apple opted for the Radeon instead of the GeForce products of Nvidia (NASDAQ:NVDA).
Why It Matters
The 2013 versions of the iMac used to have Nvidia GeForce GT 755M/GT 750M discreet video accelerator cards. Apple's act of replacing them with Radeon GPUs this year is a major endorsement for AMD's GPU products.
The defection to Radeon from GeForce is something I cannot explain easily. While Windows desktop PCs of the $1,000+ price range are guaranteed decent gaming machines, the iMac is not made for serious gaming.
It appeals mostly to home/office users and creative professionals who cannot afford the more expensive Mac Pro workstation.
The upgrade to 5K and 4K display resolution for the 21-inch and 27-inch iMac 2015 is obviously geared toward servicing the need of video editors and Photoshop professionals. Adobe's (NASDAQ:ADBE) Premiere and After Effects CC video editing/compositing software products are optimized to take full advantage of Radeon's GPU acceleration for faster performance.
Adobe's custom Mercury Playback Engine for enhanced video editing supports Radeon GPUs since 2011 via the OpenCL standard. Nvidia uses its own CUDA proprietary technology for GPU acceleration, while AMD Radeon went for the open-source implementation of the OpenCL standard.
Apple also apparently liked that Radeon GPU products already support 4K and 5K Ultra-HD video editing. It goes well with the 4K/5K Retina displays of the new iMacs. The company previously replaced Nvidia GeForce cards with Radeon GPUs earlier this year in its 2015 refresh of the MacBook Pro. AMD also got another design win last year by providing the dual-GPU Radeons inside the Mac Pro 2014.
Another small – but still important – thing about Apple choosing a Radeon for its new iMacs is that it has again made them extremely difficult to repair or upgrade. Should a 2015 iMac buyer find his item defective when it is still under vendor warranty, Apple will have to give him a replacement unit.
It's a win-win situation for AMD – replacement iMac units could mean more discreet GPU orders from Apple. The contract assemblers for the new iMacs apparently trusted every component to work well for a long time so that they made the new iMac almost impossible to open for repair/upgrade purposes.
The lack of upgrade options post-purchase could also compel creative professionals to immediately go for the higher-end iMac $1,999 or $2,299 iMac models. The more expensive versions come with more expensive Radeon GPUs too.
My Takeaway
The Radeon GPU deal with Apple might be another reasonable reason for AMD investors to hold on to their shares. Yes, this company appears to be a sinking ship, but the recent $320 million cash infusion from Nantong Fujitsu Microelectronics gives the company some lifeline. AMD is not going to die anytime soon.
Apple's infatuation with discreet Radeon GPUs run contrary to the ever-increasing popularity of Nvidia GPUs among WinTel PC vendors. Every design win for Radeon is very important for AMD's future. This is especially true right now that Nvidia not touts more than 80% market share in discreet GPUs.
(click to enlarge)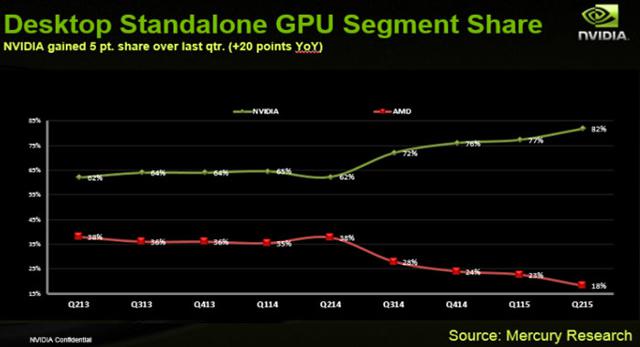 Radeon GPUs must offer something very unique that compelled Apple to reject Nvidia's products. I am not privy to the details of the negotiations that made AMD suddenly become the new de facto discreet GPU supplier for new MacBooks and Mac computers. I can only surmise that an alliance with Apple is good for AMD's stability. Mac OS X computers are increasingly getting more popular in spite of the continuing decline in quarterly global PC sales.
As per Gartner's chart below, Apple and Dell were allegedly the only major PC vendors that saw positive Y-o-Y growth last Q3 2015.
(click to enlarge)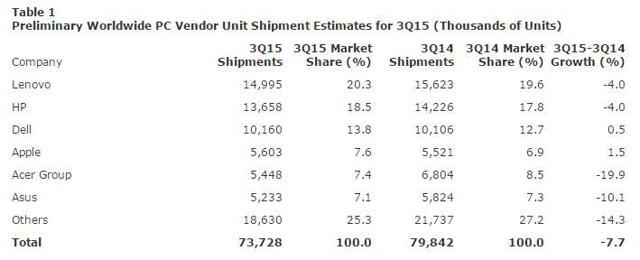 The all-important U.S. market is also posting positive sales growth for PC vendors again. AMD's Radeon GPU division has obvious economic benefits from the fact that Apple is now the third-largest vendor of desktop/laptop computers in America.
CommentsWrite a Reply or Comment: