Dubai International Airport and its flag carrier Emirates began implementing a ban on laptops and tablets on direct flights to the US, on one of the busiest travel weekends of the year.
Around 1.1 million people are expected to pass through the world's busiest international airport as the city marks UAE spring break, Dubai Airports said.
An estimated 260,000 travellers were expected to pass through each day from Friday through Monday. Dubai International Airport expects 89 million passengers this year.
The United States announced a ban on all electronics larger than a standard smartphone on board direct flights out of eight countries across the middle East.
The ban means that all bigger gadgets, including Kindles and other e-readers, will have to go in the luggage holds of aircraft.
US officials would not specify how long the ban will last, but Emirates told AFP that it had been instructed to enforce it until at least 14 October.
The ban also covers all electronics sold at Dubai Duty Free, Dubai Airports CEO Paul Griffiths told local radio earlier this week.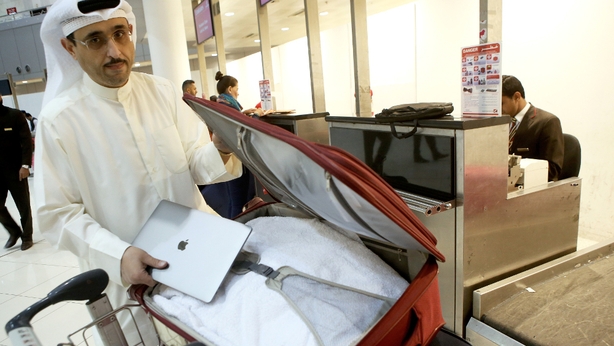 Government-owned Emirates operates 18 flights daily to the United States out of Dubai.
Adding to the complication today, a number of flights out of Dubai and Abu Dhabi airports were delayed due to thunderstorms, including an Emirates flight to Houston.
Passengers using ten airports across the Middle East and North Africa are subject to the ban, including Istanbul's Ataturk International Airport and Qatar's Hamad International Airport.
Britain has also announced a parallel ban, effective today, targeting all flights out of Egypt, Turkey, Jordan, Saudi Arabia, Tunisia and Lebanon.
Low-cost airline easyJet said it introduced the new regime on its flights from Turkey and Egypt to the UK on Wednesday.
British Transport Secretary Chris Grayling told MPs in the Commons that the UK faces a "constantly evolving threat from terrorism and must respond accordingly".
However, Matthew Finn, managing director of aviation security consultancy firm Augmentiq, questioned why the rules only apply to some flights.
He said: "If there is indeed reliable intelligence of a credible threat that an improvised explosive device can be concealed within a consumer electronic device, then the question has to be how do we mitigate that risk for all aircraft leaving all destinations right across the board?"
The ban will theoretically stop a terrorist on an affected flight from physically triggering a bomb concealed in a laptop and would ensure any explosion takes place in the hold, away from other passengers.
Mr Finn suggested the regulations were not properly considered before being announced.
"Just banning a laptop from the cabin makes little sense if it's still available in the hold and could be detonated remotely using any manner of triggering device," he said.
The bans have come under criticism for targeting majority-Muslim countries. The US ban in particular has raised eyebrows for covering airports from which US airlines do not operate direct flights.
The United States and Britain have cited intelligence indicating passenger jets could be targeted with explosives planted in such devices.