Best Laptops: Holiday 2015 – AnandTech
I think 2015 has been a great year for notebooks. Back at CES in January, we got our first look at the first devices using Intel's 5th generation Core-U, which is the 15-28 Watt range. Broadwell brought some huge gains in battery life with the move to 14nm, and then later in the year Intel launched Skylake, which brought about more performance and improvements to battery life again. Despite the PC industry going through some changes, there have been some amazing devices launched this year. In addition, Microsoft released Windows 10, which really has melded the two experiences of Windows 7 and Windows 8 into a more seamless user interface which offers the traditional mouse and keyboard desktop of Windows 7 with the touch controls of Windows 8.
There are far too many devices launched for us to see them all, so this guide will mostly focus on devices we've seen or used, with a couple of exceptions. Since there are far too many notebooks to fit them all into a single guide, this will be broken into three parts, with traditional notebooks coming first in this guide, and it will be followed by gaming notebooks, and convertibles.
Budget Laptops: What can you get for $500 or less?
Everyone has a budget, but when we dig into the lowest cost devices, there is a lot left on the tablet in search of finding that lower price bracket. This is the realm of the Chromebook, which took the idea of a netbook, and put a low resource operating system on it. Microsoft has adjusted their licensing to offer no-cost Windows licensing on certain devices in an effort to compete with the free licensing Google has offered for Chrome OS. With just a $500 ceiling in this category, I chose to focus on a couple of points. I'm looking at flash storage, even if it is eMMC, as the default option here. If this is going to be your main PC and you don't want to leverage the cloud, these might not be the ideal devices with a limited amount of storage. Just because you don't want to spend a lot of money, you shouldn't have to fight with poor battery life or a sub-par keyboard and trackpad experience either.
HP Stream 11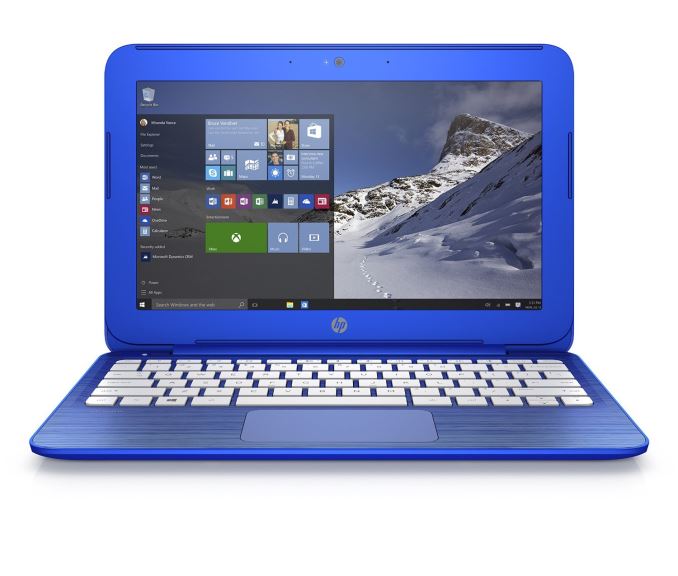 Last year, I took a look at the HP Stream 11, which at just $199 is one of the lowest cost Windows PCs around. HP has refreshed it for 2015, moving from the Bay Trail-M SoC to the latest 14nm Braswell line. The refreshed model is now the Celeron N3050, which is a dual-core Airmont processor. It has a 6-Watt TDP, which means that the system is still fanless, but performance should be improved over the original Stream 11. Pretty much the rest of this 2.6 lb device remains unchanged, including the 1366×768 TN display. When you go budget, the first thing you lose is IPS on a notebook, even though low cost tablets can still fit them in. It's a real shame, since an IPS offering on the Stream would really set it apart. There is 2 GB of memory, and 32 GB of eMMC storage. After owning a Stream 11 for a year, the storage is certainly not ideal, but Windows 10 has made some changes to be more efficient with storage on devices with small amounts of eMMC, and with the latest update that came out last week, you can now set it to install apps to the SD card if you do need to expand it. The other big changes for 2015 is that the Stream 11 is now offered in two new colors, with Cobalt Blue and Violet Purple now being the two choices. Despite the poor display, the HP Stream 11 offers a decent keyboard, and battery life has been very good even one year on.
Dell Chromebook 13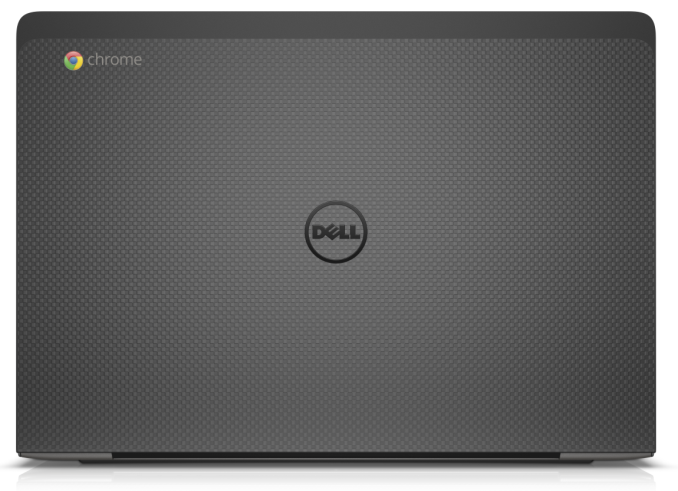 You can certainly find Chomebooks that cost less than the Dell Chromebook 13, but not too many offer as nice of a package as the Dell. I've not used the Dell model, but you can see that the styling plays homage to the XPS 13 with the carbon fibre weave. Dell has also outfitted it with an IPS 13.3-inch 1920×1080 display. Powering the Chomebook 13 is the Celeron 3250U, which is a 1.5 GHz processor based on Broadwell Core rather than Atom, so the performance is pretty good. It's a full 15-Watt processor too, and if you want to spend a bit more than $500, Dell offers other processor choices as well with i3 models available. This is expensive for a Chromebook, but the build quality is a step up from the netbook style devices that populate the lower end of the price spectrum.
Ultrabooks: Thin, light, and powerful
It's a big jump from the budget section to Ultrabooks, which are generally well worth it if there is enough room in the budget. Ultrabooks are by definition thin and light PCs, but with enough extras to justify the price increase. Pretty much all Ultrabooks these days come standard with IPS displays, which offer much better viewing angles, contrast, and color than traditional TN panels found on less expensive devices. Battery life has also made some big jumps in the last couple of years, with 2015 being the year of battery life in the Windows laptop world. Ultrabooks also tend to come equipped with solid state drives, which offer much greater performance than the larger, but slower hard disk drives found in most laptops under $700. Back in September, Intel officially launched their 6th generation mobile Core processors. This will be a staple of the Ultrabook segment, which relies on the U series, which are 15 Watts, and the Y series, which is 4.5 Watts and branded as Core m.
Dell XPS 13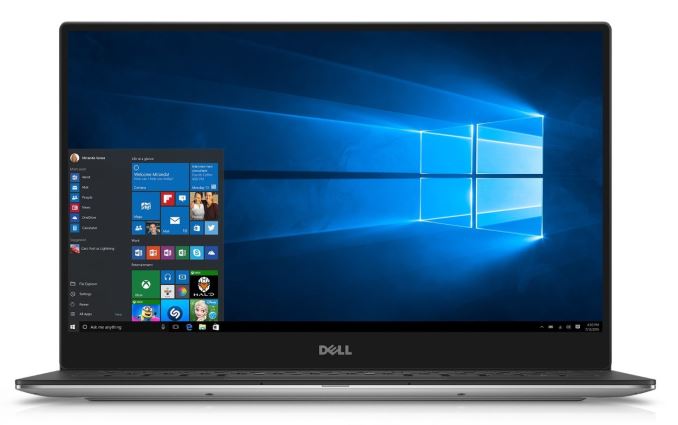 When I first saw the Dell XPS 13 at CES in January, I had a feeling it might be the laptop to beat this year, and then we got a chance to review it in February. Simply put, the XPS 13 is easily the first laptop I would recommend to anyone. The design is beautiful, with the almost bezel-less infinity display meaning Dell can offer a 13.3-inch laptop in a much smaller form factor. It's light weight too, at just 2.7 lbs (1.2 kg) for the non-touch model. We reviewed the Broadwell version, and the refresh for Skylake is mostly a processor change. It's now powered by 15-Watt Skylake processors, with ranges from the i3-6100U up to the Core i7-6500U. Storage is all SSD, with the 256 GB and higher being PCIe drives. The display options are a matte non-touch 1920×1080 offering, and a 3200×1800 IGZO panel. The high resolution version is simply stunning to look at, but you do sacrifice battery life to drive the higher resolution display, with the XPS 13 FHD model setting a record for battery life on our light test at 921 minutes, but the QHD+ model losing around six hours of battery life to the lower resolution model. The upgraded panel also comes at a price premium. The base Core i3/4GB/128GB XPS 13 starts at just $799, and for $999 you can get a Core i5-6200U and 8 GB of memory, with a 256 GB option being another $100. The lowest price on the touch model with the high resolution display is $1399, which also includes 256 GB of storage, meaning you pay a $300 premium to get the high resolution panel. That's a big jump, and with the loss of battery life, for most users I would stick with the 1920×1080 model. The Dell XPS 13 has a great aluminum finish on the outside, with a soft-touch carbon fibre keyboard deck. The backlit keyboard is excellent, and the trackpad is also great (especially with the latest Windows 10 build which fixes some issues with the Precision Touchpad). Dell was the laptop to beat at the start of the year, and they still offer the best Ultrabook available today.
ASUS Zenbook UX305CA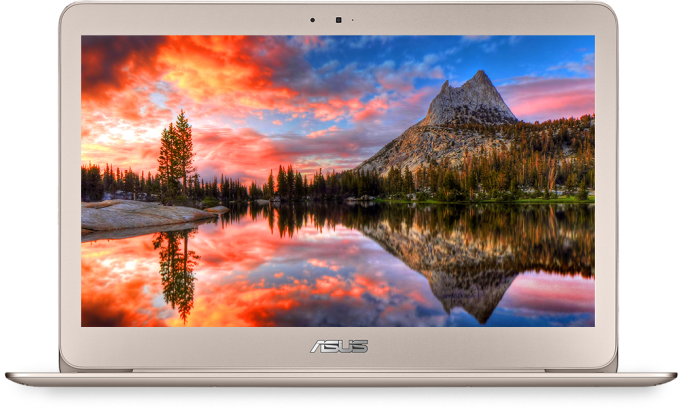 This is another model that I was lucky enough to review this year, and ASUS, like Dell, has refreshed their UX305 with Skylake. ASUS is the company that wants to give you more for less, and for that reason they made the 2015 list. The UX305 is amazingly thin and light, at just 0.48-inches (12.3 mm) thick and 2.6 lbs (1.2kg), it's one of the thinnest and lightest Ultrabooks around. It's not quite the class leader, but it's very close. ASUS powers the UX305 with Intel's Core m3-6Y30 processor which is completely fanless. Performance is not quite up to par with the higher wattage Core parts, but it's no slouch either. ASUS aced our Core M performance comparison despite being the lowest binned chip in the test, because it offered the best cooling of any of the devices tested. ASUS also gives 8 GB of RAM and 256 GB SSD for just $699, which is quite a bit more than any other device in this price range. The 1920×1080 IPS display offers great viewing angles, but ASUS doesn't do any sort of calibration at the factory, so it didn't perform as well as some of the other devices we've tested. ASUS also didn't offer this model with a backlit keyboard, which is kind of a shame, but they made up for it in other areas. The aluminum chassis feels great, even though I didn't love the hinge that lifts the back of the notebook up.  Still, if you are looking for a great Ultrabook on a tighter budget, ASUS really delivers. If you need a bit more performance, a higher resolution display, and a 512 GB SSD, ASUS also offers the UX305CA with a Core m-6Y75 processor with a 3200×1800 display, although the price does jump to $1099, which is still great value.
Apple MacBook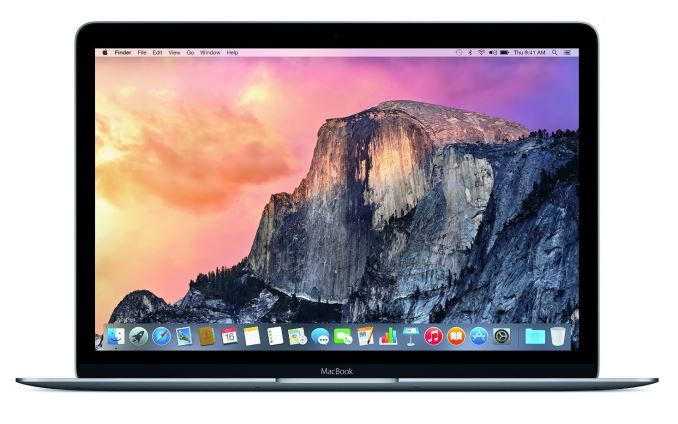 If you are looking for an Ultrabook in the OS X flavor, there really is just one choice. Apple released the MacBook earlier this year, and Ryan put it through it's paces in April. This 12-inch notebook is incredibly light, with it being just over 2 lbs (0.92 kg), and it's very thin as well. This is Apple's first Core M powered device, so it's fanless, just like the ASUS. You pay a premium for the MacBook, but on top of getting one of the lightest notebooks around, you also get a Retina display which at 2304×1440, offers a 16:10 aspect ratio as well. Apple has gone all-in on PCIe NVMe storage, and the MacBook features either 256 GB or 512 GB options, to go with the 8 GB of system memory. They also designed a new keyboard switch with a butterfly mechanism to offer a more stable typing experience, and the MacBook was the first device to feature the Force Touch trackpad. Not all is perfect with the MacBook, such as the less than amazing battery life, just a single USB-C port which doubles are the charging port, and a processor which hits its thermal limits much sooner than the ASUS Core M, but the great display coupled with an incredibly thin and light chassis means that the MacBook is certainly worth a look.
Lenovo ThinkPad T450s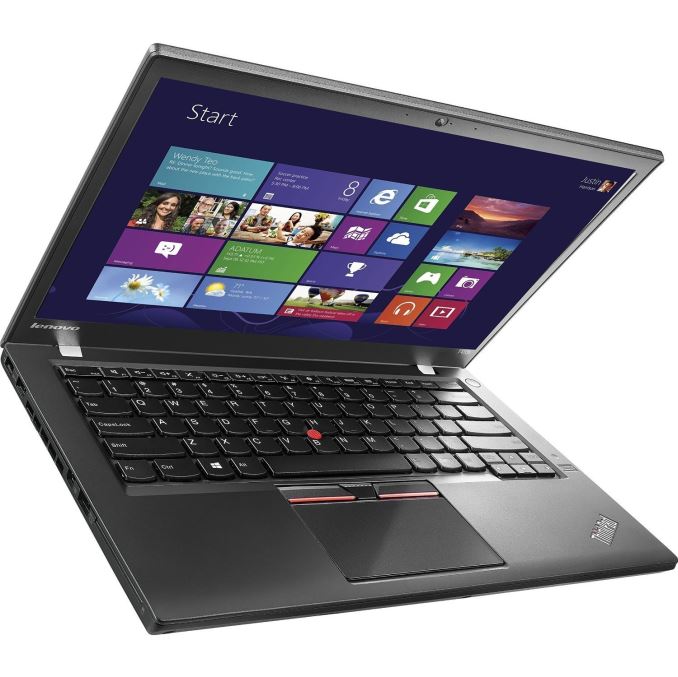 The ThinkPad T450s diverges from the traditional Ultrabook form factor somewhat. It is a 14-inch device, and Lenovo only made it as thin as they could to fit a RJ-45 network connector into it. What you lose in thickness and weight to the rest of the devices listed, you make up for in features. This notebook is powered by 15-Watt Intel Core processors, and comes with 4 GB of RAM soldered inside. There is enough room though for a SODIMM slot where you can add up to 16 GB more, either from Lenovo, or after the purchase. The really cool feature of the T450s though is the Power Bridge technology. Lenovo has split the battery into two sections, and the rear battery is removable. They offer a 23 Wh rear battery as standard, but you can add on up to a 72 Wh battery too which gives the T450s pretty remarkable battery life. But regardless of which battery you go for, you can switch the battery out without powering down the computer, because the rear battery is depleted first. It's a great trick, and for someone who needs the ultimate mobility, it's tough to compete against this. The base model comes with a 1600×900 TN display, but you can upgrade to a 1920×1080 IPS panel for only $60 more, which makes me question why the lower resolution TN offering even exists since the upgrade is so much better. For me though, the standout feature was the keyboard. Lenovo has outfitted the T450s with one of the best notebook keyboards I have ever used, and as a bonus you get the ThinkPad TrackPoint as well which I enjoy having. It may not be as sleek looking as some of the competition, but the T450s was one of my favorite notebooks that I got a chance to use this year. It starts at just $950, or $1010 with the IPS display (so really it starts at $1010 don't get TN).
Customize the ThinkPad T450s on Lenovo.com
Larger Display All-Purpose Notebooks
If you need more performance, stepping up to a larger notebook will add a lot more power to the mix. With larger chassis, they can accommodate quad-core processors rather than the dual-core models found in Ultrabooks, and they can also house discrete video cards as well to give some more compute. Although not as portable, sometimes there is no substitute for more display real estate, as well as the increased performance of the quad-core processors.
Dell XPS 15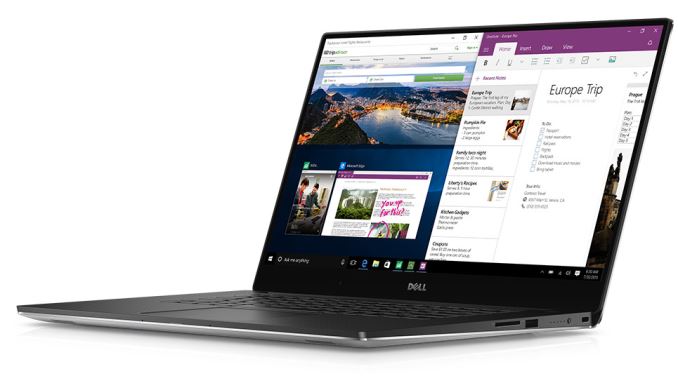 Dell has taken the same formula used on the XPS 13, and applied it to the XPS 15 as well. This results in a much smaller overall design, but with the same 15.6-inch display. For performance, Dell offers the Core i3-6100H as the baseline, and you can upgrade to a Core i5-6300HQ and a Core i7-6700HQ. You can also outfit it with a GTX 960M graphics card, which should offer decent performance for gaming or compute workloads. You can also upgrade from the 1920×1080 display to a UHD 3840×2160 which results in 282 pixels per inch. Despite the smaller overall size, you can still get up to 84 Wh of battery, although the base model is just 56 Wh, and Dell offers a 3×3 802.11ac wireless card as well which should significantly improve performance if you have a router that can drive it. I've not yet had a chance to use the new XPS 15, but there are some drawbacks that are apparent. The webcam placement is in the same poor position as the XPS 13, down near the keyboard, so if you are a heavy user of the webcam this is going to work poorly. Still, it's a great looking laptop and is a great replacement for the outgoing XPS 15 9530 that came before it. At a starting price of just $999, this is a solid choice for those that want a larger display. If you ramp up the options, with the 4K display with the 1920×1080 display, 16 GB of memory, a Core i5, and 512 GB of PCIe SSD storage, it still comes in at only $1700 which is pretty reasonable. Jumping to the UHD panel adds another $400.
Buy Dell XPS 15 9550 on Dell.com
Apple 15-inch Retina MacBook Pro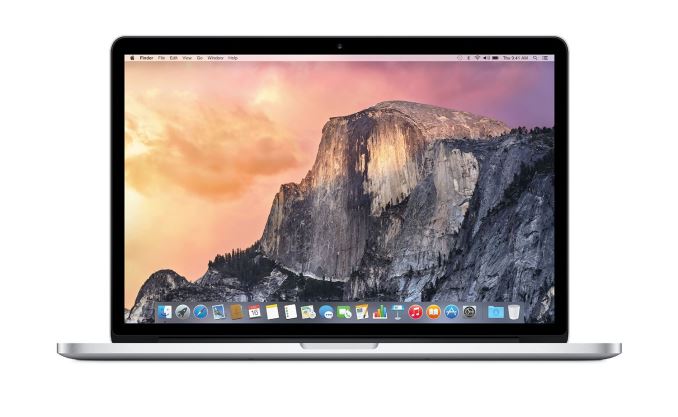 If you prefer OS X, Apple's 15-inch Retina MacBook Pro is always a solid choice. Surprisingly, Apple didn't update the CPU for 2015, so it's still using Intel's 22nm Haswell quad-core parts, but Apple is one of the few companies to leverage Intel's Iris graphics. This is coupled with a move to AMD Radeon R9 M370X, which is a Cape Verde based GPU. It's all packaged in one of the nicest chassis around, with the MacBook Pro being made out of a single piece of milled aluminum. Coupled to that is the Retina display, which is a 2880×1800 16:10 version. Apple has proven to be very capable at producing accurate displays, and although we've not tested the 2015 version of this, there is no reason to suspect that would change. New to the 2015 model is Apple's Force Touch trackpad, which debuted with the MacBook, but otherwise the rest of the design has been left the same. That's not necessarily a bad thing. The prices start at $2000 for the base model with 256 GB of storage and just Iris graphics, or $2500 for the upgraded processor, 512 GB of storage, and the AMD graphics card.
It's not possible to look at every single laptop around, but these are the ones that have caught my attention this year. It's been a fantastic year for the notebook, and 2016 is shaping up to only improve the offerings again. Check back soon for our gaming notebook holiday guide.
CommentsWrite a Reply or Comment: