Best Gaming Laptops: Holiday 2015 – AnandTech
Welcome to part two of our best laptop guide for 2015. The first part was traditional notebooks, this installment will focus on gaming notebooks, and our final piece will cover convertible devices.
The gaming segment is one of the few areas of strength in the PC market, and entire companies have moved from supporting mainstream computing to focusing solely on gaming hardware. When you say gaming, you expect a decent GPU, and NVIDIA has been busy in 2015 with the launch of the GTX 960M and GTX 950M to compliment the GTX 970M and GTX 980M which has been out for just over a year already. AMD is not as big of a player in the notebook space, but they have also refreshed some of their Cape Verde line for 2015 with the M375, M360, and M330, but these are lower performance parts. The higher performance AMD parts seem to have found a home in the recent Mac lineup, but little else.
We've also seen some other exciting developments for 2015. The biggest one I think is that NVIDIA has released G-SYNC for notebooks and it was a hard launch with several devices available right away. G-SYNC makes even more sense on a notebook due to the less powerful hardware, and often high resolution displays, although the trade-off here is that the GPU must be directly connected to the display, which precludes the use of NVIDIA's Optimus technology to disable the GPU to save power. Many gaming laptops have already moved away from Optimus, so this is not a huge issue, but it does mean that gaming notebooks that try to get decent battery life are going to miss out on G-SYNC.
When shopping for gaming laptops, be aware that many of the entry level models still ship with TN displays, which you may want to avoid if you like the wide viewing angles of PVA and IPS. There is also a higher chance that the storage will be hard disk drive based rather than solid state drives. I would have a hard time using anything that wasn't a SSD at this point, but with the huge install size of some current games, I can understand the reasoning a bit more on a gaming laptop, especially an entry level model. Higher end gaming laptops tend to come with SSD plus HDD for game storage.
So with that preamble out of the way, let's dig in, starting with entry level gaming laptops.
Entry Level Gaming: Less than $1000
You definitely have to make some sacrifices once you go under $1000. Considering a decent entry level Ultrabook is in the $700-$900 range already, once you add in a GPU and the additional cooling required, it's tough to get under $1000. My pick for entry level gaming is the Lenovo Ideapad Y700 lineup.
Lenovo Ideapad Y700 14-inch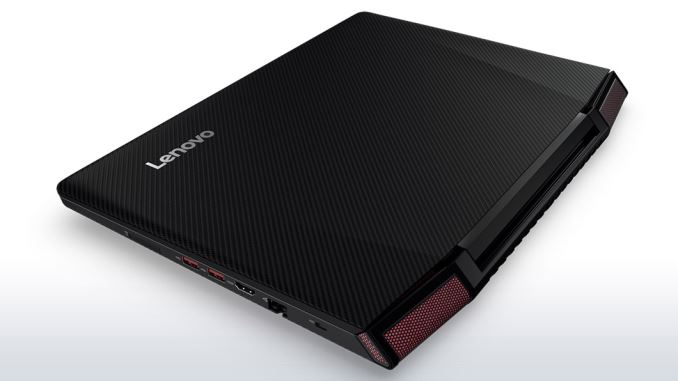 Lenovo sells both a 14-inch and 15-inch model. The 14-inch starts at just $800 and it starts with the display. Lenovo offers a 1920×1080 IPS panel as the standard offering here, despite the lower cost of entry. This is one of the main reasons I've picked it over a lot of the competition, where you can still find 1366×768 TN panels. The base model has the Intel Core i5-6300HQ processor which is a quad-core model which turbos up to 3.2 GHz. This should be plenty of CPU for an entry level gaming notebook. You also get 8 GB of memory and a 1 TB hard drive, although it's a 5400 rpm model which is pretty disappointing. The GPU is an AMD Radeon R9 M375 with 2 GB of VRAM on the base model. This is not super powerful mobile GPU, but it should be plenty for running older games or eSports. You can opt for a more powerful CPU, and they even offer models with SSDs for the OS drive, with a Core i7 model with 16 GB of memory and a 4 GB M375 for $1049. A word of warning though is that AMD only supports their Enduro GPU switching with AMD processors, so it won't be available on this notebook. If you are going to spend a bit more though, there are better offerings available, even from Lenovo.
Lenovo Ideapad Y700 15-inch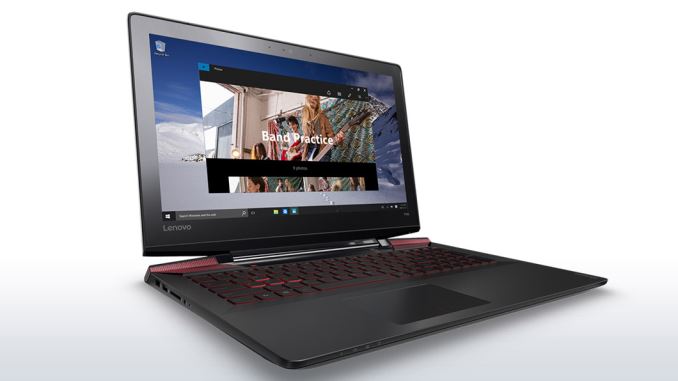 If you can spend even a bit more than the 14-inch model, you can step up to the 15-inch model, which offers a lot more laptop for the money. The very base model is $979.80 and has the same Core i5-6300HQ processor as the 14-inch, as well as a 15.6-inch 1920×1080 IPS panel. RAM is the same 8 GB, and the storage drops to just a 500 GB 5400rpm drive. The big jump in performance though comes courtesy of a NVIDIA GTX 960M GPU. It's just the 2 GB model on the entry level Y700, but it will offer roughly double the performance of the R9 M375 found in the 14-inch version of this notebook. Right now, Lenovo is offering an upgraded model with a Core i7-6700HQ (quad-core, hyperthreading, up to 3.5 GHz) and impressively you get a 1 TB HDD and a 128 GB SSD for the boot drive. This model is currently only $999, and for $20, the upgraded CPU and storage is an easy decision. They are even offering the 3840×2160 UHD model with a 4 GB GTX 960M, 16 GB of DDR4, the Core i7, and the 128 GB plus 1 TB hard drive solution for $1149 which is pretty fantastic value. I'm not sure I'd like a UHD display on a low end gaming notebook, but for general office work it would be great, and you can always choose lower resolution for gaming.
Mid-Range Gaming: Less than $2000
Stepping it up a bit you can move up to a NVIDIA GeForce GTX 970 based laptop, which is going to up the performance even more. Mid-range models are plentiful, with practically every manufacturer offering one.
Alienware 15 R2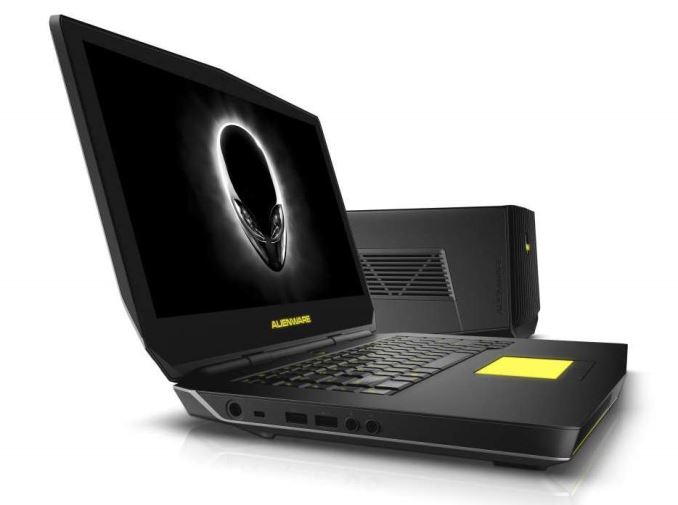 I'm a fan of the new look of the Alienware lineup. They also offer a lot of customization of lighting, so you can really personalize the notebook after the fact and make it your own. The Alieware 15 R2 starts at $1200, with a Core i5-6300HQ processor and a GTX 965. This baseline model comes with a 1920×1080 15.6-inch IPS display and 8 GB of memory. For the $1200, you just get a 1 TB 7200 rpm hard drive, but you can add in a 128 GB SATA SSD for $150, or a 256 GB PCIe SSD for $250 more. For $1600, you can get a Core i7-6700HQ model with a GTX 970M. This comes with 16 GB of DDR4 and the 128 GB boot drive in addition to the 1 TB HDD. Dell also offers some more customization, so you can change up to a GTX 980M, but it's a $350 upgrade. Dell is also one of the few OEMs to offer an AMD Radeon option, and in this case it's the top end M395X as well. For those that want a high DPI display, you can opt to replace the standard display with a UHD 3840×2160 IGZO panel for $200. Dell offers quite a range of customizations which should help you fit the Alienware 15 R2 into your budget, and if you like the looks of an Alienware, this is a good mid-range model to consider. On top of this, all of the Alienware models can be used with the Alienware Graphics Amplifier, although it's not an inexpensive investment.
ASUS ROG G752VT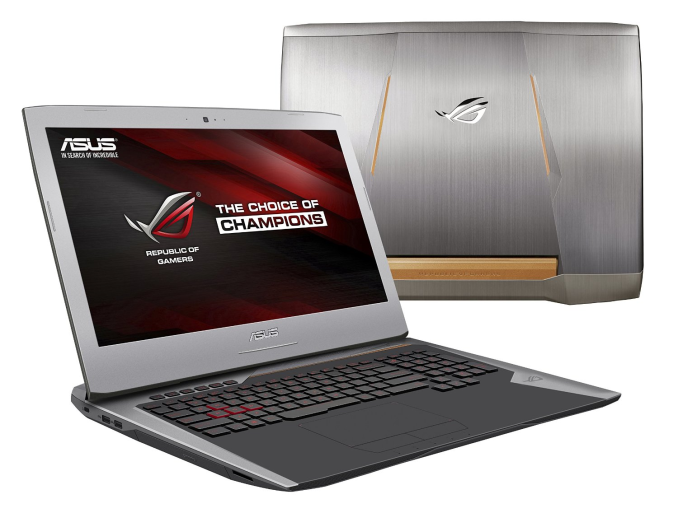 If you are after a larger 17.3-inch model, the G752VT is a refresh on the G751 that we saw earlier this year. The VT is a less expensive version, which features the GTX 970M GPU rather than the GTX 980M found in the G751JY that was reviewed, but it comes in several hundred dollars less. I quite liked the G751, but I found the styling to be quite dated, so it was great to see ASUS address that with the G752 refresh. It also features a move to Skylake, with the Core i7-6700HQ. There is 16 GB of DDR4 available, and the standard offering has a 128 GB PCIe SSD boot drive with a 1 TB hard drive for storage. ASUS offers a G-SYNC display panel with a 75 Hz refresh, and it's really great to game on. This does mean there is no Optimus, but battery life really has to be a secondary concern with a large gaming notebook like this. I quite like the new styling, which fixes the biggest issue with the G751. The G752VT can be found for just over $1700.
High End Gaming
Pretty much all of the gaming laptop manufacturers would have something to fit into this category. Performance is generally what it's all about, and there are plenty of systems which can offer not only one, but two GPUs. NVIDIA has also done some great work this year to remove the performance barrier on mobile even further, with the release of the GTX 980 in laptops. This is not the M version, but the actual desktop GTX 980.
Razer Blade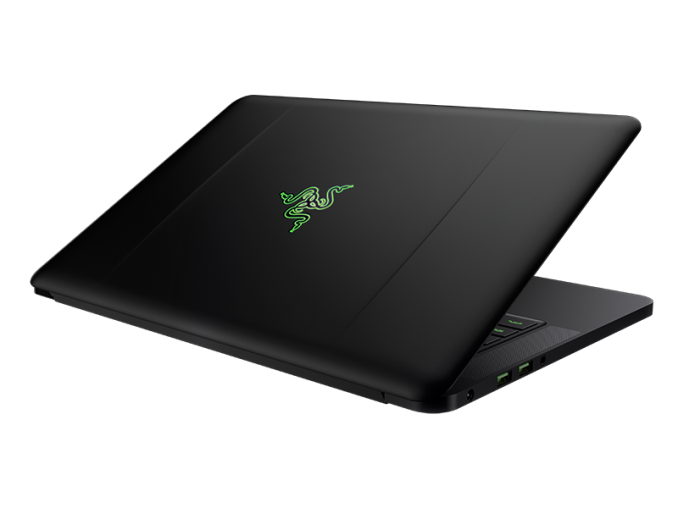 What Razer gives up in performance over some of the other high end gaming laptops, it makes up for in portability and build quality. This is a 14-inch notebook, so it loses a lot of thermal capacity over much larger models, but Razer has built their premium gaming laptop out of a CNC milled aluminum shell with a fantastic black finish. Many gaming laptops go for some pretty eye-catching style, but Razer keeps a subtle, classy look. With a Core i7-4720HQ and a GTX 970M, there is quite a bit of performance on tap for such a small notebook, and the Razer Blade has sufficient cooling to keep everything going even under stress. It also makes a pretty great general purpose notebook, with battery life that is enough that you can actually get some work done off of the mains. It also packs in a fantastic IGZO 3200×1800 QHD+ display. Check out the review for the 2015 model here. New for the 2015 model year is a lower cost version, which starts at $2000 and comes with a 1080p non-touch display. You lose some pixel density and touch, but it would be able to game at its native resolution quite well, and it also ekes out a bit more battery life. The QHD+ model starts at $2200 with a 128 GB SSD, and moves up to $2700 with a 512 GB drive.
MSI GT72 Dominator Pro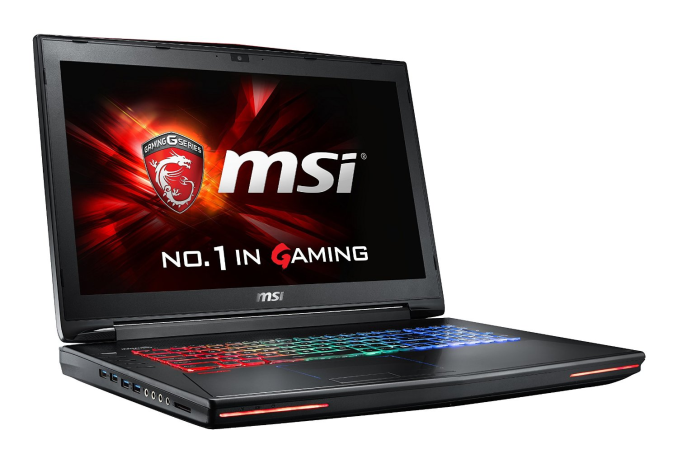 If you want even more performance, you may want to take a look at the MSI GT72 Dominator Pro. This 17.3-inch gaming notebook comes with a couple of models, but if you want great performance for the 1080p G-SYNC panel, check out the GTX 980M model. It comes with a Core i7-6700HQ processor and 32 GB of DDR4 memory. Storage is 256 GB of SSD for the OS drive, and another 1 TB of hard disk for game storage. MSI has gone all in on gaming, and they offer some nice features like RGB backlit keyboards. The GTX 980M has really been the top dog in notebook graphics this year, and for good reason. It offers plenty of performance, without breaking the bank when it comes to heat output. The GT72 Dominator Pro comes in around $2100, depending on configuration.
MSI GT80 Titan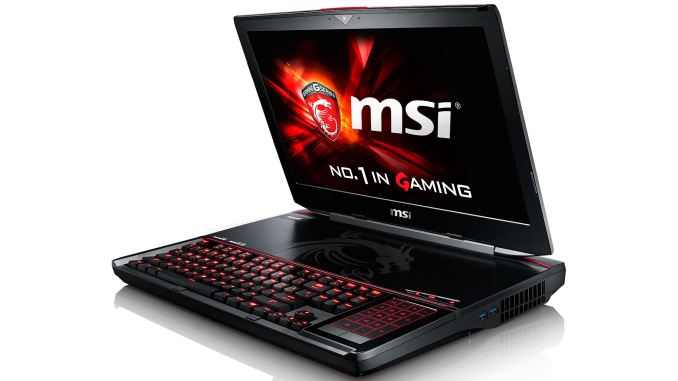 If you are looking for the ultimate in gaming performance, it's tough to overlook the MSI GT80 Titan. This is almost less of a laptop and more of a portable desktop, and it features a massive 18.4-inch 1920×1080 display. And just because the GT80 Titan has to take everything to eleven, it features not one, but two GTX 980M GPUs in SLI. MSI is also offering it with the desktop GTX 980 modules too, if you need even more performance. Although it is still on Broadwell, you do get the Core i7-5950HQ processor, so it should be plenty fast for almost any task. The GT80's defining trait though is a fully mechanical SteelSeries keyboard with MX Brown switches. The trackpad gets moved off to the side, where it can double as a number pad. It's an odd place for a trackpad, but it actually works really well. I would guess that most people will use it with a mouse though. The GT80 Titan has amazing performance, but it also does all of this while staying relatively quiet, even under load. I was surprised how much I liked this 10 lb monster notebook, and it's an easy recommendation for anyone looking for performance, The GT80 Titan starts at $2500, and the GTX 980M SLI model with the Core i7-5950HQ CPU and 24 GB of memory is $3700. It's not cheap, but there is nothing else in the same class as this notebook.
That wraps up our look at gaming notebooks. It's tough to get into this lineup for less than $1000, but after that prices can jump up quite a bit depending on options and features. We've seen some nice additions to gaming notebooks this year, with the addition of G-SYNC likely being one of the standout points from 2015. Stay tuned for our third installment of notebooks, which will feature the two-in-one convertible device classes.
CommentsWrite a Reply or Comment: