Apple: Laptop Mag Responds – Seeking Alpha
Rethink Technology business briefs for April 11, 2017.
Laptop Mag Responds to Rethink Technology Article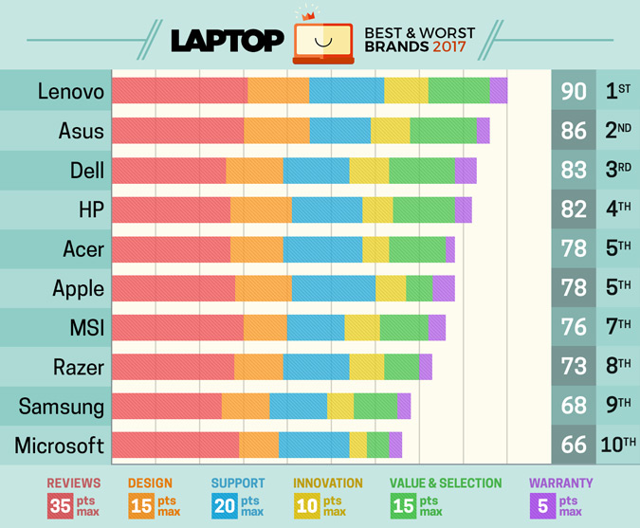 Source: Laptop Magazine
Following my article "Laptop Magazine Downgrades Apple" published yesterday about Apple's (NASDAQ:AAPL) 5th place score in Laptop's brand rankings, I received this response via SA direct messaging from Avram Piltch, Editorial Director of Laptop Mag:
Mark,

Thank you for covering our article. I appreciate the honest feedback. I'm happy to answer any of your questions if you'd like to ask.

I do disagree with some of your conclusions. It is wrong to say that we don't "highly value the things Apple has to offer." We cover Apple extensively and many people on our staff, including Editor-in-Chief Mark Spoonauer, use MacBooks as their primary computers. We usually give Apple products very high ratings, but this year they fell off for the reasons we mentioned.

We certainly end up reviewing more Windows laptops in a year that MacBooks b/c Apple comes out with 3 to 5 new models in a given year at best while there are hundreds of Windows machines. However, that doesn't mean that we are being unfair to Apple. Would you say a movie reviewer was anti-Star Wars because he or she reviews hundreds of movies a year and only one is a Star Wars film?

Every year, we revisit what our criteria are. The software criteria made more sense when a lot of vendors were including really interesting proprietary software on their devices. These days, most are just throwing on a couple of utilities on there. Apple does get some credit for having its own OS and that's part of the innovation score. However, innovation isn't about what you've done in the life of your product, but what you did in the past year. We think the Touch Bar is innovative but it has its downsides (weakened battery life, not enough utility) to push Apple up to a 10 out of 10 in that category. Lenovo earned top innovation marks for really groundbreaking things like the Yoga Book.

Apple has always scored poorly in value and selection because it sells expensive laptops and doesn't have a lot of different models to choose from. This year, it basically abandoned the sub-$1,000 segment, making it really focus on the high end. However, even among the creative professionals who have always been Apple's bread and butter, the company is prioritizing tech advancement (let's go to TB 3 exclusively and flat touchpads / keyboards exclusively) over usability.

We still like Apple's design (though it is getting very tired), its tech support and warranty are best-in-breed and we like some of its individual laptops. However, overall, we think it has abandoned a huge segment of the market and isn't really listening to even its core users. Also, while the rest of the market races forward with 2-in-1s, 7th gen processors, Apple remains behind the competition.

Feel free to ask many any further questions. Thanks for your coverage.

Best,

Avram Piltch
Editorial Director
Laptop Mag
apiltch@laptopmag.com
Piltch spends a lot of time defending Laptop's attitude towards Apple. I think we could have a lengthy debate about that. The fact that someone or some group might not value what Apple has to offer I don't consider a very serious criticism. It's a matter of personal preference.
I've certainly been very critical of Apple especially in the matter of direction (or lack thereof) of the Mac, and the resistance, which seems to be breaking down, to the convergence of desktop operating systems and devices and mobile devices. If Laptop feels that Apple hasn't gone far enough in innovation by not providing MacBooks with touch screens, I would tend to agree. And I certainly agree with Piltch that Apple has abandoned the market for such devices, to its detriment.
But that wasn't really the heart of my problem with the review. My problem was that, as Piltch acknowledges, the grading criteria changed in a meaningful way, and there was no discussion or indication of this change in the review itself.
The fact that other manufacturers weren't bothering to include meaningful software in their devices, while Apple continues to offer a rather comprehensive suite of software at no extra charge, is something that should have worked in Apple's favor. Especially when much of this software exists as both iOS and macOS versions, facilitating easy transitions of documents and workflow between iOS and macOS. This is not a small matter, or a trivial discriminator. It's something that Apple has worked very hard to facilitate in the past few generations of iOS and macOS, and iCloud.
In effect, Piltch acknowledges that Apple's software became an even more important discriminator, so the deletion of this criterion had a disproportionate effect. The fact that said deletion was performed stealthily calls into question the fairness of the grading.
Rethink Technology recommends Apple as a buy.
TrendForce's Mangled Math
TrendForce has issued a research report that shows, not surprisingly, that Apple global smartphone market share went down in calendar 2017 Q1. This is not unusual, since Apple's global market share usually peaks in the December quarter, when its sales are strongest due to holiday buying and the recent introduction of the latest iPhone.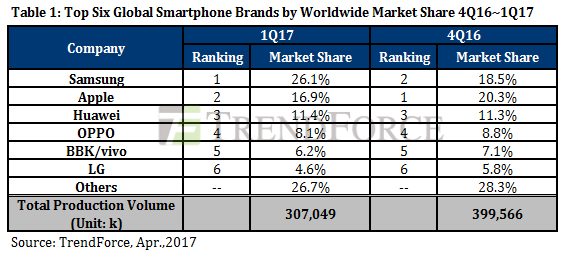 If we multiply the market share percentage attributed to Apple of 16.9% and the total production volume of 307.049 million smartphones, we arrive at a fairly reasonable estimate of 51.9 million iPhones shipped in the March quarter. Last year, Apple reported that it sold 51.192 million iPhones for its fiscal 2016 Q2. So the data suggests that iPhone sales this year are approximately flat to slightly up y/y by a little more than 1.3%.
So far, so good. I don't have any problems with the data except that it's subject to the usual caveats regarding research firms making estimates. The big boys, Gartner and IDC, have learned to wait until after Apple releases its quarterly results before issuing their respective smartphone market share reports.
My problem with the press release is that it states:
The total production volume of all iPhone devices for the first quarter of 2017 fell by 36% compared with the previous quarter and declined by 41% versus the same period a year ago. These results actually showed an overall improvement in iPhone sales.
A 41% y/y decline for the March quarter would be huge, and that's not what the data indicates. I'm not sure what TrendForce meant to say, except that I agree that the results do indicate an overall improvement in iPhone sales.
The Qualcomm Empire Strikes Back
Qualcomm (NASDAQ:QCOM) has launched a countersuit against Apple, seeking damages over withheld payments for Qualcomm's patented technology used in iPhones.
According to the WSJ, Qualcomm "accused Apple of mischaracterizing the chip maker's business and encouraging international regulators to attack it." Previous Qualcomm statements have hinted that Qualcomm blamed Apple to some degree for its regulatory woes, but the countersuit appears to be the most blatant accusation yet.
The WSJ also quotes Qualcomm's general counsel Don Rosenberg as saying that the suit is about lowering the cost of the iPhone. In an interview, Rosenberg said that Qualcomm's licensing business "is a nice target for them to pursue to get that input cost lower. That's really what this is about."
Despite the rancor, I'm still inclined to think that the matter will be resolved without legal bloodshed once Trump fills the vacancies in the FTC. Trump's productivity leaves something to be desired, however, and there's been no action since he appointed Maureen Ohlhausen as Acting FTC Chair.
Rethink Technology recommends Qualcomm as a buy.
Disclosure: I am/we are long AAPL, QCOM.
I wrote this article myself, and it expresses my own opinions. I am not receiving compensation for it (other than from Seeking Alpha). I have no business relationship with any company whose stock is mentioned in this article.
CommentsWrite a Reply or Comment: