8 best laptops under £250 – The Independent
So you want computing power and great value? First, decide on what you're after. Screen size is key, and most laptops at low prices tend towards smaller displays (11-inch is common). Next, pick a processor, aiming for AMD A-Series or Intel Core i if you can. At this price range, storage is usually limited (32GB is common) which is no more than many smartphones. However, you can often expand on this fixed storage using a memory card, if an SD card slot or microSD card slot is included. As a guide, a 64GB storage card costs around £15.
Low-price laptops use Windows as their operating system or else Google Chrome. Apple computers do not fall into this price range.
Chromebooks are competitively priced but note that many of their features require you to be connected to the internet to work properly. Still, they make good use of the cloud for document and other storage, which takes a little pressure off the hard drive. 
Windows machines have the greatest choice of applications. 
At this price, expect lower-quality displays and features like backlit keyboards to be omitted, though some do manage a touchscreen. Laptops at this bracket are primarily designed as a secondary, portable machine for taking on the daily commute, say, though they also work well for students whose main work is done in the cloud, or for those of us who only need a few programs such as word processing applications or web browsers.
1. HP Stream 14: £249.99, Argos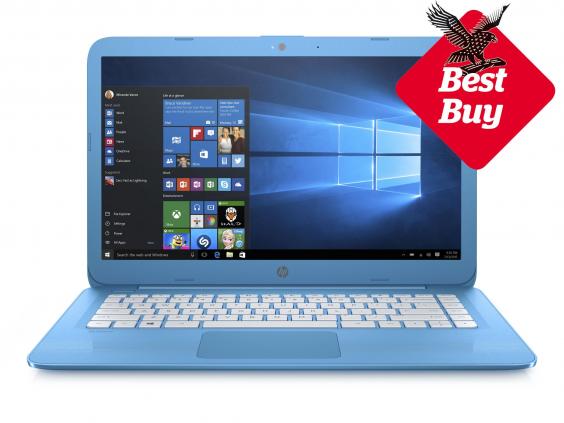 This is a great price for a 14-inch screened Windows laptop. Its 32GB storage can be boosted using an SD memory card, which almost tucks right into the laptop so you can leave it there pretty much permanently. The battery lasts a good eight hours and performance is decent. At 1.44kg it's not as light as some here, but still manageable. And with that bright blue hue all over (only the keys are white), it's great to look at, too.
2. Asus Transformer Book Flip TP200SA: £249.95, John Lewis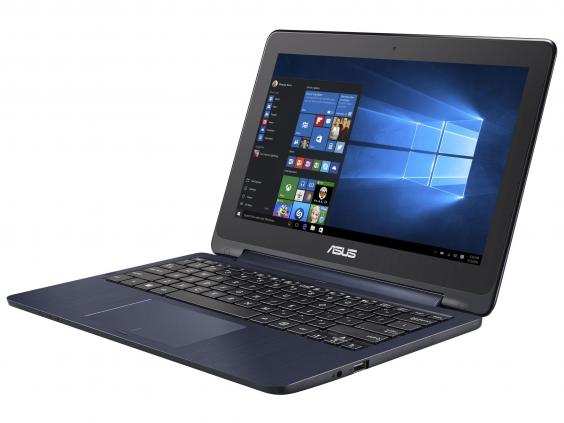 The aluminium lid on the Transformer makes this an attractive laptop. The 11.6-inch touchscreen display folds round for tablet mode, which is handy in cramped spaces, and which also means you can stand it up in an inverted V-shape to watch movies, say. The 32GB storage is boosted using the memory card slot (microSD). The keyboard isn't spacious but is comfy enough. There are more powerful laptops in this list, but this does well for looks and versatility.
3. Acer 14 CB3-431 Chromebook: £229.99, PC World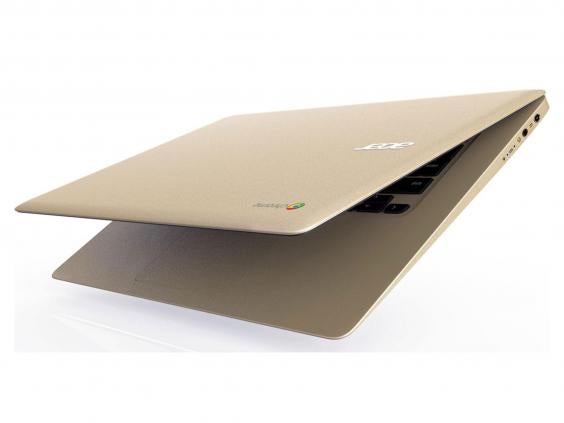 This laptop uses Google's Chrome operating system which flourishes with an internet connection. Some features won't work without it – Microsoft Office Online and other apps are hobbled offline. It's aluminium-clad, which gives it a classy feel and the display has an anti-glare finish, unlike most glossy screens. There's 32GB of storage and the screen is bigger than most Chromebooks at 14 inches. It's still small and light enough for using on a daily commute, and there's a battery life of around 12 hours.
4. Lenovo IdeaPad 100S: £149.99, PC World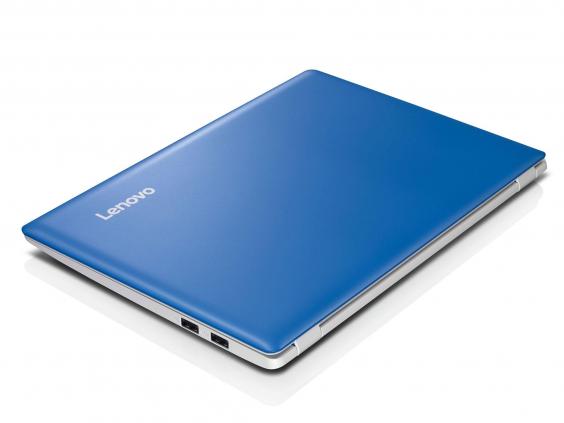 Weighing in at just under 1kg, the IdeaPad 100S is a good super-portable option. The 11.6-inch screen is decent enough and the Intel Atom processor is powerful enough for basic computing needs like web browsing and word processing but not advanced programs. Storage is limited, just 32GB. This is a no-frills machine with good battery life – it'll get you through a day.
5. Asus Chromebook C300SA: £199.99, John Lewis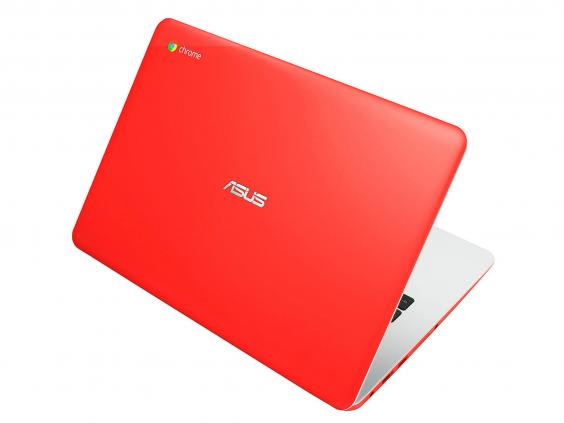 The C300SA comes in a jaunty red/white combination, as well as blue and black versions. It's a Chromebook with 32GB of solid-state storage – which is like a regular hard drive but has no moving parts and is smaller, faster and pricier – but unlike many laptops at this price it comes with an SD memory card slot so you can add 64GB extra storage. It has a bigger screen than many at this price: 13.3 inches. Like most of the laptops here, this one will give you a full day of battery life, even if performance can't match high-end machines.
6. HP Pavilion x2: £214.99, Argos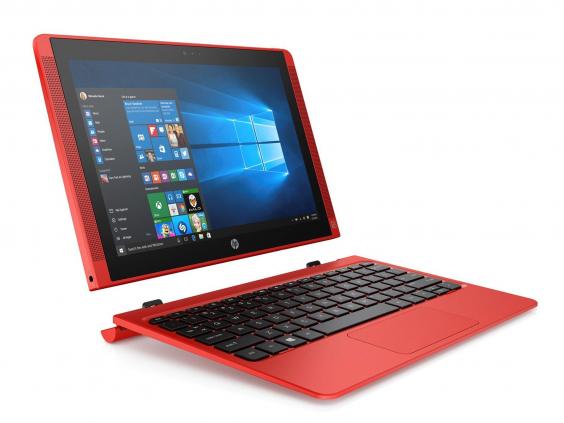 This laptop has a 10.1-inch touch screen, with the top part of the laptop detaching to be a Windows tablet that works independently. There's a memory card slot to add extra storage to the 32GB on board. Unlike an iPad, this tablet comes with full USB connectivity. It also has more powerful speakers than many (tuned by Bang & Olufsen). However, bear in mind this laptop is smaller than many because of the screen, and some may find the keyboard too cramped as a result.
7. Acer Chromebook R 11: £229, ao.com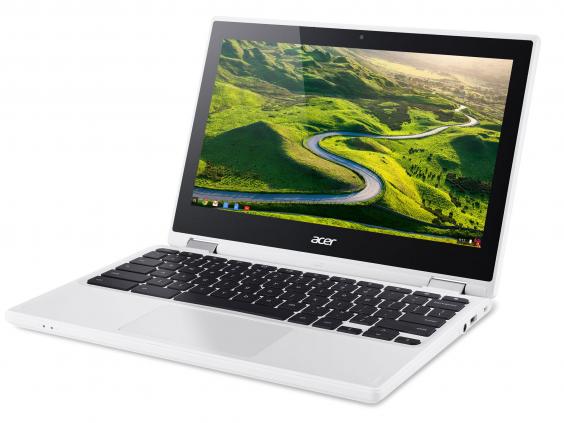 The Chromebook R 11 has a touchscreen, too. This one doesn't detach, but you can fold it round on itself for tablet mode. The display is 11.6 inches and has a reasonable resolution. And unlike many laptops, this one sounds pretty good, too through its decent speakers. Storage is unexceptional (32GB), but has an SD card slot to add to this. It's light and has good (10 hours) battery life.
8. Dell Inspiron 11 3000: £219.99, John Lewis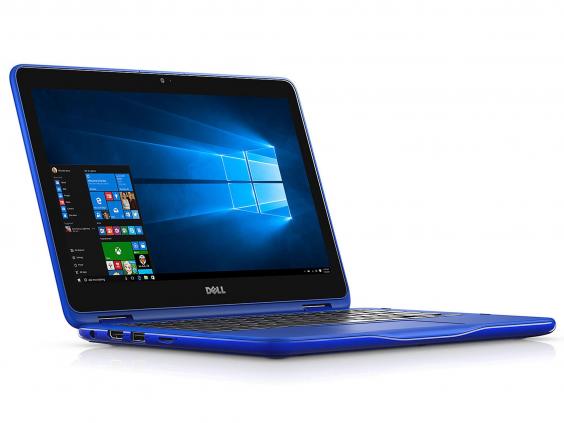 It's cheap, it's colourful and highly portable. The 11.6-inch display isn't bad, and the keyboard is more than comfortable. The Intel Celeron CPU is not as fast as some, so it's best for someone planning to use it for basic tasks like word processing, internet browsing, social networking and so on. Storage is limited to just 32GB, though at least this is solid-state memory, faster than a traditional hard drive. Battery life is good, lasting most of a day. It sits like a regular laptop, folds into a tent shape for video playback, or folds back on itself to use it like a tablet. 
The Verdict: Laptops under £250
Laptops under £250 are highly capable at basic tasks but lack the grunt for demanding programs. Still, they're ideal to take on the daily commute or when travelling, leaving the power machine at home. Screen size may be less important than on your main machine, in which case the HP Pavilion x2 with its 11.6in removable display is a strong contender. Chromebooks offer outstanding value and the Asus Chromebook C300SA is fun and useful. The HP Stream 14 is the best combination of value and power.
IndyBest product reviews are unbiased, independent advice you can trust. On some occasions, we earn revenue if you click the links and buy the products, but we never allow this to bias our coverage. The reviews are compiled through a mix of expert opinion and real-world testing
Reuse content
CommentsWrite a Reply or Comment: