Wholesale prices in the U.S. were unexpectedly weak in October as declines in the costs of services offset increases in goods, in a sign inflation is struggling to gain traction.
The unchanged reading in the producer-price index from the previous month followed a 0.3 percent rise in September, a Labor Department report showed Wednesday in Washington. The median forecast of economists surveyed by Bloomberg called for a 0.3 percent increase.
A 0.3 percent drop in services prices was driven by a decline in the cost of securities brokerage, investment advice and related services, according to the report. While Federal Reserve officials are widely anticipated to raise interest rates next month, relatively tame price pressures in the economy may potentially limit any further increases in borrowing costs.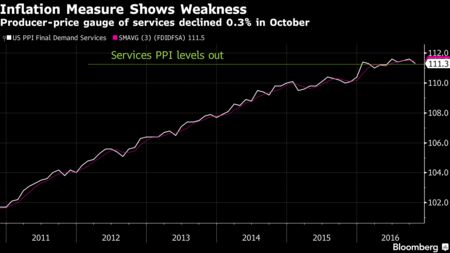 Projections for the monthly change in producer prices ranged from a decline of 0.2 percent to an advance of 0.6 percent, according to the Bloomberg survey.
From a year earlier, producer prices rose 0.8 percent, the fastest gain since December 2014, after a 0.7 percent increase in the prior 12-month period.
Food, Energy
Goods prices were up 0.4 percent from the previous month. Energy costs rose 2.5 percent from the prior month for a second straight time, and food prices showed a 0.8 percent decrease.
Excluding food and energy, wholesale prices dropped 0.2 percent from the previous month following a 0.2 percent rise. Those costs were up 1.2 percent from October 2015.
Excluding volatile components such as food, energy, and also eliminating trade services, producer costs dropped 0.1 percent after climbing 0.3 percent the previous month. Some economists prefer this reading because it strips out the most volatile components of PPI. Compared with a year earlier, this core measure rose 1.6 percent after a 1.5 percent gain.
One key takeaway from the report was the increase in healthcare prices that are used to calculate the Commerce Department's consumer spending inflation index, the Fed's preferred price measure. Those costs rose 0.3 percent in October from the prior month, before adjusting for seasonal variations.
The producer price gauge is one of three monthly inflation reports released by the Labor Department this week. A report Tuesday showed prices of U.S. imports rose by the most in four months, led by higher fuel costs. A separate report on consumer prices will be released on Thursday.