Tillerson Says He's Not Quitting After Report He Called Trump a 'Moron' – Bloomberg
U.S. Secretary of State Rex Tillerson said he's "never considered" leaving his job and rejected news reports that he denigrated President Donald Trump and weighed resigning.
"My commitment to the success of the president and the country is as strong as it was" upon taking office, Tillerson, 65, told reporters Wednesday at the State Department in Washington. "I have never considered leaving this post."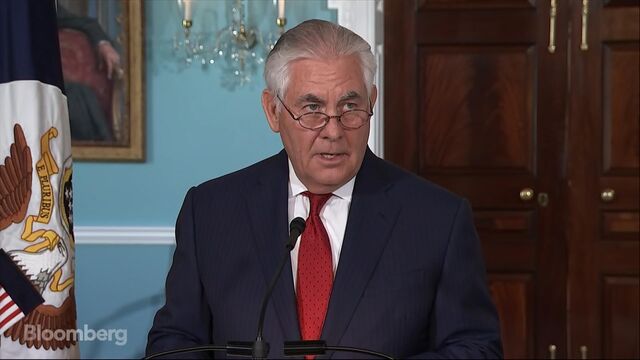 The hastily called announcement follows a report earlier Wednesday by NBC News that Tillerson, a former chief executive officer at Exxon Mobil Corp., weighed resigning over the summer and referred to the president as a "moron." Tillerson said "I'm not going to deal with petty stuff like that." He added that he hasn't spoken to the president on Wednesday morning.
Trump appeared to refer to the report in a Twitter post just moments before Tillerson spoke, saying "NBC news is #FakeNews and more dishonest than even CNN. They are a disgrace to good reporting. No wonder their news ratings are way down!"
In his remarks, Tillerson cited what he called the successes in the administration's nearly 10 months in office, including "international unity around our peaceful pressure campaign" against North Korea as well as efforts to get NATO allies to increase defense spending and confront Islamic State.
Public Contradictions
Yet Tillerson and Trump have contradicted each other publicly, most recently after the secretary of state's trip to China to discuss North Korea last weekend. Following meetings with Chinese officials, Tillerson told reporters in Beijing that the U.S. has sought to communicate directly with North Korea to ease tensions over that country's accelerated weapons tests.
"We are probing, so stay tuned," Tillerson said Saturday. "We can talk to them, we do talk to them directly, through our own channels," adding that the U.S. has "a couple, three channels open to Pyongyang."

But Trump doesn't always appear to be on board with that effort. The president pushed back against Tillerson's remarks even before he returned to the U.S., a highly unusual public rebuke of America's top diplomat.
"I told Rex Tillerson, our wonderful Secretary of State, that he is wasting his time trying to negotiate with Little Rocket Man," Trump posted Sunday on Twitter, using his pejorative nickname for Kim. "Save your energy Rex, we'll do what has to be done!"
The comments undermined Tillerson and damaged the U.S.'s ability to deal with Pyongyang, said Thomas Wright, director of the Center on the United States and Europe at the Brookings Institution.
TIllerson also seemed to signal his displeasure with the president after Trump's widely criticized response to a neo-Nazi protest in August that led to one death in Charlottesville, Virginia. At the time, Tillerson said Trump "speaks for himself" and "we express America's values from the State Department."
Tillerson and Trump appeared to disagree over the best way to resolve a Middle East crisis sparked with a bloc of nations led by Saudi Arabia cut off economic and transport links to Qatar. Both nations are key U.S. allies, with Qatar hosting a military base used by the Pentagon to target Islamic State.
— With assistance by Jennifer Epstein
CommentsWrite a Reply or Comment: