Thursday's Morning Email: Middle Class No Longer Majority – Huffington Post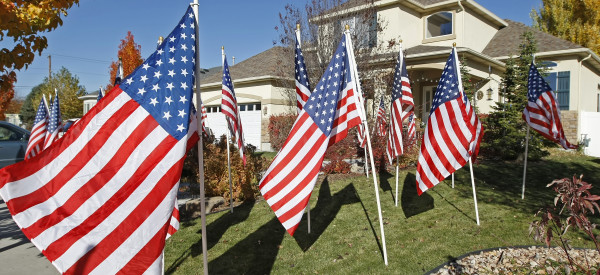 TOP STORIES
MIDDLE CLASS NO LONGER MAJORITY "There are now more low-income and high-income Americans combined than there are people in the middle class, a [Pew Research Center] study released Wednesday found." [Lydia O'Connor, HuffPost]
SAN BERNARDINO SHOOTERS LONG RADICALIZED The FBI announced the couple first spoke about jihad and martyrdom online during their courtship in 2013, long before the rise of ISIS. [NYT]
THE FEAR OF RESTRICTIONS DRIVING GUN SALES "'President Obama has actually been the best salesman for firearms,' said Brian W. Ruttenbur, an analyst with BB&T Capital Markets, a financial services firm." [NYT]
'I MADE IT BACK IN, DONALD' "I returned to the U.S. less than 24 hours after Trump's call for a ban on Muslims." [Akbar Shahid Ahmed, HuffPost]
PLANNED PARENTHOOD SHOOTER CALLS HIMSELF 'WARRIOR FOR THE BABIES' Robert Lewis Dear also yelled out, "I'm guilty, there will be no trial." [Ryan Grenoble, HuffPost]
ONLY THREE CONGRESSMEN SHOWED UP TO A HEARING ON THE NUMBER ONE INFECTIOUS KILLER IN THE WORLD To put that in perspective, Ebola, which killed over 11,000 people, was a media circus on the Hill. Tuberculosis kills 4,100 a day. [Lauren Weber, HuffPost]
ANGELA MERKEL NAMED TIME'S PERSON OF THE YEAR It has been 29 years since the last female person of the year. [Willa Frej, HuffPost]
To get The Morning Email, HuffPost's daily roundup of the news, in your inbox, sign up here. And listen to the news in under two minutes here.
WHAT'S BREWING
THE SYRINGE THAT COULD FILL BULLET WOUNDS IN UNDER 20 SECONDS The technology, used on the battlefield, has been approved for use on the American public. [HuffPost]
'HOUSE OF CARDS' DOMINATES AT SAG NOMINATIONS And the underdog film "Trumbo" also cleaned up. [Variety]
'A 2015 HATER'S GUIDE TO THE WILLIAMS-SONOMA CATALOG' Also known as how to spend all your money on the holidays. [Deadspin]
HOW TO BE POPULAR "Popular people all have one thing in common: Their brains are more sensitively attuned to other people's popularity. One reason popular people are popular, it seems, is because, at a neural level, they care about popularity." [New York Magazine]
A SHOCKINGLY LITTLE AMOUNT OF RUNNING IS INCREDIBLY GOOD FOR YOU But you have to do just this little amount. Come on, you've got this. [HuffPost]
ONLY JESSE TYLER FERGUSON COULD MAKE CANCER FUN The "Modern Family" star thanked his doctor for his cancer treatment on Instagram. [HuffPost]
For more from The Huffington Post, download our app for iOS or Android.
WHAT'S WORKING
'A CARBON-FREE WORLD' Take a look at what each country's energy mix would be without carbon. [National Geographic]
For more, sign up for the What's Working newsletter.
ON THE BLOG
A VETERAN ONLY SHOT AT BY AMERICANS "Since I left the military in 2006, I have been shot at, or been in the presence of a gunman, three times." [HuffPost]
BEFORE YOU GO
~ Crack open President Barack Obama's favorite book of the year.
~ Democrats to highlight gun control in 2016 battleground states.
~ The Pentagon has proposed a "string of overseas bases" for the fight against ISIS.
~ Is Mitt Romney Donald Trump's kryptonite?
~ According to The Wall Street Journal, this is the worst day of the week to buy a plane ticket.
~ Walmart to start taking mobile pay.
~ Facebook's Year in Review features a lot of "Star Wars."
~ "Brokeback Mountain" turns 10.
~ The change coming to Army dog tags to stop identity theft.
~ Everyone is obsessed with Emma Watson and Kate Middleton's haircuts.
~ The family Christmas dance video to put your mamba to shame.
~ The first in vitro puppies are here!
~ Meet "Instagram Husband."
~ Want to clean out your Facebook friends? This will do the trick.
Send tips/quips/quotes/stories/photos/events/scoops to Lauren Weber at lauren.weber@huffingtonpost.com. Follow us on Twitter @LaurenWeberHP. And like what you're reading? Sign up here to get The Morning Email delivered to you.
CommentsWrite a Reply or Comment: