State Department says it can't locate 15 Hillary Clinton emails – Fox News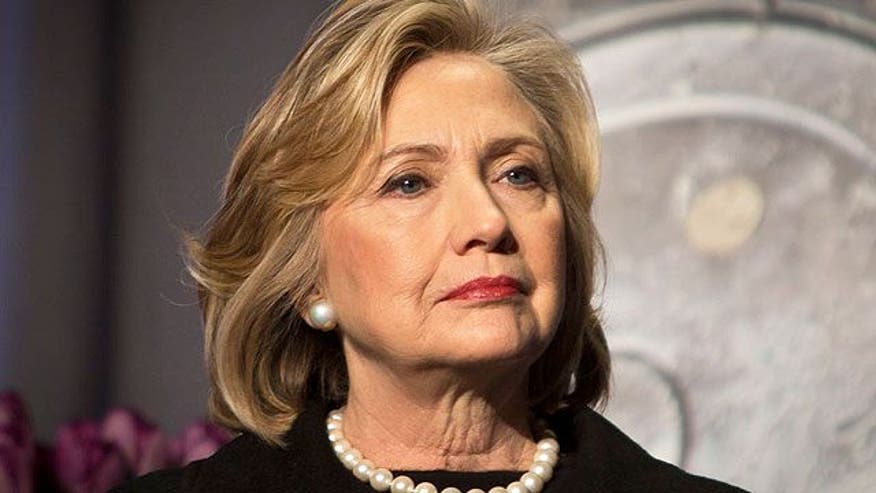 The State Department said Thursday that it cannot locate 15 work-related emails from Hillary Clinton's private server released this week by the select committee probing the 2012 Benghazi attacks, a revelation that the head of the committee described as "significant and troubling."
The emails consist of more in a series of intelligence reports passed to her by longtime political confidant Sidney Blumenthal, officials told The Associated Press.
At the least, the existence of the emails turned over by Blumenthal but not by Clinton directly contradicts Clinton's news conference in March in which she claimed that all work emails from her personal server were turned over to the State Department.
The revelation will also raise further questions about the presidential hopeful's use of a personal email account and server when she served as secretary of state, as well as the decision to wipe the server.
Rep. Trey Gowdy, R-S.C., chairman of the Select Committee on Benghazi, called the revelations "significant and troubling."
"This confirms doubts about the completeness of Clinton's self-selected public record and raises serious questions about her decision to erase her personal server—especially before it could be analyzed by an independent, neutral third party arbiter," Gowdy said.
When asked for comment by Fox News, a Clinton official said "not only did she turn over all emails that she had from Blumenthal, she actually turned over more than a dozen emails that were not included in what he handed over to the House committee. We do not have a record of other correspondence between her and Mr. Blumenthal beyond that which was turned over to the State Department."
"In terms of the documents provided by Mr. Blumenthal to the House committee, we do not recognize many of those materials and cannot speak to their origin," the official said.
Clinton's use of the non-governmental email while in office was not publicly disclosed until earlier this year, after the committee sought her correspondence related to the Benghazi attack. She says the single account for personal and professional purposes was a matter of convenience, and says all her work emails were included in the 55,000 pages of documents she later handed over to the State Department. Clinton claims that emails of a personal nature were destroyed.
The State Department informed the Select Benghazi Committee on Thursday that they are no longer certain that's the case, officials told The Associated Press. 
The emails missing from the State Department's records include missives from Blumenthal in which he sends media accounts about the killing of one of Libyan dictator Muammar Qaddafi's sons, various reports on internal politics among Libya's rebels and news of the assassination of a former Qaddafi minister in Vienna.
Gowdy told Fox News' Megyn Kelly last week that Blumenthal was merely forwarding information from someone who may have had business interests in Libya.
Gowdy said that Blumenthal has never been to Libya, is not an expert on the country and therefore "has no idea" as to the validity of the information he was sending to Clinton.
"Not only was [Blumenthal] providing unvetted, uncorroborated, unsubstantiated intelligence to our top diplomat, he was just simply forwarding on intelligence that somebody by the name of Tyler Drumheller was sending him," Gowdy said.
Clinton's responses to Blumenthal's emails are brief. In one from March 2012, she passes on an adviser's skepticism regarding one of Blumenthal's reports about political intrigue in post-Qaddafi Libya, saying: "This strains credulity based on what I know. Any other info about it?"
And after a long August 2012 note from Blumenthal about Libya's new interim President Mohamed Yousef el-Magariaf, Clinton writes: "Another keeper — thanks and please keep `em coming." Four days later, she responds to a follow-up reports about el-Magariaf, saying: "Fascinating. I had a very good call w him."
Gowdy said Thursday that the emails show Clinton "was soliciting and regularly corresponding with Sidney Blumenthal — who was passing unvetted intelligence information about Libya from a source with a financial interest in the country. It just so happens these emails directly contradict her public statement that the messages from Blumenthal were unsolicited."
The Associated Press and Fox News' Ed Henry contributed to this report.
CommentsWrite a Reply or Comment: