U.S. stock-index futures sank, extending declines after a China-led rout continued to spread to equities around the globe.
Contracts on the Standard & Poor's 500 Index slid 2.6 percent to 1,933.25 as of 10:27 a.m. in London. Dow Jones Industrial Average contracts lost 2.6 percent after the gauge capped its worst three-day start to a year since 2008. Chinese stock exchanges closed less than a half hour after opening as a more than 7 percent plunge triggered a market-wide halt for the second time this week. European stocks tumbled as much as 3.6 percent.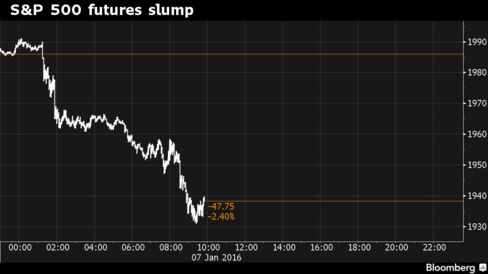 A flight from risky assets in the first week of the new year has wiped more than $2.5 trillion from global equities, made worse by the People's Bank of China move to cut its yuan reference rate for an eighth straight day. China's tolerance for a weaker yuan is being seen as evidence policy makers are struggling to revive an economy that's the world's biggest consumer of energy, metals and grains.
The move revived the angst that sent financial markets into turmoil last summer, sending U.S. stocks to three-month lows yesterday amid a slump in commodity producers. Exacerbating market jitters: comments by billionaire George Soros, who today told an economic forum in Sri Lanka that global markets are facing a crisis and investors need to be very cautious.
Same Speed
"I hope we do not see the same like in August," said Christian Zogg, head of equity and fixed income at LLB Asset Management in Vaduz, Liechtenstein. "The drop in the S&P futures would be quite a lot for the U.S. market in one day. Other markets are looking at that figure and moving in the same direction with the same speed."
Freeport-McMoRan Inc. and Alcoa Inc. fell at least 4.5 percent in premarket trading following a decline in metals. More than 100 stocks are falling in early trading in a broad selloff, with Apple Inc., Citigroup Inc. and AbbVie Inc. down about 3 percent each.
While investors cope with turbulence sparked by China, another source of consternation is looming as the corporate earnings season for 2015's final quarter soon begins. Alcoa Inc. is scheduled to report results at the start of next week. JPMorgan Chase & Co. and Intel Corp. are also due to post earnings. Analysts forecast profits for companies in the S&P 500 fell 6.1 percent last quarter.