March-like: Ice, Rain and Thunder on Christmas Day
We will wake up to a white Christmas, for the first time in 3 years. But Santa needs to hurry up; by midday tomorrow he may have to ditch the sleigh and finish his route on a cherry-red wave runner.
According to the Twin Cities National Weather Service Sunday's heavy rain will be only the third significant Christmas Day rain event in recent decades. Not as wet as the 2.6 inches of water that fell on December 25, 1982, but an inch of liquid water may soak the MSP metro area Christmas Day, melting snow, clogging drains and slowing traffic.
Rain freezing on contact will ice up roads in the morning; by late afternoon the atmosphere may be unstable enough for T-storms with temperatures in the 40s. I know, bizarre.
A Blizzard Watch is posted for the Dakotas, with over a foot of snow for far northwestern Minnesota by Monday. Serious icing is possible from Alexandria to Brainerd and Duluth.
No travel problems today, and next week's cold front almost looks reasonable, compared to -20F on Sunday. Models hint at 35-40F on New Year's Eve.
Wishing you and yours a Merry Christmas! 
---
GFS Future Radar guidance above: Tropicaltidbits.com.
---
---
Christmas Day Snowfall Potential. The loop above shows GFS guidance and I suspect it's on the right track: blizzard conditions for the Dakotas and the Red River Valley with white-out conditions Sunday into Monday. A few inches may fall over central Minnesota with mostly rain south and east of St. Cloud. Map: Tropicaltidbits.com.
---
Significant Icing on Untreated Roads Sunday. Christmas Day travel will be challenging, especially morning and midday over central Minnesota, where .1 to .2″ of glaze ice may accumulate; rain freezing on contact with sub-freezing roads, sidewalks and powerlines. Take it easy out there.
---
Big Swings. The ECMWF (European) model has been consistent for the last 4 days, showing highs well up into the 40s in the Twin Cities Christmas Day. I'm still skeptical, but warm advection and 30 mph winds blowing from the southeast may be able to overcome cooling from the 5-6″ snow still on the ground. I think we'll see low 40s Sunday, followed by cooling Monday and Tuesday. Mid to upper 30s on New Year's Eve? Place your bets. Graphic: WeatherBell.
---
---
Who Will See a White Christmas? Here is USA snow depth as of December 22, according to NOAA NOHRSC. Major east coast cities will see a brown Christmas, but from the Rockies and Upper Midwest to the Great Lakes and northern New England there should be snow on the ground December 25.
---
Aeris Weather Briefings: Issued Friday, December 23, 2016.
* Flash Flood Watch for Los Angeles; greatest risk is to burn areas – enhanced risk of flooding and mudslides.
* Christmas Day ice storm for Upper Mississippi Valley; heavy rain may spark minor flooding on highways and streams.
* Blizzard conditions possible across the Dakotas and far northwestern Minnesota Sunday into Monday morning.
* Isolated tornadoes can't be ruled out over the central Plains Sunday afternoon.
* Typhoon Nock-ten heading toward Philippines; Manila may see Category 1-2 impact on Christmas Day with torrential rains and power outages.
---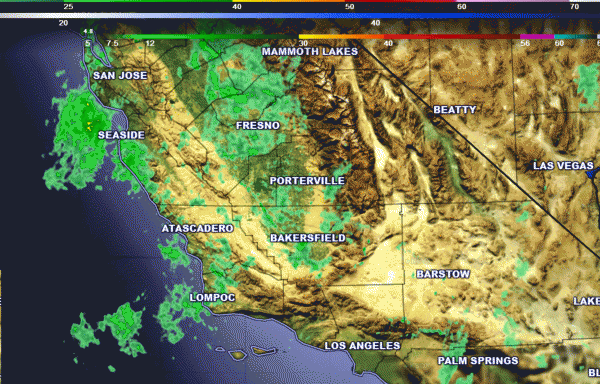 Strong Front Pushing Across California. Capable of 1-3″ rains over the next 24 hours, the latest system will impact Los Angeles Friday night into Saturday, with enough rain for flash flooding and serious traffic impacts. A Flash Flood Watch has been issued for the recent burn areas in Los Angeles County.
---
Christmas Day Mess. NOAA has issued a Blizzard Watch for much of the Dakotas for white-out conditions Sunday into midday Monday; Winter Storm Watch conditions from the Rockies into the High Plains and northern Minnesota for a mix of snow, ice and rain. Today's weak system may drop a couple inches of slushy snow from Des Moines to Rochester, La Crosse and Green Bay, but the main event comes Christmas Day. Map: AerisWeather AMP.
---
Predicted Snowfall by Monday Evening. Precipitation on Christmas Day will fall as mostly rain across the Midwest, including the Twin Cities. But north and west of the storm track enough cold air remains in place for mostly-snow, and well over a foot of snow may fall from the Black Hills of South Dakota into Bismarck and Grand Forks; with plowable to crippling conditions extending into far norrthwestern Minnesota by Sunday night and Monday morning. Graphic credit: Tropicaltidbits.com.
---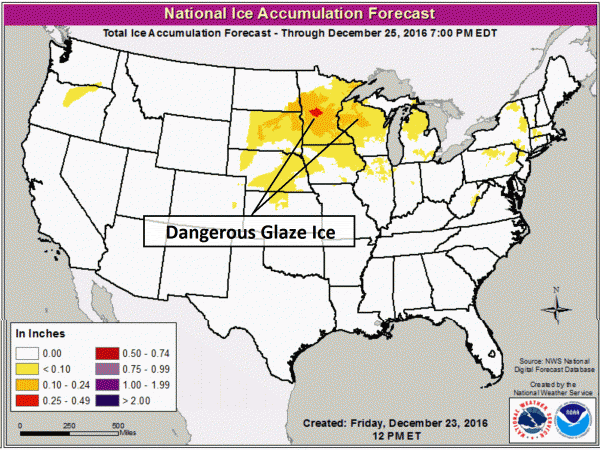 Ice Storm Potential. There may be enough glaze ice building up on tree limbs and powerlines for sporadic power outages Christmas Day, especially central Minnesota and Wisconsin. Rain will freeze on contact with cold surfaces near St. Cloud, Brainerd and Hayward, Wisconsin with primarily rain south and east of the Twin Cities on Sunday. Map: NOAA.
---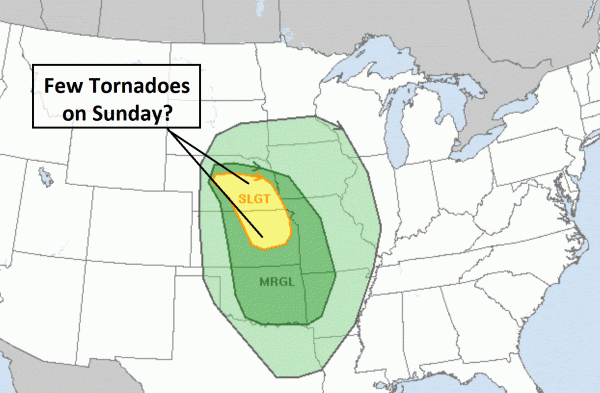 Christmas Day Tornadoes? The same storm whipping up blizzard conditions and a heavy accumulation of ice may spark a rare severe T-storm outbreak across Nebraska and Kansas on Sunday; a few isolated tornadoes cann't be ruled out from near Wichita to Omaha. Map: NOAA SPC.
---
Christmas Day Typhoon. Speaking of freakishly odd weather for late December, Typhoon Nock-ten is forecast to pass directly over Manila, Philippines as a Category 1-2 typhoon on Christmas Day. Over 10″ of rain may result in serious flooding of streets; I anticipate widespread impacts on tranportation and the grid with significant power outages possible within the city itself. Map: U-WI, CIMSS.
---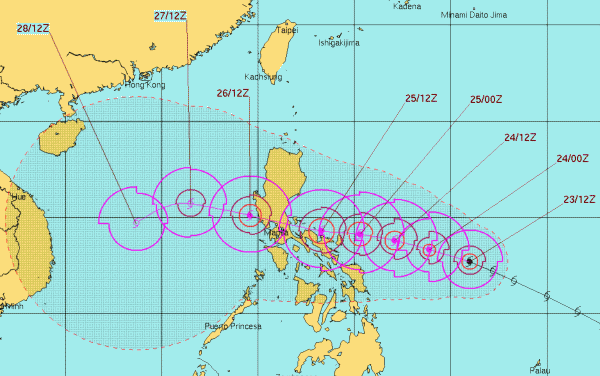 Timing Typhoon Nock-ten. Based on data from the U.S. Navy's Joint Typhoon Warning Center (above) it appears the potential for damage is late December 24 into early December 26, local Philippines time.
Summary: from flooding rains across California to heavy mountain snows over the Rockies, to Christmas Day ice across Minnesota and Wisconsin to blizzard conditions over the Dakotas by Sundayand a possible tornado outbreak over the central Plains, the latest storm pushing across the USA promises significant travel and facility disruptions timed for the holiday weekend. Meanwhile the Philippines is bracing for a potentially damaging typhoon, scheduled to track very close to Manila on Christmas Day.
Paul Douglas, Senior Meteorologist, AerisWeather
---
Astronomical Confirmation of the Star of Bethlehem? The following entry at Peter Kennedy's devotional.com caught my eye: "…In August 2016, astronomer Joe Rao wrote for Space.com a possible explanation for the Star of Bethlehem. His theory is that Venus and Jupiter were the two planets spotted by the Magi as they approached their closest viewing to within 4 arc minutes (0.06 degrees) of each other. He wrote: "Two planets coming this close together makes for a very striking sight, if they do not differ too much in brightness. Interestingly, in August of 3 B.C., Venus and Jupiter were prominent in the predawn eastern sky, and on Aug. 12 they came within just 9 arc minutes (0.15 degrees) of each other as seen from the Middle East. Incidentally, this sign would have been seen by men "in the east," explaining the phrase in the Book of Matthew. Ten months later, Venus and Jupiter got together again for an even more spectacular encore on June 17, 2 B.C., when at sundown from Babylonia they were separated by just 4 arc minutes of each other, about 35 degrees above the western horizon. As the sky grew dark, the two brightest planets drew closer to each other until finally at 9:15 p.m. local time they drew to within 36 arc seconds (0.01 degree) equal to the mean apparent width of Jupiter as seen through a telescope, at an altitude of 15 degrees above the horizon. To most people, the two planets must have appeared to coalesce into a single "star" somewhat brighter than Venus alone."
---
---
The U.S. Has Been Overwhelmingly Hot This Year. In spite of a relatively brief December cold wave and arctic invasion, 2016 is still shaping up to be the warmest year on record, worldwide. Here's an excerpt from Climate Central: "…Climate Central conducted an analysis of more than 1,730 weather stations across the Lower 48 that include daily temperature data up until Dec. 15. A paltry 2 percent are having a colder-than-normal year. That leaves 98 percent running above normal. Not only that, 10 percent of those weather stations are having their hottest year on record.
Those record-hot places can be found from coast to coast. They include medium-sized cities like Asheville, N.C., Modesto, Calif., and Flint, Mich., as well as lesser-known locales like Neosho, Mo., Callahan, Calif., and Climax, Colo. While some of the heat was driven by the super El Niño earlier this year, that alone doesn't explain all the records being set, particularly in the latter half of the year after El Niño faded. Climate change has caused the U.S. average temperature to increase about 1.5°F since the 1880s..."
Animation credit: "Weather stations in the U.S. that are having a warmer than normal, colder than normal and record hot year."
---
---
Arctic Temperatures Soar to 30C Above Normal. That's close to 50F warmer than average. No, this isn't normal or "average". And what happens in the Arctic doesn't stay in the Arctic. Here's an excerpt from Canada's CBC: "…In fact, models — which Scambos says are "fairly generous" — anticipate an ice-free Arctic by the 2050s or 2060s, though it could happen sooner. "There's an inertia to the climate system," Scambos said. "We still are not seeing the world we're in for." David Phillips, senior climatologist with Environment and Climate Change Canada , said that instead of the air flow moving west to east, as it typically does, patterns are changing. Now there is more of a north-south interaction where warm air moves up from the south. However, the northern air can also dip further down, as we saw the past two weeks with unusually cold temperatures across the country. The change in air flow can cause the wild swings we are seeing more often. In this case, warm air over Greenland and Norway is being pulled up to the Arctic, causing the unusual weather…"
Photo credit: "The Arctic climate is changing, alarming climatologists." (CBC)
---
North Pole Melts Near Melting Point This Christmas Week. Nature rarely moves in a straight line; are we experiencing a tipping point in the arctic? Here's an excerpt from MSN.com: "…They assume the Arctic is far away, and they assume, 'What impact could this have on us?'" Mayewski said. But Arctic warming is directly tied to extreme weather in the Northern Hemisphere, he explained. With the barrier between the cold north and warm south weakening, cold air masses are more easily moving south and warm air masses are more easily moving north, fueling the changes in surface ocean currents that can exacerbate extreme weather events. In addition, as sea ice transforms into open water, that open water absorbs more heat, a cycle of warming that increasing moisture levels and raises the odds of events like floods and droughts throughout the hemisphere. Mayewski cited a long list of recent extreme weather events in the Northern Hemisphere: the drought in the western United States, the historically cold East Coast winter of 2014, the initially mild winter of 2015-16 that suddenly gave way to record cold temperatures…"
Image credit: Climate Reanalyzer.
Update…
---
Weather Buoy Near North Pole Hits Melting Point. Jason Samenow reports from Capital Weather Gang: "Santa may need water skis instead of a sleigh this year. A weather buoy about 90 miles south of the North Pole registered a temperature at the melting point of 32 degrees (0 Celsius) early Thursday, as a giant storm east of Greenland drew abnormally warm air northward. Weather models had predicted temperatures could get this warm and this buoy, part of the North Pole Environmental Observatory, provides validation. "It seems likely areas very close to or at the North Pole were at the freezing point" Thursday, said Zachary Labe, a doctoral student researching Arctic climate and weather at the University of California at Irvine…"
Image credit: "Temperature near 89N latitude Dec. 20-22. (Data from North Pole Environmental Observatory buoy 300234064010010"
---
A Supervolcano Caused The Largest Eruption in European History. Now It's Stirring Again. Don't sweat the snow flurries. Here's an excerpt from The Washington Post: "…But the caldera itself is some 39,000 years old, formed by an eruption larger than anything else in the past 200,000 years of European history. A 2010 study in the journal Current Anthropology suggested that this prehistoric outburst — which spewed almost a trillion gallons of molten rock and released just as much sulfur into the atmosphere — set off a "volcanic winter" that led to the demise of the Neanderthals, who died out shortly afterward. Today, the Campi Flegrei caldera is increasingly restless. For half a century, scientists have measured "bradyseism" events — slow movements of the ground — that are indicative of molten rock slowly filling the mountain's magma chamber. Significant uplift in the past decade prompted Italian authorities to raise the supervolcano's alert level from green (quiet) to yellow (scientific attention) in 2012…"
Image credit: "In this educational film, researchers explain the dangers residents face living near the area of the Campi Flegrei volcano, near the Italian city of Naples." (YouTube/UPStrat-MAFA)
The World's First Solar Road Opens in France. Say what? France intends to pave 1,000 kilometers of roads with solar panels. Here's an excerpt from TIME: "The world's first road made of solar panels opened Thursday in a small town in Normandy, French officials said. The French Ministry of the Environment funded the 1-km (0.6 mile) project to test whether solar panels can be implemented effectively at a large scale. The project is intended to power the streetlights in the French town of Tourouvre-au-Perche…"
A Good Investment? Yale Environment 360 has more perspective.
Photo credit: Inhabitat.com. "The fossil fuel tax is expected to bring in between 200 to 300 million euros ($220 to 440 million) of funding for the project."
December 24, 1996: Strong winds of 20 to 30 mph, combined with over a foot of new snowfall, result in restricted visibilities from blowing snow. As a result, several highways closed, including highway 19 west of Redwood Falls, highways 7 and 40 at Madison, and highways 67 and 23 out of Granite Falls.
December 24, 1982: Heavy rain falls over the state, along with slushy snow over southwest Minnesota. Twin Cities gets 2.61 inches of precipitation through Christmas. Some lightning and thunder occur with the heavy rain on Christmas Eve.
SATURDAY NIGHT
: Overcast, milder than average. Low: 29
CHRISTMAS DAY: Icy start. Gusty, heavy rain, thunder. Winds: SE 20-40. High: 43
MONDAY: Gusty winds, flurries taper with falling temperatures. Winds: NW 20-40+ Wake-up: 31. High: 34
TUESDAY: Partly sunny, seasonably chilly. Winds: W 5-10. Wake-up: 18. High: 29
WEDNESDAY: Clouds increase, milder. Winds: SW 10-15. Wake-up: 21. High: 35
THURSDAY: Mostly cloudy with a few flakes. Winds: NW 15-25. Wake-up: 22. High: 27
FRIDAY: Plenty of sunshine, good travel. Winds: NW 10-15. Wake-up: 16. High: 26
---
Climate Stories…
Despite Fact-Checking, Zombie Myths About Climate Change Persist. Here's a clip from Poynter: "…Indeed, only 27 percent of Americans understand how widespread agreement is among scientists that burning fossil fuels and destroying tropical forests is causing climate change. Compared to their peers in other countries, Americans dramatically underestimate climate risks. For Ben Santer, a climate researcher who has done pioneering work detecting the human fingerprint on modern warming, the stubborn persistence of climate misinformation in U.S. civic life is troubling. He and other scientists refer to these bad claims as "zombie arguments" since they seem to keep coming back to life even after repeated debunking…"
Photo credit: "Scientists hold signs during a rally in conjunction with the American Geophysical Union's fall meeting Tuesday, Dec. 13, 2016, in San Francisco." (AP Photo/Marcio Jose Sanchez).
---
Science Proves the Obvious: The Arctic Heat Wave is Because of Climate Change. The arctic has been warming twice as fast as the rest of the planet (because of positive feedbacks) and without a rapidly warming arctic the odds of the kinds of extreme temperature anomalies (close to 50F above average near the North Pole) are slim to nil. Here's an excerpt at fastcoexist.com: "…A new analysis from researchers working with World Weather Attribution used a combination of computer modeling and observational data to see if the Arctic heat wave over the last two months is connected with climate change and not solely an extreme, but natural, temperature increase brought on by El Niño or some other phenomenon. Their unsurprising conclusion: Definitely climate change. "What I found was that without climate change this event would be extremely unlikely to occur, and climate change has made it a lot more likely," says Andrew King, a researcher from the University of Melbourne who led one part of the analysis. A century ago, the probability of a heat wave of this size happening would have been so low that the researchers couldn't precisely estimate it, saying only that the chances would have been less than 0.1% a year..."
Photo credit: Bethany Legg via Unsplash.
---
Will We Miss Our Last Chance to Save the World From Climate Change? Some will dismiss this as alarmist hype. But Hansen's predictions have had a funny way of coming true over the years. Here's an excerpt of a recent interview at RollingStone: "…Right now, the Earth's temperature is already well into the range that existed during the Eemian period, 120,000 years ago, which was the last time the Earth was warmer than it is now. And that was a time when sea level was 20 to 30 feet higher than it is now. So that's what we could expect if we just leave things the way they are. And we've got more warming in the pipeline, so we're going to the top of and even outside of the Eemian range if we don't do something. And that something is that we have to move to clean energy as quickly as possible. If we burn all the fossil fuels, then we will melt all the ice on the planet eventually, and that would raise the seas by about 250 feet. So we can't do that. But if we just stay on this path, then it's the CO2 that we're putting up there that is a burden for young people because they're going to have to figure out how to get it out of the atmosphere. Or figure out how to live on a radically different planet..."
Photo credit: "The energy system and the tax system have got to be simplified in a way that everybody understands and doesn't allow the wealthy few to completely rig the system," says Hansen." Benedict Evans/Redux.
---
Ignoring Climate Change Just Got More Expensive. Here's an excerpt from Bloomberg: "…Nordhaus recently updated DICE. He published results of an early test-drive of it this week in a National Bureau of Economic Research working paper, titled "Projections and Uncertainties About Climate Change in an Era of Minimal Climate Policies." Readers of recent headlines might be forgiven for assuming the "era of minimal climate policies" referred to is about the next four years. In fact, Nordhaus suggests, the "minimal policy" era is the one we're currently in. (Nordhaus couldn't be reached for comment.) The paper's findings "pertain primarily to a world without climate policies, which is reasonably accurate for virtually the entire globe today," he writes. "The results show rapidly rising accumulation of CO2, temperature changes, and damages..."
---
Dear President-Elect Trump: Don't Listen to the "Ignorant Voices" on Climate Change. Here's an excerpt of an Op-Ed from climate scientist Ben Santer at CNBC.com: "…I am one member of those unarmed forces. Thirty-five years ago, I signed up for a life in science. The attraction was the joy of discovering interesting stuff about this strange and beautiful world in which we live. In the last thirty-five years, I learned two things. First, human actions are changing Earth's climate. Second, if we do nothing to address this problem, likely outcomes are bad. I want our country and our planet to avoid bad outcomes – which is why I've chosen to speak out publicly. I am not alone – thousands of my scientific colleagues are voicing their concerns. Scientific currency is not about money or power. It's about understanding. If you're a scientist, you are ultimately judged on whether you got the science right. The few scientific voices claiming that our planet is not warming did not get the science right…"
---
Warming Is Sending Mountain Glaciers "Off a Cliff". Andrea Thompson reports for Climate Central: "…But while scientists could draw a line from human-caused warming to glacier loss on a global scale, attributing any one glacier's retreat to climate change has been difficult because of relatively short records and glaciers' large natural variations. In a new study detailed this month in the journal Nature Geoscience, researchers have figured out how to link global warming to the retreat of individual mountain glaciers. They showed that for 36 glaciers with robust records, that retreat is "categorical evidence" of climate change, study co-author Gerard Roe of the University of Washington said during a press conference at the annual meeting of the American Geophysical Union held last week in San Francisco…"
Photo credit: "Franz Josef Glacier in New Zealand, one of the glaciers whose retreat is almost certainly linked to global warming." Credit: Christopher Chan/flickr
---
Beliefs About Climate Change May Reflect a Failure to Understand What Climate Change Is. Here's a snippet from Forbes: "…The researchers found that over the 50 year period, temperatures that favored local warming at a rate higher than would be expected to occur by chance were recorded at 49% of the weather stations included in the study. An additional 10% of the weather stations recorded temperatures that favored local cooling. Changes in local weather were reliably correlated with people's belief about climate change. People who live in areas that have experienced more record high temperatures than lows are likely to believe climate change is happening. Conversely, people who live in areas that have experienced more record lows than highs are likely to believe climate change is not real..."
Map credit: "Temperature change in the US compared to average temperatures from 1901 to 1960." Credit NASA
---
Digital Media Are Shaking Up Reporting on Climate Change. Here's an excerpt from Thomson Reuters: "…These new players were generally more visually oriented than traditional media, relying on a lot of picture-based or video reporting. BuzzFeed in particular relied on photos more than any other media. These new players are already outperforming some traditional players for news in many countries.  For example, in the United States, Huffington Post is now the most popular source for information about environment for those who are highly interested in the issue. BuzzFeed reaches as many online users as the New York Times and the Washington Post each week among the same category of those highly interested in the environment..."