Protesters rally in Texas town after video of officer drawing gun on teens surfaces – Fox News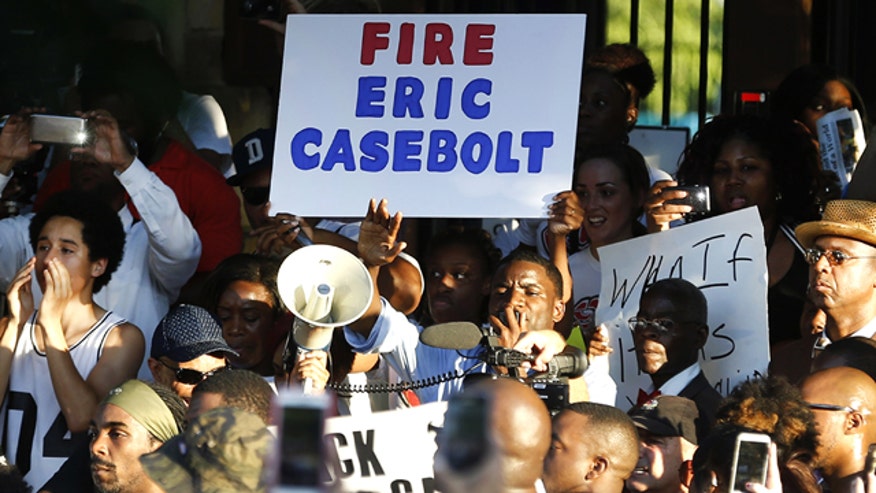 Hundreds of demonstrators rallied outside an elementary school in a Dallas suburb Monday in response to a video that showed a white police officer pushing and pinning a black teenage girl to the ground before drawing his gun on two others who tried to intervene. 
KDFW reported that many of the protesters came from outside the town of McKinney, about 35 miles northeast of Dallas. They held signs that included the phrases, "My skin color is not a crime," and, "Don't tread on our kids." More than 150 people were part of a counter-protest on a nearby corner, waving flags and holding signs that said "Back the Blue."
A few dozen addressed the crowd through a bullhorn, including Derrick Golden, a pastor from McKinney who met earlier with the city's police Chief Greg Conley. He said Conley "responded appropriately" in placing the officer, 41-year-old Eric Casebolt, on administrative leave following the incident. However, Golden said he would push for Casebolt to be fired due to the officer's use of profanity and his brandishing of the gun. 
But Benét Embry, a black local radio personality who witnessed the incident, said it was "not another Ferguson" or "another Baltimore," referring to other police encounters that have left suspects dead and fueled a nationwide "Black Lives Matter" movement.
"This was a teenage party that got out of hand," Embry said.
Police said some of the young people did not live in the area and did not have permission to be at the pool in the affluent, predominantly white city.
According to neighbors, Embry said, a woman who lives in the community reserved the pool for a party. The homeowners' association limits the number of guests each homeowner may have at the pool to two. But about 130 people, mostly kids, showed up for the woman's party, he said.
At one point, several kids began jumping over the fence to get into the pool area and were causing a disturbance, Embry said, and a couple of fights broke out.
While he did not agree with the officer's profanity or belligerence, Embry said, police were right to respond.
"That's what they are supposed to do — protect us," he said. "I don't know any other way he could have taken her down or established order."
Casebolt joined the McKinney police force in August 2005. Prior to that, he served almost two years as a state trooper, according to records from the Texas Commission on Law Enforcement.
Casebolt took eight hours of cultural diversity training at Collin County Community College in February 2009. He has also taken courses in racial profiling and use of force.
The girl seen in the video claimed the officer told her to walk away but forced her down after "he thought we were saying rude stuff to him," according to an interview she gave to KDFW.
"He grabbed me, twisted my arm on my back and shoved me in the grass and started pulling the back of my braids," Dajerria Becton, 15, told the station. "I was telling him to get off me because my back was hurting bad."
"I understand how he was feeling, everybody surrounding him," she said. "I don't think he should have pulled a gun out on 15-year-old kids."
Brandon Brooks, the teen who recorded the video, told KDFW that tensions rose after a white woman and a black teenager at the party had an altercation. He said the white woman told the teen "to go back to Section 8 housing," a reference to federal housing aid given to low-income families.
The comment holds extra significance in McKinney, which has been the target of lawsuits accusing its housing authority of racially segregating Section 8 housing. One long-running lawsuit was settled with a consent decree in 2012 that aimed to open up the west side to subsidized housing.
Brooks said that the officer was "out of line" and that he felt compelled to keep filming when Casebolt pulled out his gun.
"At that point, my heart did drop and I was scared that someone was going to get shot and possibly killed," he said.
McKinney Mayor Brian Loughmiller said city officials plan to meet with community leaders to discuss the incident.
"We really need to come together as a community," the mayor said.
Nikki Perez, a black resident of McKinney, attended a City Council meeting Monday to express her concern over the officer's actions.
"I don't excuse the behavior of those teenagers, but if I call 911, then I wouldn't want that cop to respond," Perez said. "He blew his credibility when he opened his mouth and started cursing at the kids."
Robert Taylor, a criminology professor at the University of Texas at Dallas who has done studies for the McKinney Police Department, said both the officer and the teens at the pool party acted inappropriately.
The teens were not following police orders, he said, but the officer's decision to pull out his gun did not help.
"That's not the way we're trained," he said. "We're trained in policing to de-escalate problem encounters like this. … Obviously, that officer lost his cool. No doubt about it."
Most people were released, except for one man arrested for interference with the duties of a police officer and evading arrest, police said.
The Associated Press contributed to this report. 
CommentsWrite a Reply or Comment: