The pound reached the strongest level this year less than 24 hours before the landmark U.K. vote on membership of the European Union was set to begin.
A gauge of sterling against a basket of currencies advanced a day before Thursday's referendum as a Comres poll showed 48 percent "Remain" and 42 percent "Leave," while a YouGov survey showed backing for a vote to stay was ahead 51 percent to 49 percent. The pound strengthened against all 16 of its major counterparts. Voting booths open at 7 a.m. London time.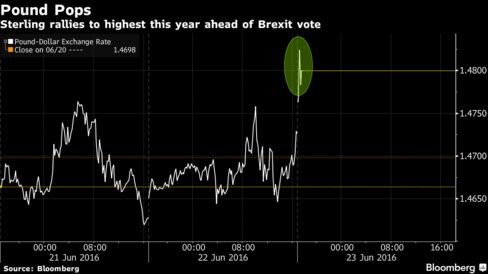 "The pound is moving in tandem with what bookmakers are showing, which is clearly pointing to one direction," Masafumi Yamamoto, chief currency strategist in Tokyo at Mizuho Securities Co. "But the rise in the pound now is no guarantee that the outcome of the actual result will show the stay camp prevailing."
Sterling rose 0.5 percent to $1.4779 as of 7:43 a.m. Tokyo time, after reaching $1.4844, the strongest level since Dec. 31. The currency added 0.2 percent to 76.67 pence per euro. The yen slid 0.3 percent to 104.69 per dollar.