Plane Forced to Land After Apparent Blast Causes Hole in Aircraft – ABC News
A passenger plane bound for Djibouti was forced to make an emergency landing today, minutes after taking off from Mogadishu, due to a hole opening up in the plane after an apparent explosion, according to aviation experts.
On its Facebook page, Daallo Airlines, the national airline of Somalia, said in a statement that an Airbus 321 had "experienced an incident shortly after takeoff" from the airport in Mogadishu, Somalia.
"The aircraft landed safely and all our passengers were evacuated safely," the statement said. "A thorough investigation is being conducted by Somalia Civil Aviation Authority."
The hole in the plane's fuselage reached from the ceiling to the floor, according to photos of the damage. The aircraft was carrying 74 passengers and crew, authorities said. A Somali aviation official said that two passengers had been slightly injured in the incident, according to the Associated Press.
The official, however, wouldn't provide any other details regarding injuries and did not confirm reports that an explosion may have triggered the fire.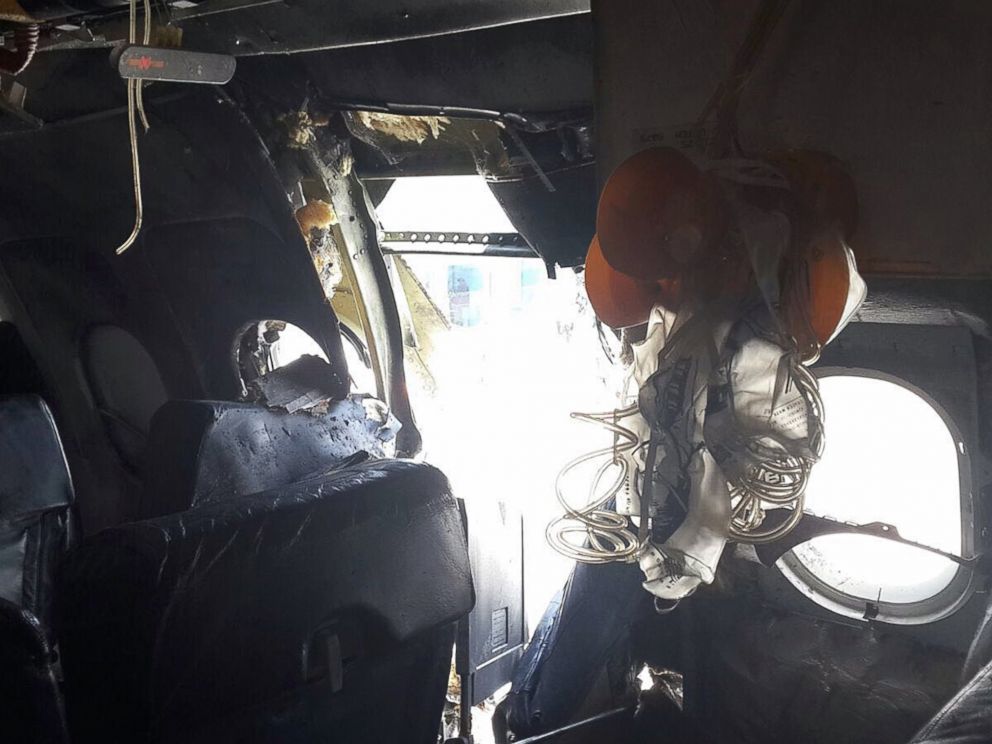 Passengers aboard the Airbus 321 said they heard a loud bang and then saw smoke. As the cabin depressurized, oxygen masks deployed. Some of the 74 passengers were forced to move to the back of the jetliner as the plane descended, according to the AP.
"I don't know if it was a bomb or an electric shock — but we heard a bang inside the plane," said passenger Mohamed Ali, according to the AP.
"The thing that's most interesting to me is that if you look at the outside of the airplane, some force from within the airplane pushed the sides of the aircraft open. You can see how it's peeled back and you can actually see the streaking from soot down the back side, which would suggest quite definitively that this was a bomb of some kind, probably something about a hand-grenade size that would have made this hole in the side of the airplane," said ABC News aviation consultant ret. Col. Steve Ganyard.
CommentsWrite a Reply or Comment: