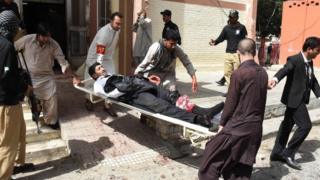 A suicide bomb attack has killed 63 people at a hospital in Quetta, in south-west Pakistan, officials say.
About 120 others were injured in the blast, which happened at the entrance to the emergency department where the body of a prominent lawyer shot dead earlier on Monday was being brought.
The casualties included lawyers and journalists accompanying the body of Bilal Anwar Kasi.
Gunfire followed the explosion. It was not clear who the attackers were.
Mr Kasi, who was president of the Balochistan Bar Association, had been shot by two unknown assailants while on his way from his home to the main court complex in Quetta.
Pakistani Prime Minister Nawaz Sharif expressed his "deep grief and anguish", adding: "No-one will be allowed to disturb the peace of the province. The people, policy and security forces in Balochistan have given sacrifices for the country."
The president of Pakistan's Supreme Court Bar Association, Syed Ali Zafa, denounced the assault as "an attack on justice".
The Chief Minister of Balochistan, Sanaullah Zehri, said those injured should be given the best medical treatment and facilities available.
---
Analysis – By M Ilyas Khan, BBC News, Islamabad
Who was behind the attack? Investigators may have a difficult task ahead – there is a confusing cocktail of militant groups in Pakistan that use the country as a sanctuary, despite official claims to the contrary.
Balochistan province, of which Quetta is the capital, has been the scene of a violent separatist insurgency for years.
But many believe Monday's attack, that appeared to target lawyers, carries the signature of militant groups with a wider agenda, such as the TTP (Pakistani Taliban) or other anti-government militants.
Local experts believe the attackers may have targeted the lawyers because they were less well-guarded than security or police officers – and because an attack on lawyers, who represent a vocal section of society, is likely to attract high publicity.
Some regional officials have blamed India for being a possible instigator – as they have in previous attacks. But India has always denied such claims.
The bloody attack in Quetta is yet another reminder that despite recent military claims to the contrary, militants in Pakistan are far from being defeated.
The last attack with a high casualty figure in Quetta, and one which followed the same tactics, took place exactly three years ago, on 8 August 2013, when gunmen shot dead a police official, and hours later a suicide bomber detonated a device at his funeral prayers, killing about 30 people, many of them senior police officials. That attack was claimed by the TTP.
---
There have been a number of targeted killings in Quetta and the victims in recent weeks have included several lawyers.
Mr Kasi had strongly condemned the attacks and local media said he had announced a two-day boycott of court sessions in protest at the killing of a colleague last week.
Those killed in the hospital attack were said to include Baz Muhammad Kakar, a predecessor of Mr Kasi as provincial bar president, and 17 other lawyers.
Two journalists have also been identified among the dead – Shahzad Khan, a cameraman for Aaj TV, and Mehmood Khan, a cameraman for DawnNews.
Pakistani lawyers in Lahore staged a demonstration to condemn the attack. Some journalists also protested, demanding protection for freedom of expression.
Facebook has activated its safety check feature for Quetta, allowing users to mark themselves or others as being safe.