OPEC: At The Finish Line – Seeking Alpha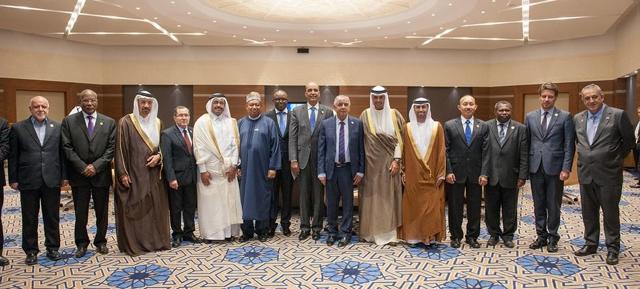 Click to enlarge
The 171st meeting of OPEC member states in Vienna will keep global oil markets on edge all the way through Thursday of this coming week. Significant risks with regard to the outcome exist and are likely to prevail until the final resolution is announced.
The following are some of the structural elements of the agreement as it appears to be shaping up currently:
By this point, there appears to be a consensus among OPEC members that the organization should attempt to reduce its output to 32.5 million barrels per day, which represents a meaningful progress relative to the range of views expressed in September. Initially, the range of proposed options included higher collective ceilings for OPEC as a group.
Every OPEC member will be allocated a six-month production quota. Quota negotiation appears to be well underway and key OPEC members appear to be onboard.
Libya and Nigeria will likely be given headroom to grow production but are also likely to be subject to production quotas.
Mechanisms appear to be under discussion that would allow to accommodate potential production increases by Libya and Nigeria without exceeding OPEC's collective ceiling. The options may include pre-agreed quota reductions for all OPEC members in the event combined production from Libya and Nigeria exceeds certain thresholds or a ceiling "underwritten" by the largest producers.
Iran is given a more relaxed quota than most OPEC members. My expectation is that the quota will be materially below 4.0 million barrels per day.
The agreement appears to cover control and implementation mechanisms, which is the most challenging but critical enabling element of a production control pact.
The participation by non-OPEC members in the agreement appears unresolved at this time and represents a significant issue. The contribution by non-OPEC states may have to be accepted in the form of a "production freeze" at recent levels.
It appears that both Iran and Iraq are onboard with these general terms. If any bid-ask still exists between Saudi Arabia and Iran with regard to Iran's quota, the gap appears to have been bridged to a significant degree.
The following comments by Iranian Minister of Petroleum Bijan Zangeneh following his meeting in Teheran with Algeria Energy Minister Noureddine Boutarfa over the weekend shed some additional light on the status of the negotiations within OPEC. According to an Iranian news agency:
He said the proposed package of the Algerian Energy minister regarding how much each of the producers will reduce their output was put on table and carefully studied.

Asked whether Iran, Libya and Nigeria will be excluded from any OPEC output cut plan, he said: "This has been a serious discussion in our talks."

Asked whether Iraq has called for being considered as another exception of the output cut, he said, "We have not been informed of such demands from Iraq."

"Everyone has accepted the Algiers decisions and the current discussions are focused on how the decisions will be implemented… I am optimistic that the OPEC members will reach an agreement."

"The course of events and talks indicates that OPEC can reach a sustainable deal regarding its output and market management," the official further added.
The comments by Iran's petroleum minister are quite encouraging, given Iran's critical role in anchoring the pact. While Iran has been very vocal and seemingly uncompromising in its demands for a special high production quota, it is worth noting that Iran has been an even more vocal advocate of coordinated measures by OPEC to support prices. Following the painful failure to reach an agreement earlier this year, OPEC members may be viewing the current opportunity as unique.
For in-depth analysis of the oil and natural gas industry and commodity fundamentals, please consider subscribing to Zeits OIL ANALYTICS.
· ETFs: USO, OIL, UWTI, UCO, DWTI, SCO, BNO, DBO, DTO, UGA, USL, DNO, OLO, UHN, SZO, OLEM, OILK, OILX
Disclaimer: Opinions expressed herein by the author are not an investment recommendation and are not meant to be relied upon in investment decisions. The author is not acting in an investment, tax, legal or any other advisory capacity. This is not an investment research report. The author's opinions expressed herein cannot be a substitute for comprehensive investment analysis. Any analysis presented herein is illustrative in nature, limited in scope, based on an incomplete set of information and has limitations to its accuracy. The author recommends that potential and existing investors conduct thorough investment research of their own and consult a qualified investment adviser. The information upon which this material is based was obtained from sources believed to be reliable, but has not been independently verified. Therefore, the author cannot guarantee its accuracy. Any opinions or estimates constitute the author's best judgment as of the date of publication, and are subject to change without notice. The author explicitly disclaims any liability that may arise from the use of this material.
Disclosure: I/we have no positions in any stocks mentioned, and no plans to initiate any positions within the next 72 hours.
I wrote this article myself, and it expresses my own opinions. I am not receiving compensation for it (other than from Seeking Alpha). I have no business relationship with any company whose stock is mentioned in this article.
CommentsWrite a Reply or Comment: