Nine killed in shooting at South Carolina church, gunman still at large – Fox News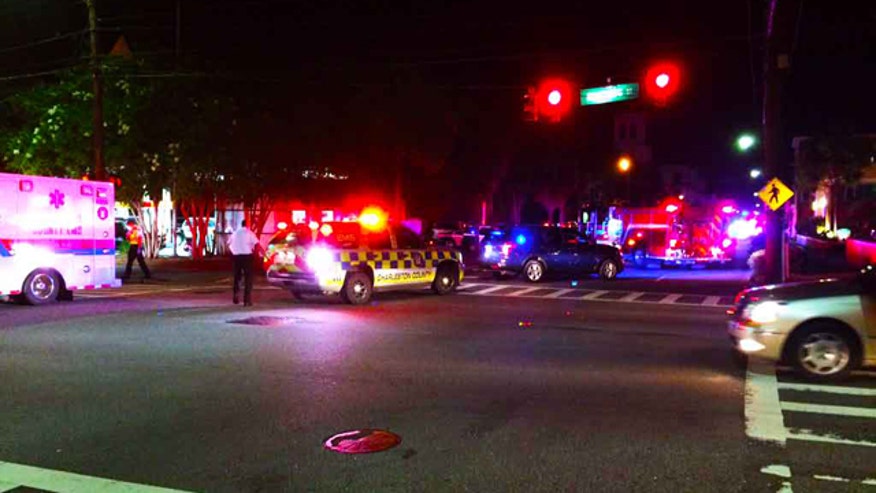 Nine people were killed late Wednesday at a historic African-American church in Charleston, S.C. after a white gunman walked in during a prayer meeting and began shooting in what authorities described as a hate crime.
Charleston Police Chief Greg Mullen told a press conference early Thursday that the gunman, described as being clean-shaven and approximately 21 years old with sandy blonde hair and a slender build, was still at large and "extremely dangerous."
"This is a tragedy that no community should have to experience," Mullen said. "It is senseless and unfathomable in today's society that someone would walk into a church during a prayer meeting and take their lives."
"The only reason that someone could walk into a church and shoot people praying is out of hate," said Charleston Mayor Joseph P. Riley. "It is the most dastardly act that one could possibly imagine, and we will bring that person to justice … This is one hateful person."
Mullen said the scene was chaotic when police arrived, and the officers thought they had the suspect tracked with a police dog, but he got away. He also announced that a reward for information leading to the shooter's capture would be offered Thursday and that the FBI would aid the investigation.
Authorities said the crime scene investigation had been complicated by a bomb threat that had been called in, forcing police to move members of the media back and close off a large section of the street where the shooting took place.
Among the dead was the church's pastor, state Sen. Clementa Pinckney, 41, who had been a pastor since he was 18. Pinckney was the youngest African-American elected to the South Carolina legislature when he won office in 1996 at age 23 and had been a state senator since 2000.
Soon after Wednesday night's shooting, a group of pastors huddled together praying in a circle across the street. Community organizer Christopher Cason told the Associated Press he felt certain the shootings were racially motivated.
"I am very tired of people telling me that I don't have the right to be angry," Cason said. "I am very angry right now."
Authorities said the shooting took place at approximately 9 p.m. local time. Police would not immediately confirm the identities of the victims. Mullen said there were survivors, but did not say how many, or how many were inside the church at the time of the shooting.
Dot Scott, the president of the Charleston NAACP, told the Post and Courier newspaper that she had spoken with a female survivor who said the gunman walked into the church and briefly sat down before standing up and opening fire. Scott said the gunman told the woman he was letting her live so she could tell others what had happened.
"There is no greater coward than a criminal who enters a house of God and slaughters innocent people engaged in the study of scripture," NAACP President and CEO Cornell Brooks said in a statement Thursday. "Today I mourn as an AME minister, as a student and teacher of scripture, as well as a member of the NAACP."
Police described the suspect as wearing a gray sweatshirt with blue jeans and Timberland boots. Approximately two hours after the shooting, a man matching the suspect's description was briefly detained near the shooting scene, but was later let go by police. The man, identified as 21-year-old David Corrie, told the Post and Courier he was walking out of a Shell gas station's convenience store when police forced him to get down on the ground and handcuffed him.
The campaign of GOP presidential hopeful Jeb Bush sent out an email saying that due to the shooting, the candidate had canceled an event planned in the city Thursday. South Carolina Gov. Nikki Haley issued a statement calling the shooting a "senseless tragedy."
"While we do not yet know all of the details, we do know that we'll never understand what motivated anyone to enter one of our places of worship and take the life of another," Haley said. "Please join us in lifting up the victims and their families with our love and prayers."
Sen. Tim Scott, R-S.C. posted a series of Twitter message about the tragedy. "My heart is breaking for Charleston and South Carolina tonight," one of them read.
This senseless tragedy at a place of worship-where we come together to laugh,love&rejoice in God's name-is despicable&can't be understood

— Tim Scott (@SenatorTimScott)
June 18, 2015
The church is a historic African-American church that traces its roots to 1816, when several churches split from Charleston's Methodist Episcopal church. One of its founders, Denmark Vesey, tried to organize a slave revolt in 1822. He was caught, and white landowners had his church burned in revenge. Parishioners worshipped underground until after the Civil War.
Anyone with information on the gunman's whereabouts is asked to contact Charleston Police dispatch at 843-743-7200.
The Associated Press contributed to this report.
CommentsWrite a Reply or Comment: