New Orleans police continue manhunt for man suspected of killing officer – Fox News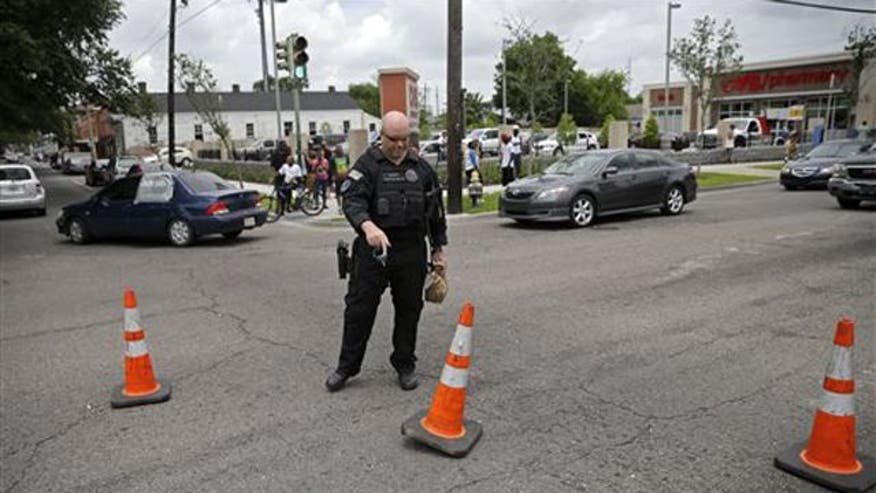 A search of the man suspected of killing a police officer who was transporting him to jail continued into late Saturday night in a New Orleans neighborhood.
The death of veteran officer Daryle Holloway, 45, continues to baffle investigators as they tried to cope with a colleague's death after the suspect somehow got the gun as he was handcuffed behind his back and got out of a barrier that separated him from the front seat.
The shooting death of Holloway left New Orleans' St. Roch neighborhood on edge as body-armored officers with high-powered rifles swept houses for the suspect, 33-year-old Travis Boys.
"I literally live two blocks away and I just want to go home," Jayne Greppin as sunlight began to dim Saturday evening. She said police hadn't stopped her when she left her house to get cigarettes, but wasn't allowed back onto her street shortly thereafter. The search spanned several blocks and police were keeping some people away from their homes while not allowing others to come out.
The New Orleans Crimestoppers organization announced a $10,000 reward for information leading to Boys' arrest.
"He will be caught and he will be brought to justice for the murder of Officer Holloway and for this assault on our entire community," police chief Michael Harrison said in a statement.
The shooting occurred Saturday morning as Boys was handcuffed in the back seat of the vehicle. Boys managed to get his hands from behind his back to the front and obtain a weapon as well, Harrison told reporters at the scene in a video interview posted on the department's Facebook page.
Harrison said Boys got to the front seat through an opening in the cage that separates front and back seats and shot Holloway.
"Officer Holloway put up a fight to try to get the subject to not exit the vehicle but succumbed to his injuries," Harrison said.
Department spokesman Tyler Gamble said police were trying to determine what weapon Boys used and how he obtained it, but do not believe Boys used the officer's gun.
"I look out the door — I'd heard the boom — I see the fire truck here on the corner," he said. It was only later, after police had swarmed into the area that he learned what happened.
A helicopter circled overhead as marked and unmarked units from state police and other law enforcement agencies cruised side streets. Utility workers worked to replace the downed power pole.
State police, St. Tammany Parish deputies, Housing Authority of New Orleans police and the U.S. Marshals Service were among the agencies searching for Boys.
Vincent Alexander, a prep cook at Margaritaville restaurant in the French Quarter, said he was walking home from work when police detoured him a short distance from his house. "I just called my roommate. They're not letting him get out the house."
Holloway had been a member of the New Orleans Police Department since 1992. He was the father of three children.
Harrison said Holloway was not the arresting officer but was transporting Boys to a jail when the shooting occurred.
Harrison said he met with two of Holloway's children and Holloway's former wife at the hospital after he died. "As a new chief, it was the hardest thing I've ever had to do in my life," said Harrison, who became chief last year.
He said he had known Holloway for 23 years and described him as "a great police officer."
Mayor Mitch Landrieu condemned the killing as "the lowest of the low" and called on the public to help police with information on Boys' whereabouts.
"Killing an officer in the line of duty is an attack on our community that will not stand," Landrieu said in a statement. "The heart and soul of New Orleans is heavy today as our community mourns one of our city's finest."
The last New Orleans Police Department officer killed in the line of duty was Officer Rodney Thomas on July 7, 2013, according to Gamble. More recently, a Housing Authority police officer, James Bennett Jr., 45, was found shot to death in his patrol car.
The Associated Press contributed to this report
CommentsWrite a Reply or Comment: