Federal Reserve policy makers indicated that a June interest-rate increase was likely if the economy continued to improve, boosting market expectations they will act next month.
"Most participants judged that if incoming data were consistent with economic growth picking up in the second quarter, labor market conditions continuing to strengthen and inflation making progress toward the committee's 2 percent objective, then it likely would be appropriate for the committee to increase the target range for the federal funds rate in June," according to minutes of the Federal Open Market Committee's April 26-27 meeting released Wednesday in Washington.
Officials were divided over whether those conditions were likely to be met in time. "Participants expressed a range of views about the likelihood that incoming information would make it appropriate to adjust the stance of policy at the time of the next meeting," the minutes stated.
Referring to the June meeting, officials "generally judged it appropriate to leave their policy options open and maintain the flexibility to make this decision" based on how the economy evolves, the minutes said.
"The tone was quite hawkish, and I think probably surprised many market participants," said Tony Bedikian, managing director of global markets for Citizens Bank in Boston. "It looks like the Fed put the June hike relatively aggressively on the table, so long as the economic data continues to show positive signs."
U.S. stocks swung to losses and 10-year Treasuries declined as market odds of a June interest-rate increase surged following the release of the minutes, with federal funds futures pricing in a 32 percent chance, up from 16 percent. After a weak first quarter, more recent indicators show a rebound in the second, and a bump in inflation reported this week had already lifted the odds from 4 percent on Monday.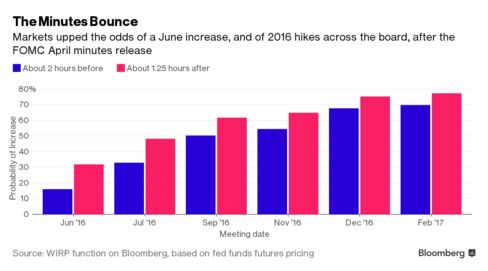 "While they haven't made a decision to move in June, they certainly want people to understand that it certainly is a possibility," said Stephen Stanley, chief economist at Amherst Pierpont Securities LLC in New York. If the data are good, "I think the markets will probably have to continue to up the odds of a June move," he said.
The consumer price index rose by the most in more than three years in April. Recent data on housing and consumer spending have also indicated signs of growth. Gross domestic product in the second quarter is on pace to expand 2.5 percent, according to the Atlanta Fed's GDPNow gauge. That's a pickup from 0.5 percent growth in from January through March.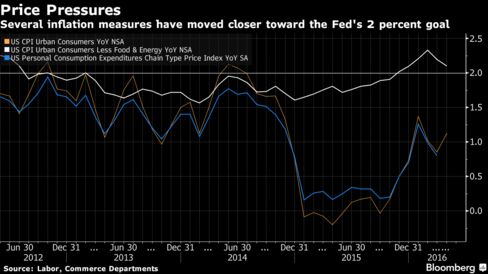 In April, Fed officials left rates unchanged for their third straight session, but indicated they were "leaving open the possibility" of a June hike. Risks to the outlook included a U.K. referendum June 23 to leave the European Union and possible financial instability associated with China's currency, the minutes showed.
Some meeting participants expressed concern that markets were ill-prepared for a June rate hike and "emphasized the importance of communicating clearly over the intermeeting period how the committee intends to respond to economic and financial developments."
District Presidents
Several Fed presidents, including Boston Fed chief Eric Rosengren and San Francisco Fed President John Williams, have delivered speeches in recent days expressing concern that markets were underestimating the chances for a rate increase next month.
Fed policy makers will gather again in Washington on June 14-15, and Chair Janet Yellen will discuss the decision in a press conference as she does every other meeting.
The committee raised rates for the first time in almost a decade in December. They've since been on hold in response to a burst of market volatility early this year and a slowdown in U.S. growth in the first quarter.
The FOMC has also taken a pass since December on making a so-called balance-of-risks statement, in which they weigh upside and downside threats to their outlook. In March they warned that global developments "continue to pose risks," a warning they dropped in April.
"This change in language was intended to convey the committee's sense that the risks associated with global developments had diminished somewhat since the March FOMC meeting without characterizing the overall balance of risks," the minutes said.