More than 500 injured in massive fire at Taiwan water park party – Fox News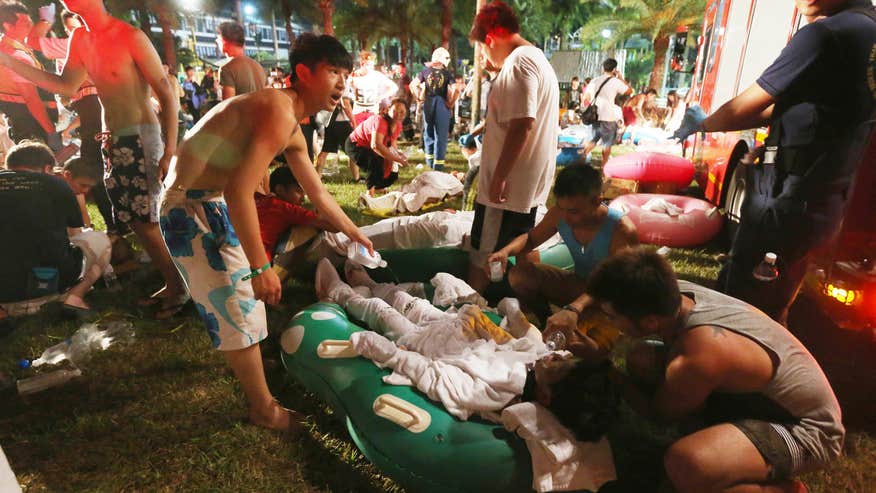 More than 500 people were injured after a fire broke out on a music stage and spread into a crowd of spectators Saturday night at a Taiwan water park, authorities said Sunday.
The fire was sparked by an accidental explosion of a colored theatrical powder thrown from the stage in front of about 1,000 people, the fire agency and local media said. The powder for the event called "Color Play Asia" ignited along the ground, mainly burning people's lower bodies, said Wang Wei-sheng, a liaison with the New Taipei City fire department command center.
Taiwan's Central News Agency reported witnesses saying the fire spread quickly after the power was blown into the air. The event was being held at the Formosa Water Park in New Taipei City.
Taiwan Premier Mao Chih-kuo banned parties that use flammable colored powder Sunday.
A total of 516 people were reported to have burn injuries as of 11 a.m. Sunday, Wang said. The official injury toll had risen from slightly more than 200 at midnight, because about 300 people had made their own way to hospitals. Eight others had life-threatening injuries, according to Taiwan's Central News Agency.
The victims include four from mainland China and two foreigners. An 18-year-old from Taiwan was burned on 90 percent of her body.
Central News Agency said that police were questioning two park workers who had launched the powder as well as the party's on-site organizer and two technicians. They may face charges of professional negligence causing serious injuries and endangering the public, it said.
The exact cause of the fire is still being investigated.
Video showed rescue workers and bystanders carrying burned and injured people on their backs, in inflatable boats and on stretchers to get medical treatment.
The Associated Press contributed to this report
CommentsWrite a Reply or Comment: