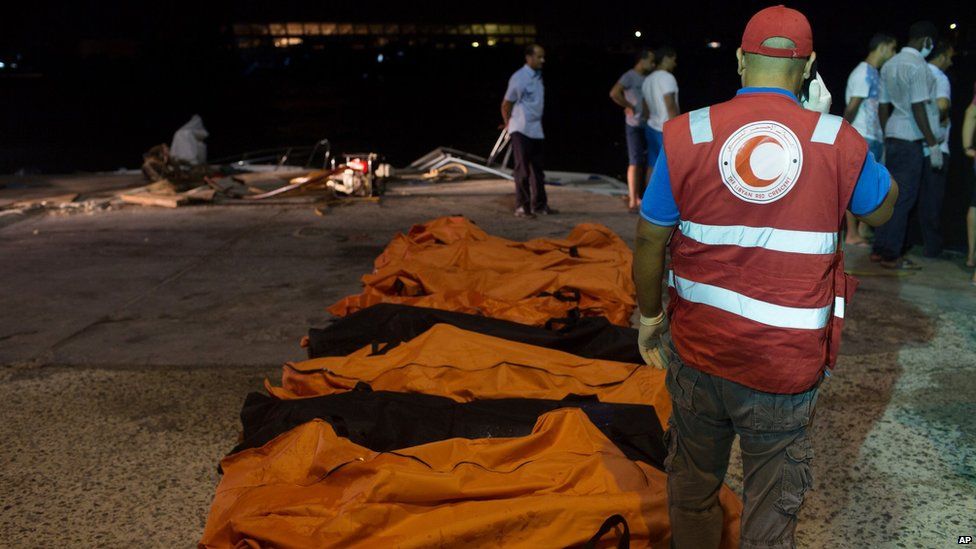 Fishing boats off the Libyan coast are searching for more bodies after two migrant vessels capsized on Thursday.
Around 200 people are feared to have drowned as they tried to cross from Zuwara, west of Tripoli, to Italy.
The victims include Syrians, Bangladeshis and people from sub-Saharan Africa.
Police in Italy have detained 10 suspected traffickers after 52 people were found dead in the hold of a ship off the coast of Libya on Wednesday.
The United Nations' refugee agency (UNHCR) says more than 2,500 people have died trying to reach Europe so far in 2015, not including Thursday's deaths.
Meanwhile Austrian police have confirmed that 71 people died inside a refrigerated lorry found abandoned on a motorway near the Hungarian border. They think that at least some of the dead were from Syria.
A Bangladeshi diplomat told the BBC that at least five Bangladeshi nationals, including a six-month-old baby, were among the dead from Thursday's sinkings.
They were among a group of four families from Bangladesh, 31 people in total, Mozammel Haque said.
"Luckily, [the] others had life jackets on, so they managed to stay afloat throughout the night," he said.
The Libyan coast-guard worked overnight on Thursday to search for survivors from the latest tragedy.
But Libya is poorly equipped to carry out rescue operations as the boats available to its coast-guard are small, BBC North Africa correspondent Rana Jawad reports from Tunis.
It mostly uses fishing vessels, tugs and inflatables, reports say.
Meanwhile officials in Palermo investigating the deaths of 52 migrants found dead in a boat's hold on Wednesday have detained 10 of the 571 survivors brought ashore, on suspicion of murder, Rai TV reports.
Prosecutor Maurizio Scalia told AP that those detained included seven Moroccans, two Syrians and a Libyan.
A Swedish coastguard ship, the Poseidon, working with the EU's Frontex border agency, brought the survivors and the bodies to the Sicilian port.
Melissa Fleming from the UNHCR said survivors had recounted being charged money just to come out of the hold and breathe.
One survivor said migrants were beaten with sticks to keep them in the hold, she said.
---