Marathon Manhunt: Search for escaped NY prisoners enters 9th day – Fox News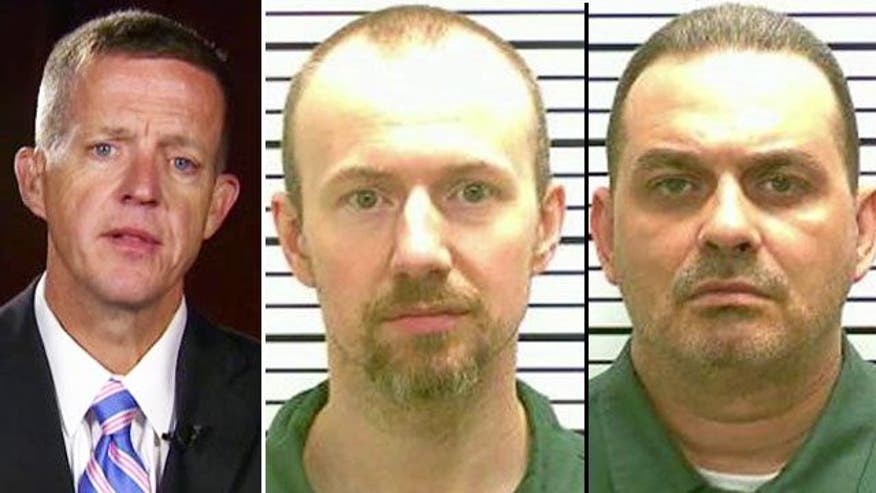 Residents in sleepy towns in upstate New York have had their lives turned upside-down, forced to lock their doors and stay on alert as the massive hunt for two escaped killers entered its ninth day Sunday.
More than 800 law enforcement officers are searching for David Sweat and Richard Matt, who cut themselves free from the maximum-security Clinton Correctional Facility with power tools officials say they received from prison worker Joyce Mitchell.
The hunt was continuing Sunday in Adirondack woods and fields several miles around the Clinton prison in Dannemora, near the Canadian border.
State police remained stationed overnight into Sunday at intervals in the wooded search area, which came alive with the loud chirps of crickets and frogs. Along Route 3, a two-lane highway south of Dannemora that abuts the Saranac River, a series of lights illuminated both the roadway and fields where earlier hundreds of officers had conducted more grid searches.
With several hundred tips to check out, police said they had no new leads by the end of the day Saturday. Their heavily armed presence in the rural landscape has become both reassuring and unsettling to local residents.
"I just mowed some fields and I kept looking over my shoulder. It's scary," said Jason Hamel, who lives with his wife and three young daughters in West Chazy five minutes from one of the many roadblocks. "I won't let the kids outside.
"My wife and I love to be outdoors," he added. "We haven't done any of that, and when we do go outside now, we're armed."
"I just mowed some fields and I kept looking over my shoulder. It's scary."

- Jason Hamel
The fear also is very real for Sandra Denny, a widow who moved to the area four years ago from New Jersey to be near her son and grandchild.
"It's real frightening not knowing where they are," said Denny, who's been driving around in her station wagon for the past week with several bags of mulch in the back because she's too afraid to unload it and work in her garden. "They could be at my back door."
Earlier, John St. Germain, who lives in the small town of Cadyville, was scanning the skyline and the Saranac River with a pair of binoculars.
"I'm kinda just looking at things along the river," he said. "The river is real high right now. And if I see something, I know what to do."
Mitchell, a 51-year-old tailor shop instructor at the prison, was arraigned Friday on a felony charge of promoting prison contraband and a misdemeanor count of criminal facilitation.
Mitchell is accused of befriending the 34-year-old Sweat and 48-year-old Matt and giving them the contraband, according to criminal complaints. She's accused of smuggling in hacksaw blades, chisels, a punch and a screwdriver bit to help the men escape. Her lawyer entered a not guilty plea on her behalf.
A person close to the investigation says Mitchell had agreed to be the getaway driver but never showed up. The person was not authorized to discuss the case and spoke on condition of anonymity.
New details emerged Saturday about the meticulously planned upstate New York prison break, revealing the pair of fugitive murderers expected to be 7 hours away from the Clinton Correctional Facility quickly after tunneling under its imposing outer wall.
Mitchell has been explaining how the plot was supposed to unfold to authorities.
"She was going to meet them at the power house," Clinton County District Attorney Andrew Wylie told Fox News, referring to the nearby power plant that is in view of the maximum-security facility. "They were going to pop out of the manhole, they were going to take off, and the three of them would be, you know, leaving the area."
Information about the next stop on the newly freed inmates itinerary is unknown; the only detail is that they expected to be far away.
"They were planning on driving approximately 7 hours away in a wooded area where her vehicle would be needed — a four-wheel-drive jeep," Wylie says.
Meanwhile, Kevin Farrington, a city engineer in Plattsburgh, stood close watch Saturday over his 2-year-old son Dylan as the toddler jumped at the chance to go outside for the first time since the prison break. A contingent of about 40 armed officers scanning the field across the highway set the family at ease for the first time all week.
"Obviously, you know the prison is there, but there's never been an incident so you feel secure," said Farrington, who moved to the banks of the Saranac River 13 years ago.
"When something like this happens, you think about a couple of guys who are pretty bad actors capable of anything," Farrington said. "You know they're desperate and probably not going to want to be taken alive. They'll probably go to any lengths."
Farrington said he keeps a loaded gun inside his home, just in case.
Sweat was serving a life sentence for killing a sheriff's deputy. Matt was serving 25 years to life for the 1997 kidnap, torture and hacksaw dismemberment of his 76-year-old former boss.
Mitchell's daughter-in-law, Paige Mitchell, has said her mother-in-law never mentioned Sweat, Matt or any other inmates she encountered. "She doesn't get too involved," Paige Mitchell told the Press-Republican of Plattsburgh.
And Mitchell's son Tobey told NBC that she would not have helped the inmates escape.
Fox News' Peter Doocy and The Associated Press contributed to this report.
CommentsWrite a Reply or Comment: