"Lemmy" Kilmister, the Motorhead founder who led the U.K. rock band for four decades and wrote hit songs for contemporaries such as Ozzy Osbourne and the Ramones, has died. He was 70.
Lemmy, as he was usually known, discovered on Dec. 26 he had "an extremely aggressive form of cancer" and died Monday at home, the band's U.K. official Facebook page announced.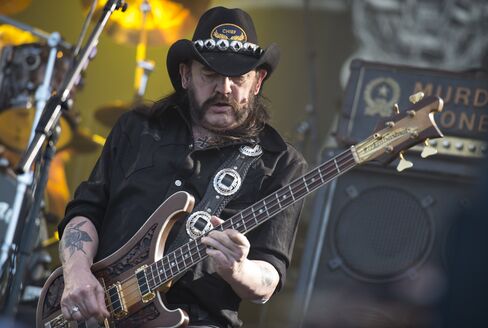 The singer and bass guitarist influenced Metallica, the Foo Fighters and many other heavy-metal bands, though he rejected the label "heavy metal" himself. His songs "Eat the Rich" and "Ace of Spades" are still claimed as highlights of the genre. With his fellow Motorhead members, Lemmy co-wrote the song "R.A.M.O.N.E.S." in 1990 as a tribute to the U.S. punk-rock band, which performed it in concert and in the studio.
"I love rock played as fast as possible," Lemmy said in an interview I conducted with him for Soundcheck magazine in 1985. "Always have, always will. And loud. If Motorhead moved in next to you, your lawn would die."
Lemmy was the original "turn it up to 11" guitarist, who pushed amplifiers to their limits. He was known for his distinctive mutton-chop facial hair, tattoos and playing position, with the microphone set above head level.
Modest Living
While Motorhead sold more than 30 million albums since it was founded in 1975, Lemmy shunned a lavish lifestyle and since 1980 lived in a two-room apartment in Los Angeles near his favorite hangout, the Rainbow Bar and Grill, located on Sunset Boulevard and a meeting place for musicians.
Ian Fraser Kilmister was born in Stoke on Trent, England, on Dec. 24, 1945. The son of a former chaplain, he was brought up in Wales, where he became known as Lemmy, possibly because of his phrase "lemmy (lend me) some money."
Lemmy attended Ysgol Syr Thomas Jones school in Amlwch, a town on the Welsh island of Anglesey. He said he was picked on for being English, instead of Welsh, and was suspended for hitting a teacher. He left school at age 16.
After working in a factory, Lemmy became a guitarist and moved to London. He was a roadie for the Jimi Hendrix Experience before becoming the bassist and sometime lead vocalist for Hawkwind, singing the group's 1972 hit "Silver Machine."
Own Band
Lemmy was fired from Hawkwind after he was arrested in Canada and accused of possessing drugs. The charge was later dropped. He formed his own band, later named after the last song he had written for Hawkwind, "Motorhead" — a reference to users of amphetamines. The name is usually written with a Germanic umlaut over the second "o."
He wrote the Osbourne single "Mama, I'm Coming Home" in 1991 and once claimed it was making him more money than Motorhead. His band's LPs included the live "No Sleep 'til Hammersmith" (1981) and studio works such as "Bomber" (1979) and "Overkill" (1979).
The Motorhead founder claimed to have slept with more than 1,000 women — a figure put at 2,000 in some reports. He never married and said he wasn't sure how many children he had.
Lemmy was famous as a collector of rock and Nazi memorabilia. He claimed to drink a bottle of Jack Daniel's whiskey every day for decades.
Motorhead dates were postponed in late 2013 because of Lemmy's health problems. He had been diagnosed with diabetes but later said the condition was under control.
"For sure I will finally be killed by death, that's the title of a song," he said in the 1985 interview. "I might be killed by the effects of too much booze, women or music, but, you know what, it's not a bad way to live. Or die."