Multiple deaths were reported and rescue efforts were continuing after two trains derailed within minutes of each other while crossing a river bridge in central India.
One of the trains was on its way to Mumbai when the accident happened in Madhya Pradesh state, while the other was travelling in the opposite direction.
Rescuers searched in darkness through Tuesday night and into Wednesday for passengers feared trapped in the carriages. As the effort continued in daylight on Wednesday morning, the railway ministry said there had been more than 20 people killed, while more than 300 were rescued and a number of them taken to hospital.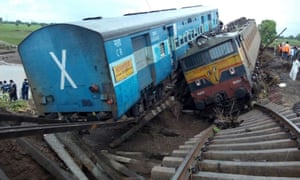 Twelve coaches of the Kamayani Express to Varanasi from Mumbai derailed near Harda in the central state of Madhya Pradesh just before midnight. Six coaches of the Janata Express derailed around the same time, the railway ministry said.
"There is some suggestion of flash floods on the tracks that caved the tracks. Most of the coaches had passed but the last few carriages were derailed," ministry spokesman Anil Saxena said of the first train. "The entire area has been reeling under heavy rainfall for the last few days."
The Indian prime minister, Narendra Modi, said the situation was "deeply distressing".
India's railway minister, Suresh Prabhu, said emergency medical and other relief personnel were rushed in but the darkness and water created difficulties. Television footage showing medical supplies being piled on a nearby station platform and rescuers combing through tilted carriages.
Divers joined the rescue effort, using gas cutters to cut into waterlogged carriages so passengers could be freed, officials said.
Monsoon rains have hit large swathes of the country in recent weeks, flooding rivers and roads and claiming scores of lives mainly in western and eastern India.
India's railway network, one of the world's largest, is still the main form of long-distance travel in the vast country but it is poorly funded and deadly accidents are frequent.
In 2012 a government report said almost 15,000 people were killed every year on India's railways, describing the deaths as an annual "massacre" due mainly to poor safety standards.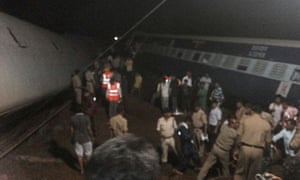 India's government has pledged to invest $137bn to modernise its crumbling railways, making them safer, faster and more efficient. The prime minister, Narendra Modi, has massively increased spending but improvements will take years.
A former railway minister said that if the tracks had been maintained the latest accident could have been avoided. "It's totally unacceptable. It's a symptom of a deep-rooted cancer in the railway system," Dinesh Trivedi said.
The head of India's railway board, AK Mittal, said a flash flood struck the area minutes before the trains came through, disturbing the tracks. "Ten minutes back at this spot, train movement was normal. There was no problem."
Agence France-Presse, Reuters and the Associated Press contributed to this report