'High Likelihood' Berlin Terror Suspect Is the Perpetrator, German Authorities Say – ABC News
Anis Amri, a suspect wanted in connection with the Christmas market attack in Berlin, is very likely the alleged assailant authorities are searching for, according to German Federal Interior Minister Thomas de Maiziere.
Maiziere told reporters at a press conference Thursday that German authorities have obtained "additional hints," including "fingerprints and other additional evidence" that suggest Amri "is with very high likelihood the perpetrator."
Monday's attack on the Christmas market at Breitscheidplatz, a public square in the heart of Berlin, killed at least 12 people and injured dozens more, including two Americans. A U.S. Embassy spokesman told ABC News on Thursday that one of the American victims remains hospitalized. The second American has been released from the hospital. ABC News affiliate KRGV reports that the man who remains in the hospital is a Texas native from the Rio Grande Valley.
A source told ABC News Amri was known to U.S. intelligence agencies.
German authorities have issued a warrant for Amri's arrest and a Europe-wide manhunt for the suspect is underway. The wanted notice said the 24-year-old Tunisian national went by at least six different aliases and he is considered "violent and armed." Officials are offering a reward of up to 100,000 euros ($105,000) for information leading to his arrest.
German authorities have not said whether Amri is still in Berlin or Germany.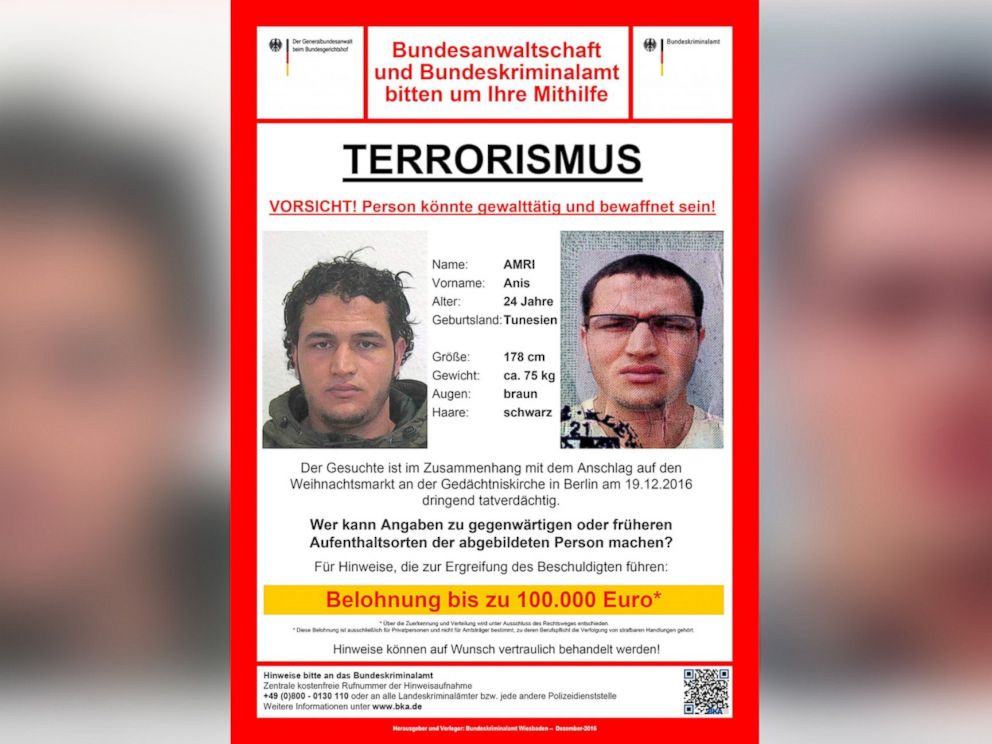 The Islamic State group took responsibility for Monday's attack, in which a truck plowed into crowds at the Breitscheidplatz Christmas market. ISIS claimed the attacker is "a soldier of the Islamic State," according to a statement released by the terrorist group's Amaq News Channel.
In the back of the Polish-owned tractor trailer used in the attack, the truck's driver was found dead with gunshot wounds. No gun was recovered from the scene, suggesting that weapon may still be with the attacker. The truck was stolen in Poland from a building site, according to police.
Police said the deceased truck driver was a Polish citizen and was not controlling the vehicle when it drove into the market. The man is being counted among the 12 fatalities.
A 23-year-old Pakistani asylum seeker was initially arrested in connection to the attack and then released on Tuesday night due to insufficient evidence, police said.
Ralf Jaeger, interior minister of the German state of North Rhine-Westphalia, told reporters on Wednesday that Amri had known ties to the local radical Islamic scene in Germany and he had been deemed a threat by several security agencies.
Amri served a four-year jail term in Italy after being sentenced for charges of arson on the Italian island of Lampedusa in the Mediterranean, the closest European Union destination for migrants and refugees embarking from North Africa. He lived in the town of Kleve in North Rhine-Westphalia before moving to Berlin, Germany's capital, in February and his asylum application was rejected in July of this year. However, Amri was not deported to his home country of Tunisia because authorities couldn't verify his identity without the proper paperwork, according to Jaeger.
Berlin prosecutors said Amri had been under covert surveillance after a tip earlier this year, but the surveillance ended in September when nothing materialized, according to The Associated Press. The intelligence painted a picture of a criminal involved in drug deals and the occasional bar brawl, but not necessarily a terrorist.
Police said they were gathering a criminal case against Amri, and the last time information was exchanged regarding his case was as recently as November.
Police raids took place in the city of Dortmund in Germany's North Rhine-Westphalia region on Thursday morning, the country's federal prosecutor's office confirmed to ABC News. Amri was reported by local media to have lived there intermittently. Police also conducted searches at a refugee center called Tackenweide where Amri may have spent time in the city of Emmerich, also in North Rhine-Westphalia. No arrests were made at either location and the federal prosecutor's office would not say if police operations were connected to Monday's truck attack in Berlin.
The Christmas market at Breitscheidplatz in Berlin reopened Thursday. Concrete bollards were being put up for protection there and in other open markets across the city amid concerns about copycat attacks.
The market was packed at lunchtime on Thursday with the usual aromas of curry wurst and mulled wine. As Germany's Der Spiegel wrote today, "Berliners apparently react the same they always react when something is going on: They are completely unimpressed."
ABC News' Andreas Bechmann and Matt Gutman contributed to this report.
CommentsWrite a Reply or Comment: