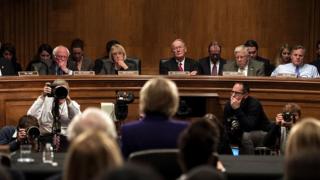 One after another, Donald Trump's cabinet secretary picks – the men and women who will be his top advisers and government managers during his presidency – are taking their turn before Senate confirmation committees.
While they've all been greeted with smiles, handshakes and warm introductions from their biggest supporters, some have fared much better than others. Here's a quick look at how some of them have performed under the spotlight.
---
Tom Price – Secretary of Health and Human Services
It was billed as a "courtesy call", but there was nothing courteous about the way Congressman Tom Price was received by Democrats on the Senate health committee on Wednesday. Although Mr Price's formal confirmation hearing is scheduled before a different Senate committee on Tuesday, the grilling he received is a sign that he may be in for a bumpy ride.
Ethics concerns have swirled around Mr Price for several weeks, and he was asked to explain why he invested more than $300,000 in healthcare companies, some of which later profited from decisions he made as a high-ranking member of Congress – a possible violation of House ethics rules.
He said most of those decisions were made independently by his broker, but confirmed that he was personally involved in purchasing stock of Australian biomedical company Innate Immunotherapeutics on the advice of a fellow Republican congressman. A federal law prohibits members of Congress from making stock trades based on private information acquired through their official duties.
Mr Price was also pressed on whether he agreed with the president-elect's views on health policy that sometimes run counter to conservative orthodoxy. He wouldn't commit to promising no cuts to the government insurance programmes Medicare and Medicaid, insisting dollars spent isn't the best way to measure success.
He also attempted to redefine Mr Trump's promise of an Obamacare replacement plan that would provide "insurance for everybody" as a pledge to provide affordable access to medical care for all Americans.
Notable quote: "I believe it's important we work together to put forward a system that allows every single American to have the opportunity to purchase the coverage they think is best for themselves and their families."
Grade: B-minus. Mr Price was cautious in his answers about healthcare policy, as he had to reconcile his past aggressive reform proposals with Mr Trump's sweeping promises of improved coverage and lower costs. His admission that he was directly involved in investments in Innate Immunotherapeutics could prompt more calls for a thorough investigation into possible ethics misdeeds.
---
Scott Pruitt – Director of the Environmental Protection Agency
Mr Trump's choice of the Oklahoma attorney general to head the EPA, a federal agency his state has sued 18 times, generated a storm of criticism from environmentalists and liberal groups. Given that the president-elect has often appeared dismissive of environmental issues, Mr Pruitt seemed destined for tough questioning at his confirmation hearings.
During his testimony, Mr Pruitt appeared to back away from controversy and confrontation whenever possible. He said the EPA has a role in the Trump administration, "but it needs to have a more modest role" and that environmental regulations could spur economic growth. He did not agree with Mr Trump's stated belief that climate change is a hoax perpetrated by the Chinese, although he said that the issue did not require an aggressive response.
One possible stumbling point was when he was asked whether there could be a safe level of lead in drinking water, and he conceded that he had "not looked at the scientific research on that", although it was an issue he was "very concerned" about.
Notable quote: "Science tells us that the climate is changing and human activity in some manner impacts that change. The ability to measure and pursue the degree and the extent of that impact and what to do about it are subject to continuing debate and dialogue."
Grade: B-plus. Mr Pruitt's opponents slammed him for his ties to energy firms, but the nominee did little to add fuel to the fire.
---
Nikki Haley – US Representative to the United Nations
The governor of South Carolina has little in the way of foreign policy credentials, but that didn't stop Mr Trump from tapping his onetime critic to be his ambassador to the UN. During her confirmation hearings, Ms Haley didn't hesitate to draw contrasts between her views and those of the president-elect.
She said she didn't support any sort of government-run Muslim registry and, in contrast to Rex Tillerson, Mr Trump's choice for secretary of state, she described the Russian bombing of Aleppo in Syria as a war crime. She said Russia was "trying to show their muscle" and that she didn't think the US could trust them.
Ms Haley also sharply criticised the Obama administration's decision to abstain from a UN Security Council resolution condemning Israeli settlements in occupied land.
Obama fears two-state solution fading
Notable quote: ""That's how an administration works. You surround yourself with people who don't just say 'yes' to what you think."
Grade: A. Ms Haley was under pressure to put forward a solid performance given the negative reaction to Tillerson's confirmation hearings, and she did. She'll likely win Democratic votes when her nomination reaches the Senate floor.
---
Wilbur Ross – Secretary of Commerce
The position of commerce secretary usually isn't "sought after or appreciated", Florida Democratic Senator Bill Nelson said during Wilbur Ross's confirmation hearings on Wednesday. "But I have the feeling that's about to change in a big way."
During his testimony, Mr Ross was questioned repeatedly on whether he agreed with Mr Trump's sharp attacks on current US trade policy during his presidential campaign. For the most part he stood by the president-elect. He often echoed Mr Trump's criticism of China, saying the nation talks about free trade but doesn't practice it.
"We should not put up with malicious trading activities, state-owned enterprises or subsidised production," Mr Ross said.
He also said he was ready to follow-through on Mr Trump's promise to renegotiate the North American Free Trade Agreement, adding that "all aspects" of the trade deal were up for review.
Notable quote: "I am not anti-trade. I am pro-trade. But I am pro-sensible trade, not trade that is detrimental to the American worker and to the domestic manufacturing base."
Grade: B-plus. The man who developed a reputation "the king of bankruptcy" for his acquisition of struggling companies avoided being painted by Senate Democrats as an unacceptable Wall Street insider. Treasury Secretary nominee Steven Mnuchin, who has yet to face Senate questions, may not be so lucky.
Jeff Sessions: What he revealed about Trump's priorities
---
Betsy DeVos – Secretary of Education
Betsy DeVos's confirmation hearing was scheduled for last week, but it had to be pushed back because she hadn't completed her government ethics review. After her performance on Tuesday, the Trump team may have wished the nominee's appearance could have been delayed even further.
The billionaire education-reform activist who has donated hundreds of millions to Republican causes made news for all the wrong reasons. She seemed uninformed about an ongoing debate about how to measure student performance and unfamiliar with the Individuals With Disabilities in Education Act, a federal law that requires public schools to make accommodations for disabled students. She illustrated a point about states deciding whether to allow firearms in schools by noting that Wyoming classrooms may need guns to defend against bears.
Notable quote: "I share president-elect Trump's view that it's time to shift the debate from what the system thinks is best for kids to what moms and dads want, expect and deserve."
Grade: C-minus. "I respect, think highly of Betsy DeVos," tweeted conservative commentator Ana Navarro. "But clips of her confirmation hearing made me want to cover my eyes."
---
The people around Trump – read our detailed look at his Cabinet and advisers.