Gov Jindal says Louisiana will comply with Supreme Court same-sex marriage … – Fox News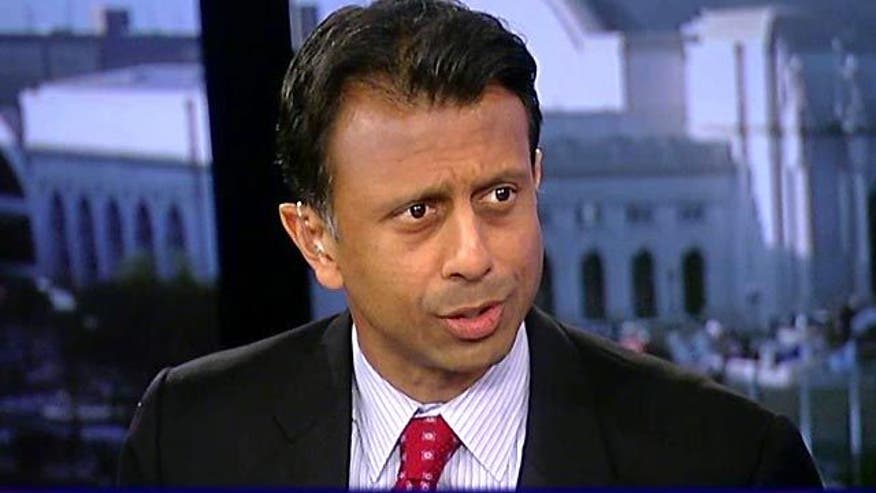 Louisiana Gov. Bobby Jindal said Monday he will still support a constitutional amendment to define marriage as between a man and a woman, but for now state agencies will comply with the Supreme Court's ruling to recognize same-sex marriage.
The Republican presidential candidate said on Fox News' "Special Report with Brett Baier" that even though the court ruled Friday in a 5-4 decision in support of same-sex marriage, he will "continue fighting" over his belief that marriage is between a man and a woman.
"An earthly court doesn't change for me the institution that was created, defined by God," he said. "My Christian faith teaches me that marriage is between a man and a woman."
Jindal also voiced concerns that the Supreme Court's decision may impact business owners nationwide who may object to same-sex marriage.
"Already, Christian businesses are facing discrimination if they don't want to participate in wedding ceremonies that violate their sincerely held beliefs," Jindal said.
He pointed to his own religious freedom executive order in Louisiana that is meant to protect public and private employees who have objections to same-sex marriage.
Jindal's executive counsel, Thomas Enright, issued a memo on Monday that reiterated the state's commitment to protecting the rights of residents who don't believe in same-sex marriage.
"We do not support discrimination and believe that these two foundational values can simultaneously co-exist," Enright wrote in the memo. "The ruling in Obergefell does not permit states to bar same-sex couples from marriage, but the ruling in no way forces specific individuals to violate their sincerely held religious beliefs, or to perform or facilitate same sex marriages."
Gay rights advocates said Louisiana was believed to have been the last state that hadn't issued any licenses to same-sex couples after Friday's historic Supreme Court decision ruling marriage a fundamental right that cannot be denied because of sexual orientation.
On Friday, the Louisiana Clerks of Court Association said clerks should wait 25 days after the decision, allowing time for the high court to consider a rehearing.
Monday, it said that because several parish clerks of court had or would begin issuing the licenses, clerks should begin changes consistent with the Supreme Court opinion to avoid the confusion of multiple starting dates.
The Associated Press contributed to this report.
CommentsWrite a Reply or Comment: