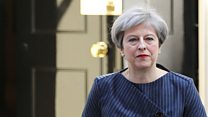 A snap general election will help the UK make a success of Brexit and provide long-term certainty, Theresa May says.
Defending her decision to seek a poll on 8 June, the prime minister told the BBC she had "reluctantly" changed her mind on the issue in recent weeks.
Asking the public to trust her, she said a new mandate would give her the "strongest hand" in talks and make it hard for people to "frustrate" EU exit.
The move is set to be authorised by MPs in the House of Commons later.
The early poll is expected to secure the two-thirds Commons majority it requires to go ahead following Mrs May's surprise announcement on Tuesday.
The next general election had been expected in 2020, but the Fixed Term Parliaments Act allows for one to be held earlier if two-thirds of MPs back the move.
The SNP has signalled its MPs will abstain in the vote on Wednesday afternoon and Labour and the Liberal Democrats, while accusing Mrs May of political opportunism, have welcomed the prospect of an early election.
Mrs May, who has repeatedly said since becoming PM in July that she would not go to the polls before 2020, told BBC Radio 4's Today that "no politician wanted to hold an election for the sake of it" and there were risks involved in doing so.
But she insisted that she trusted the British public "and I am asking them to put their trust in me".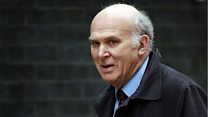 She said she believed, more than ever, that "strong leadership" was required to secure a successful outcome to the two-year process of leaving the EU and taking the UK in a new direction afterwards, both at home and abroad.
"I genuinely came to this decision reluctantly having looked at the circumstances and having looked ahead at the process of negotiation. I want this country to be able to play the strongest hand possible in those negotiations and be in a position to get the best possible deal.
"That is in our long-term interest. That is what this is about."
'Meeting voters'
The election would not be a re-run of last year's referendum, she argued, saying there could be no "turning back" on that decision but if she was elected, it would be a vote of confidence in her government's central goals of gaining "control" of the UK's borders, laws and money.
She also ruled out taking part in TV debates with Jeremy Corbyn and her other political opponents, saying she believed elections were all about "getting out and about and meeting voters" and, in her words, "knocking on doors".
The BBC's assistant political editor Norman Smith said while there were other huge issues such as the future of the NHS, social care and school reforms, Brexit was "bigger than anything else" and the prime minister wanted to portray herself as the "Brexit candidate".
---
What issues are important to you in this election? Email haveyoursay@bbc.co.uk with your views.
Please include a contact number if you are willing to speak to a BBC journalist. You can also contact us in the following ways:
---
Former Conservative Justice Secretary and leading Leave campaigner Michael Gove said Mrs May was a "highly ethical" politician and would only be doing something that she thought was in the national interest, telling the BBC she had "played a blinder" on Brexit so far.
Opposition MPs have accused Mrs May of a blatant U-turn and said she is "running scared" by refusing to take part in at least one TV debate during the campaign, as David Cameron did in 2015.
---
Analysis
By BBC political editor Laura Kuenssberg
Senior government sources point to a specific factor that changed the prime minister's calculation on an early election.
The end of the likely tortuous Article 50 negotiations is a hard deadline set for March 2019.
Under the Fixed Term Parliaments Act, that's when the Tories would be starting to prepare for a general election the following year, with what one cabinet minister described as certain "political needs".
In other words, the government would be exposed to hardball from the EU because ministers would be desperate to avoid accepting anything that would be politically unpopular, or hold the Brexit process up, at the start of a crucial election cycle.
Ministers say that's the central reason for Mrs May's change of heart because "if there was an election in three years, we'd be up against the clock".
Read Laura's latest blog in full
---
Shadow chancellor John McDonnell said Labour MPs would support Wednesday's vote to trigger an election, which was "an opportunity for removing a Tory government and replacing it with a Labour government".
He said the government had a mandate for Brexit, but not for the "hard" Brexit currently pursued and Labour wanted the government to negotiate with the EU for tariff-free access to the single market.
But the election, he said, was really about the government seeing "the economy is going to turn, we are seeing inflation increasing, wages stagnate and people in heavy debt. They know… they'll be deeply unpopular".
'Selfish interests'
Labour's election manifesto, he added, would set out plans for a pay ratio – to control pay difference from the top to bottom earners in a company. Labour also wanted "the corporations and the rich to pay their share" in fair taxation to afford public services.
A number of Labour MPs, including former home secretary Alan Johnson, have said they will not be contesting the election while backbencher John Woodcock, a long-term critic of Mr Corbyn, said there was still time for him to quit ahead of the poll, "rather than lead Labour to defeat".
Scotland's First Minister Nicola Sturgeon said she would be fighting the election "to win", saying the PM had called it "for selfish, narrow, party political interests".
Campaigning in south-west London, Lib Dem leader Tim Farron pledged to fight for the UK to stay in the EU single market, and accused Mrs May of "bottling" taking part in TV debates.
Former Business Secretary Vince Cable, who plans to stand for election, said the prospect of Mr Corbyn becoming prime minister was "utterly remote" and he could not foresee any circumstances in which his party might enter into a coalition with Labour.
UKIP said the election was "highly cynical" but it was "excited" to put forward its vision for Brexit while the Green Party said an alternative approach to austerity and social cuts was needed.
Mrs May's announcement sparked a surge in applications to register to vote. Some 150,000 applications were made on Tuesday, the biggest total recorded for a single day since the 2016 referendum campaign.
Sign-up to get news from the BBC in your inbox, each weekday morning