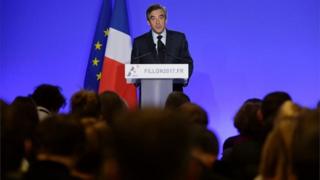 French centre-right presidential candidate Francois Fillon has said he will fight on, as he announced that a judge was placing him under formal investigation.
For weeks, he has fought allegations that his wife was paid for years for work she did not do.
"It's a political assassination," Mr Fillon told reporters on Wednesday.
He has now been summoned to appear before the judge, Serge Tournaire, on 15 March.
The date is just two days before the deadline for candidates to submit their final applications. The first round takes place on 23 April, followed by a second-round run-off on 7 May.
What did he say?
In a combative speech on Wednesday announcing the formal investigation, Mr Fillon called on his supporters to "resist", saying it was up to voters to decide his fate.
"It's not just me that is being assassinated, it's the presidential election. The voices of millions of votes have been muzzled," the Republican candidate complained.
He said he would respect the summons and tell the judge the truth.
"I won't give in, I won't surrender and I won't withdraw."
Who is Francois Fillon?
A former prime minister during Nicolas Sarkozy's presidency, he was selected late last year in national primaries held by the centre-right Republicans that attracted some four million voters.
For a time he was the favourite in the race to succeed Francois Hollande as president, but then came the "fake jobs" allegations in satirical weekly Le Canard Enchaine.
He has slipped to third in the polls, behind far-right National Front (FN) leader Marine le Pen and centrist Emmanuel Macron.
His appearances have recently been accompanied by loud protests and he has accused the government of allowing the campaign to turn into "a climate of quasi civil war".
---
More on France's presidential election:
---
What has he done wrong?
The allegations circling around the Fillon family focus mainly on his Welsh-born wife Penelope.
Le Canard Enchaine alleged she was paid €831,400 (£710,000; $900,000) over several years for working as a parliamentary assistant but reportedly had no parliamentary pass. She was also alleged to have picked up €100,000 for writing a handful of articles for a literary journal.
The family has consistently denied the claims. Initially Mr Fillon said he would stand down as a candidate if his case was placed under formal investigation, but recently he insisted that he would fight on "until victory".
"The closer we get to the date of the presidential election, the more scandalous it would be to deprive the right and centre of a candidate," he said.
Mr Fillon cancelled a key visit to an agricultural show at the last minute on Wednesday morning prompting speculation over the future of his presidential campaign.
"It's like symbolically giving up on your candidacy," said Florian Philippot, close adviser to far-right National Front (FN) candidate Marine Le Pen.