US authorities are investigating a gun and bomb attack targeting the Dallas police headquarters.
A man left bombs outside the police HQ and opened fire on the building early on Saturday, before fleeing the scene in a van.
A police chase led to a standoff in a car park, which ended after police shot and killed a suspect, and detonated bombs in a vehicle.
Police say they believe the attacker was motivated by personal grievances.
Authorities say are awaiting the result of a medical examination, which will confirm the identity of the suspect.
The FBI is assisting investigations into the attack, and Dallas police say they are seeking more information about the incident from the public.
Pipe bombs
During the assault, the gunman called the police and accused them of causing him to lose custody of his child.
Dallas Police Chief David Brown told reporters that the suspect had given his name as James Boulware, and that officers had attended three incidents of domestic violence in the past involving a man with that name.
However, Mr Brown added that the suspect could have lied about his identity.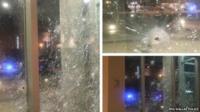 The gun attack on the police headquarters began at about 00:30 local time (05:30 GMT) on Saturday.
Following the shooting, the suspect fled in what appeared to be an armoured vehicle, ramming a police car.
Officers also found at least two bombs planted outside the police headquarters – they successfully detonated one, while another exploded as a robot tried to move it.
The police chase ended in a standoff at a car park in Hutchins, about nine miles (14km) from central Dallas.
Police snipers eventually shot through the front windshield of the van, but police did not confirm the suspect's death until several hours later.
Police used a robot equipped with a camera to confirm that the suspect had died, because the gunman had warned that he had explosives in his vehicle.
Police then carried out controlled detonations on the two pipe bombs in the van, leaving the van in flames.
There was "lots of shrapnel… in the pipe bombs that exploded", including screws and nails, police said.

Attack timeline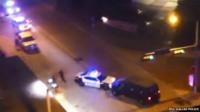 00:30 Shots fired at Dallas Police headquarters by a gunman
Suspect in armoured van exchanges gunfire with officers, rams a squad car, then flees
00:44 Van is chased to a car park in Hutchins and there is another exchange of gunfire. Squad cars are again rammed
Suspect refuses to leave van but tells police that his name is James Boulware
04:30 One of four bags left at police HQ explodes while being moved by robot
05:07 Police sniper shoots at suspect through windscreen
13:37 Police confirm suspect is dead

Mr Brown said snipers had decided to shoot the suspect after "he became increasingly angry and threatening" during negotiations, and appeared to pose a threat to those around him.
He added that it was extremely lucky that no-one else had been killed during the attack.
"There are bullet holes in squad cars where officers were sitting," he said. "It raises the hair of the back of your neck just thinking what could have happened."
He added: "I believe we are blessed that our officers survived this ordeal."