Colorado theater shooter's sentencing ends emotional trial – Fox News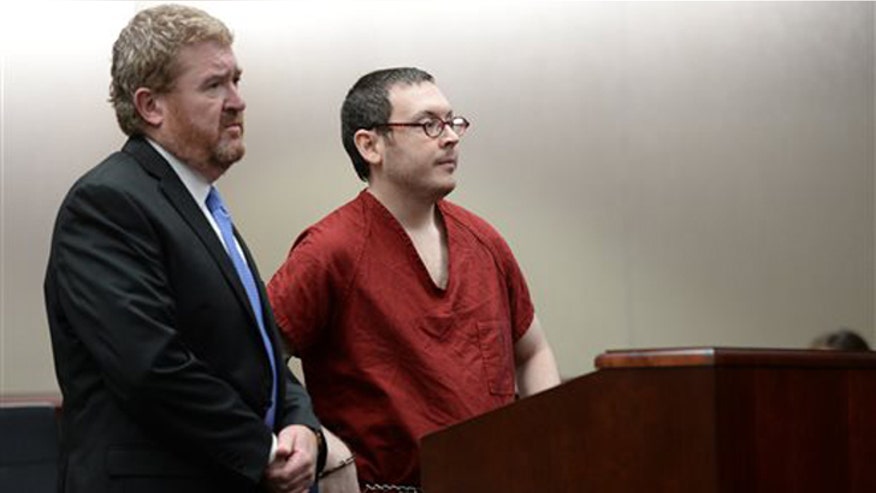 Convicted Colorado theater shooter James Holmes was ordered out of a Centennial, Colo., courtroom Wednesday by the presiding judge, to serve a sentence of life in prison without the possibility of parole plus 3,318 years.
"Get the defendant out of my courtroom please," Judge Carlos Samour, Jr., said– to the applause of the gallery– after speaking for over an hour and handing down to Holmes the maximum-allowed sentence for killing twelve people and injuring dozens of others at a premiere of "The Dark Knight Rises" in 2012.
Nearly everyone in the courtroom's gallery, including victims, family, jurors, law enforcement and even the media, had tears streaming down their faces as Samour gaveled the hearing to a close.
Samour was scrupulously respectful toward Holmes throughout the long trial and months of pretrial hearings. But on the final day in court, he made no attempt to hide his contempt.
"It is almost impossible to comprehend how a human being is capable of such acts," Samour said.
Samour ordered 28-year-old James Holmes to serve 12 consecutive life sentences without the possibility of parole, one for each of the people he killed in the July 20, 2012, attack on a crowded movie theater.
He also sentenced Holmes to consecutive terms of 48 years for each of the 67 attempted first-degree murder charges, 32 years for each of the two second-degree murder charges and six years for possession of explosive or incendiary devices. His prison location will be determined at a later date.
Samour had no option but to give Holmes life without parole, rather than the death penalty, after a split jury decided the term earlier this month. Prosecutors said 11 jurors favored death and one voted for life without parole. Under Colorado law, jurors must be unanimous to impose the death penalty.
Samour contrasted Holmes' bloody assault with the compassion of the lone juror who voted for a life sentence. He also noted the trial was fair, even if some victims were disappointed that Holmes wasn't sentenced to die.
"I believe in the system," Samour said. "I said that before, and I'll say it again. I believe in the system."
The families were extremely emotional as they sat in the courtroom waiting for the final day of this long, grueling 3 year ordeal. Holmes' parents Bob and Arlene sat huddled together in the side of the room. Holmes, wearing red prison scrubs, glasses and sandals with socks, smiled and chatted with defense attorney Kristen Nelson as they waited for the judge to take the bench.
Holmes' mother, Arlene, was the final witness to take the lectern Tuesday. She said her son feels remorse for his deadly attack at the Aurora, Colo., theater. She said his mental illness and medications make it hard for him to express it.
"We know that is very, very hard for people to see," Arlene Holmes testified. "We cannot feel the depths of your pain. We can only listen to everything you have expressed, and we pray for you. We are very sorry this tragedy happened, and sorry everyone has suffered so much."
The prosecution in the case has filed a motion for restitution — the exact amount has yet to be determined — of no less than $796,262. It would fund repayments to the victim compensation fund which helped pay for hospital bills that insurance wouldn't cover, and travel expenses for victims for a select few days of the trial.
Judge Samour granted their request to reserve this for 70 days so Deputy District Attorney Lisa Teesch-Maguire can talk to victims and determine the exact amount.
Samour said he got the feeling over the last couple days that some observers felt the defendant, Holmes, prevailed in this case because he did not get the death penalty.
He reminded everyone that the jury rejected the insanity plea and that he was found guilty on all counts. That verdict still stands.
Samour has also heard people say that the district attorney, George Brauchler, should have accepted a plea deal, and that the trial was a waste of time and money.
The families cried as Samour chronicled each of the 12 murder victims, noting testimony about what a strong person victim Jonathan Blunk was.
"Was that a waste of time?" he asked.
When young Cierra Cowden had the courage to take the stand and talk about how she missed waking up to her dad's singing: "was that a waste of time?"
When Sandy Phillips got up and told the jury about Jessica's enthusiasm for life: "was that a waste of time?"
When Tom Sullivan, a man with a larger than life personality, got up and broke down on the stand talking about his close friendship with his son, "was that a waste of time?"
Samour pointed out that with no appeals in sight, this trial has officially wrapped up in just over 3 years, saying "that's record time for a death penalty case."
"Is prison really a much less severe sentence than death?" he asked.
Holmes will die in the custody of the department of corrections.
Samour told the victims that there are no words to adequately describe what they've gone through.
"I've been doing criminal law for 2 decades and before this case I'd never seen a police officer or first responder break down on the witness stand," Samour said.
For the victims who testified, it was "gut-wrenching and heartbreaking – their pain was palpable."
As he prepared to read the sentence, Samour told the victims "your healing is not tied to the defendant's fate. You have my admiration."
He said that Holmes showed he knew right from wrong, and there were two paths he could have taken that day. He chose to take the road that led him into that theater to kill 12 people and caused pain and suffering to thousands more.
"Eventually, the defendant quit on life. Had he just quit on life, it would have affected him and him alone. Perhaps his parents, perhaps his family, and that would have been the end of it. But he didn't just quit. He decided since he was quitting, he was going to take people with him," Samour said.
The judge said prison is harsh and restrictive, and he disputed some victims' suggestion that Holmes would have an easy life behind bars.
He also dismissed complaints that the trial was a waste of time, noting it gave family members and survivors an opportunity to tell the world about their ordeal.
He pointed out that "one juror showed the defendant the mercy he didn't show the victims in the theater that day."
The victims have shown us what is good about humanity. Some even offered JH their forgiveness. He also thanked the jury for their hard work, four of whom were sitting in the back of the courtroom in tears.
Holmes then walked slowly to the podium with attorney Daniel King, and stood with his shackled hands on his hips as Samour read out the sentences for each count for about 30 minutes.
Samour pointed out that this was the maximum sentence he could give, saying that he was one-hundred percent certain the sentences were just and fair.
He said "it is the court's intention that the defendant never step foot in free society ever again [and that] if there was ever a case that deserved the maximum sentences, then this is the case."
Judge Samour ended with "Sheriff, get the defendant out of my courtroom please," and the gallery cheered and applauded, some yelling "loser" as Holmes shuffled out of the courtroom with no expression on his face.
Fox News' Jennifer Girdon and the Associated Press contributed to this report.
CommentsWrite a Reply or Comment: