Snow fell hard and fast during the Tuesday morning commute. Numerous spinouts and crashes were reported and travel times reached an average of two hours on several expressways.
Those who had to drive in to work should have slowed down and maintained more distance than usual between the cars in front of them. The snow fell so fast that lane divisions were hard to see and in some places, visibility was reduced to less than a mile.
Doppler 7 MAX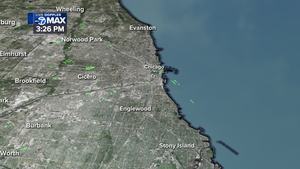 CLICK HERE to see the latest radar view from LIVE Doppler 7 MAX
Typically when traffic is as bad as it was Tuesday, public transportation is recommended. But trains and buses also got caught up in the weather delays.
It didn't take long for the wintry weather to wrap its snowy hands around the morning commute, slowing down traffic and causing delays of 10 to 45 minutes on roughly half a dozen Metra lines. Compared to the triple digit travel times on the expressways, Metra commuters ABC7 Eyewitness News spoke with weren't that upset.
There was heavy boarding on CTA trains, but no major delays during the morning rush period. Buses on the other hand, can only go as fast as the traffic allows.
Two chain reaction crashes involving a total of 35 vehicles happened less than a mile apart in the express lanes of the Kennedy Expressway around 10:30 p.m. Illinois State Police said seven people were hurt. Slick roads played a role in the crashes, ISP said.
"It was slick. I mean, I was actually talking to a gentleman here. You know, everyone is doing an amazing job. But really, when we thought about it, none of us… We were all going too fast and I don't know if the express lane should have been open," said Benjamin Johnson, a driver involved in the crash.
The hardest hit areas have been and will be around Lake Michigan. In north suburban Lake Forest, several inches of snow fell overnight. Roads were very slick in nearby Northbrook. A crash was reported near Waukegan and Willow roads. In North Chicago, visibility became increasingly difficult as the snow came down. Around 5 a.m. in north suburban Highland Park, the IDOT salt and plows were just making their way through on U.S. 41.
Several Chicago area schools, including St. Ignatius College Prep, canceled classes or started late Tuesday morning due to the weather. CLICK HERE to find out if your child's school is on the list.
THOUSANDS OF FLIGHTS CANCELED NATIONWIDE
Snow falling in Chicago and a powerful storm out east made for a bad situation at the airports Tuesday.
As of 9:48 a.m., 443 flights were canceled at O'Hare International Airport and on average, delays were 42 minutes. At Midway International Airport, 81 flights were canceled and on average, delays were less than 15 minutes.
No one will be getting to New York City, where a blizzard is expected to drop heavy snow, high winds and create low visibility. American, United and Southwest airlines canceled every flight in and out of New York City Tuesday.
Across the country, airlines grounded 6,350 flights Tuesday and Wednesday. This is the second day of the air travel frustration for passengers at Midway and O'Hare. There were hundreds of cancellations Monday as well.
All of the big airlines waived ticket-change fees for those who had flights affected by the winter storms.
Some travelers' flights were on time Tuesday, but they are traveling south or west. Regardless, many kept their fingers crossed that the cancellations and delays would not affect them. On the flip side, many people had to rebook their flights and their vacation plans were put on hold.
NEARLY A FOOT OF SNOW POSSIBLE IN CHICAGO AREA
Mother Nature is making a mid-March push to turn an unseasonably warm, dry winter in Chicago into something a little more seasonable.
Between 7 a.m. Monday and 7 a.m. Tuesday, 4.9 inches of snow fell at O'Hare International Airport, according to the National Weather Service. Southwest suburban Romeoville recorded 2.9 inches of snowfall during that span of time.
ABC7 Meteorologist Tracy Butler said 3-12 inches of snow could pile up by midday Tuesday as a lake-effect snow system that started Monday night moves through the Chicago area. A Lake-Effect Snow Warning will be in effect until 4 p.m. Tuesday in Cook, DuPage and Lake counties. In Porter County, Ind., the warning will be in effect until 9 a.m. Wednesday. In Lake County, Ind., the warning will be in effect until 1 a.m. Wednesday.
CLICK HERE for the latest 7-day outlook from the First Alert Weather Team:
The lake-effect band that started between 7 and 8 p.m. Monday in the northern suburbs had dropped 8.5 inches in Waukegan by early Tuesday, NWS meteorologist Casey Sullivan said. That band moved into northern Cook County by 4:45 a.m., and another band was expected to form somewhere in the area later in the morning.
Chicago's 287 snow plows hit the streets Monday night, clearing main arteries before heading to residential blocks, according to the city's Dept. of Streets and Sanitation. Residents can monitor the snow plow fleet in real time on the city's website.
At midnight, this winter's snowfall totaled 22.8 inches, the weather service said. That number is well below the seasonal average of 32.2 inches, which could be within striking distance if the lake-effect system packs its full punch.
Between 5 and 10 inches are expected, with especially "intense" snowfall overnight – up to 2 inches per hour in the most directly hit areas – making for a nightmarish morning commute, forecasters said. But because lake-effect bands are only about 10 to 15 miles wide, snow totals can greatly vary over short distances.
In the months of January and February, not an inch of snow accumulation was recorded in Chicago – a first in recorded history. Before Monday, the last snowfall greater than an inch during this unseasonably warm winter occurred on Dec. 17 when 1.7 inches accumulated in Chicago.
While Chicago braced for its first snowfall in months, larger snowstorms were expected on the East Coast. A blizzard watch was issued for the Boston area, with 12 to 18 inches of snow expected to fall over eastern Massachusetts as well as central and southern Rhode Island, according to the weather service.
The Sun-Times Media Wire contributed to this report.