Chicago officials urge protesters to be 'peaceful' as video showing police … – Fox News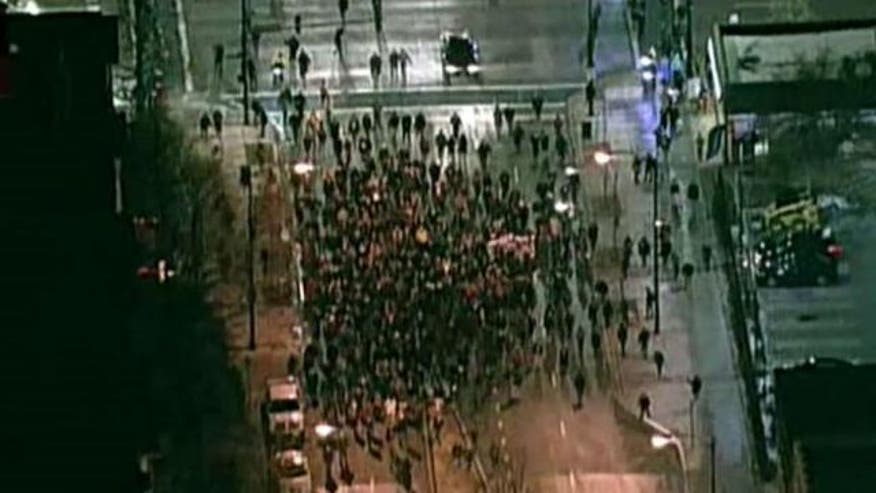 Officials in Chicago urged protesters to be "peaceful" as a dash-cam video showing a white Chicago police officer shooting and killing a black teenager was released Tuesday. A state prosecutor said the release prompted her to move up the announcement of the officer's murder charge out of concern the footage would spark violence.
Chicago Mayor Rahm Emanuel said the first-degree murder charge against Jason Van Dyke, who shot 17-year-old Laquan McDonald 16 times on Oct. 20, 2014, represented a "challenge" to the city, but that it also represented a moment of "understanding and learning."
"It is fine to be passionate, but it is essential to remain peaceful," he told reporters at a news conference late Tuesday. 
Shortly after the video's release, protesters began marching through streets. Several hundred people blocked traffic on the near West Side. Some circled police cars in an intersection and chanted "16 shots."
"I'm so hurt and so angry," said Jedidiah Brown, a South Side activist and pastor who had just seen the video. "I can feel pain through my body."
Protesters were accompanied by many police officers, and no violence was immediately reported.
Chicago Police Superintendent Garry McCarthy said Van Dyke is "going to have to account for his actions," but the department was prepared for any protests following the release of the dash-cam video of the shooting.
"People have a right to be angry…to free speech, but they do not have a right to criminal acts," he said.
CLICK HERE TO WATCH THE DASH-CAM VIDEO (WARNING: GRAPHIC CONTENT)
The relevant potion of the video runs for less than 40 seconds and has no audio.
In the video, Laquan McDonald, 17, swings into view on a four-lane street where police vehicles are stopped in the middle of the roadway. As he jogs down the street, he appears to pull up his pants and then slows to a brisk walk, veering away from two officers who are emerging from a vehicle and drawing their guns.
Almost immediately, one of the officers appears to fire from close range. McDonald spins around and crumples to the pavement. The second officer simultaneously lowers his weapon.
The car with the camera continues to roll forward until the officers are out of the frame. Then McDonald can be seen lying on the pavement, moving occasionally. At least two small puffs of smoke can be seen coming off his body as the officer continues firing.
In the final moments, an officer can be seen kicking something out of McDonald's hands.
Authorities have said the teen had a knife, and a 3-inch knife was recovered from the scene.
Prominent clergy members in Chicago called for peaceful protests and civil disobedience surrounding the video's release.
The Rev. Michael Pfleger anticipates rallies during the week and is encouraging a boycott of Black Friday shopping. He told the Associated Press that protesters should sit on sidewalks in the main downtown shopping district of Michigan Avenue. He said disrupting sales on the major shopping day will be effective in helping bring attention to McDonald's death.
The family of Laquan McDonald also called for calm as the city released the video of the shooting.
Ministers, community leaders and others worry the images could lead to the kind of unrest seen in Baltimore and Ferguson, Missouri, after police-involved deaths. Emanuel called together a number of community leaders Monday to appeal for help in keeping the city calm.
But some said after the meeting that city officials waited too long to get them involved — more than a year after McDonald was shot.
"You had this tape for a year and you are only talking to us now because you need our help keeping things calm," one of the ministers, Corey Brooks, said after the meeting.
Earlier in the day, Cook County State's Attorney Anita Alvarez defended the amount of time it took to charge Van Dyke and said cases involving police officers present "highly complex" legal issues and she would rather take the time to get it right than "rush to judgment."
"I was not pressured into anything," she said.  "The video is coming out… I will not oppose it."
She insisted, however, that she made a decision "weeks ago" to charge the officer and an order from the judge for police to release the video by Wednesday did not influence that.
People who have seen the video told The Associated Press that it shows McDonald armed with a small knife and walking away from officers. Van Dyke opens fire from about 15 feet and keeps shooting after the teen falls to the ground.
Police were responding to complaints about someone breaking into cars and stealing radios.
Van Dyke was the only officer on the scene to open fire. He emptied his 9-mm. pistol, shooting all 16 rounds from just feet away, Assistant State's Attorney Bill Delaney said at Tuesday's hearing.
He said the shooting lasted 14 to 15 seconds and that McDonald was on the ground for 13 of those seconds.
Witnesses said McDonald was moving away from the officer and never threatened him, Delaney said. Police say the teen had a knife, and Delaney said a 3-inch knife was recovered from the scene.
Police say McDonald, who was found with PCP in his system at the time of his death, was behaving erratically and was refusing to listen to police commands to drop the knife, the Chicago Tribune reports.
An autopsy says McDonald was shot at least twice in the back. Dan Herbert, a lawyer for Officer Van Dyke, said the 14-year police veteran feared for his life and acted lawfully and that the video about to be released doesn't tell the whole story.
Herbert said the case needs to be tried in a courtroom and "can't be tried in the streets, can't be tried on social media and can't be tried on Facebook."
But Alvarez said Van Dyke's partner at the scene of the shooting said he heard McDonald struggling to breathe after being hit, and ordered Van Dyke to hold his fire so he could kick the knife out of his hands.
"It is my determination that this defendant's act of shooting Laquan…was not justified and not a proper use of deadly force by this police officer," Alvarez said.
She added that "the officer went overboard."
Fox 32 reported that some investigators were brought to the point of tears after seeing the video of the shooting. 
Illinois Gov. Bruce Rauner said state police are working with Chicago officials to ensure people remain safe following the release of the video.
Rauner said the video is "very troubling" and that he expects public reaction to be "strong." But he said he hopes and believes the response will be "thoughtful and peaceful."
He declined to say whether he's deployed additional troopers to Chicago or put the Illinois National Guard on standby.
The Police Department said placing an officer on desk duty after a shooting is standard procedure and that it is prohibited from doing anything more during the investigations.
The Chicago police also moved late Monday to discipline a second officer who had shot and killed an unarmed black woman in 2012 in another incident causing tensions between the department and minority communities. Superintendent Garry McCarthy recommended firing Officer Dante Servin for the shooting of 22-year-old Rekia Boyd, saying Servin showed "incredibly poor judgment" even though a jury had acquitted him of involuntary manslaughter and other charges last April.
The Associated Press contributed to this report.
CommentsWrite a Reply or Comment: