Boston shooting: Suspect plotted to kill cops, court documents say – CNN
(CNN)Usaamah Rahim, who was fatally shot after waving a knife at law enforcement officers Tuesday, had originally planned to behead a person outside Massachusetts, but decided instead to target the "boys in blue," a reference to police, according to court documents.
Police shot Rahim multiple times as he wielded a large military-style knife, officials said. Rahim is believed to have been radicalized by ISIS and other extremist influences.
About two hours before Rahim's confrontation with anti-terrorism officers on a Boston Street, he allegedly told an associate he was "going to … go after them, those boys in blue. Cause … it's the easiest target," said an FBI affidavit filed in federal court in Boston Wednesday.
The 26-year-old security guard at first allegedly plotted to kill a person outside the state, possibly beheading them "like thinking with your head on your chest" — an apparent reference to the practice of some terror organizations of beheading targets and placing their heads on their chests in propaganda videos, according to the documents. But he later abandoned that plan, saying, "I can't wait that long," according to documents.
Rahim's associate, David Wright, 25, appeared in U.S. District Court in Boston Wednesday to face conspiracy and terrorism-related charges. A detention hearing was scheduled for June 19 after prosecutors said he was a flight risk.
Wright allegedly attempted to destroy co-conspirator Rahim's cell phone and conceal evidence of their plans, according to the documents. Wright faces a maximum penalty of five years in prison if convicted.
Rahim was not on the phone at the time of the shooting and was not shot in the back, as had been reported by a relative, according to clergy and civic leaders who met with authorities earlier Wednesday.
Authorities showed surveillance video of the incident during an unusual meeting with religious and civil rights leaders in an attempt to allay community concerns about the shooting.
"What the video does reveal to us very clearly is that the individual was not on the cellphone, the individual was not shot in the back and that the information reported by others that that was the case was inaccurate," Darnell Williams, president and chief executive of the Urban League of Eastern Massachusetts, said at a news conference with the police commissioner and other authorities.
Rahim's brother has posted on social media that the suspect was on the phone with their father Tuesday and was shot three times in the back during the confrontation with police.
Williams said prosecutors want Rahim's family to see the video before showing to the public.
The religious and civic leaders said Rahim appeared to be shot three times — in the shoulder, abdomen and chest. Police had earlier reported that he was struck two times.
Imam Abdullah Faaruuq, speaking for the Muslim community, said the video was inconclusive.
"I don't think that he was shot in the back. … However we couldn't see clearly at all," he said, adding that the distance preventing from seeing whether the Rahim was brandishing a knife. "It was very far away. We can't be clear as to what transpired."
He added, "We can't say what happened. We weren't there. We do see a very vague video that is not clear as to what transpired. It wasn't at a bus stop. He wasn't shot in the back and there is not detail enough on the video to tell us exactly what happened."
Boston Police Commissioner William Evans said the surveillance video shows four or five officers approach the suspect without their weapons drawn. The officers backtrack as Rahim comes after them and gets "close enough to cause imminent harm" when they eventually draw their weapons fire at him.
"We never anticipated what his reaction would be and that he would pull out … a military knife and approach the officers," Evans said.
Evans said authorities met with local leaders in order to "calm down the emotions" caused by misinformation about the shooting.
Anti-terrorism authorities had Rahim under 24-hour surveillance, said Vincent B. Lisi, FBI special agent in charge, on Tuesday.
Later Tuesday, authorities arrested a second man in connection with the case. The U.S. attorney's office in Boston identified the man as David Wright. He will appear Wednesday in federal court in Boston, said Christina Sterling, a spokeswoman for the U.S. attorney's office.
"As of right now, we don't think there is any concern for public safety," Lisi said.
Rahim was a subject of a terror investigation involving suspected Islamist extremists, law enforcement sources said.
"We believe he was a threat," Boston Police Commissioner William Evans said. "He was someone we were watching for quite some time."
Rahim had been under surveillance by the U.S. Joint Terrorism Task Force, officials said.
Ibrahim Rahim, an imam at the Lighthouse Mosque in Oakland, California, posted about his brother's death on social media.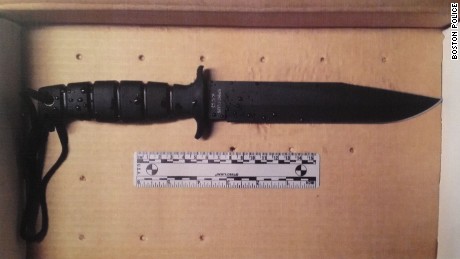 Ibrahim Rahim wrote on Facebook that his brother was shot while at a bus stop on his way to work. He asked for prayers for his brother.
In a 2013 interview with CNN, Ibrahim Rahim voiced his objection to presiding over the funeral of Boston Marathon bomber Tamerlan Tsarnaev.
"We don't want people looking at us as though we are empathetic in any way to what has happened at the hands of this man and his brother," he said at the time, referring also to Dzhokhar Tsarnaev, later convicted in the bombings.
Ibrahim Rahim said his brother was on the phone with their father Tuesday and was shot three times in the back during the confrontation with police.
In a statement, the Islamic Society of Boston said police have invited Muslim leaders Wednesday to watch surveillance video of the shooting.
"As religious institutions serving the Boston Muslim community, the Islamic Society of Boston (ISB) and Islamic Society of Boston Cultural Center (ISBCC) leadership are saddened to hear of the shooting of Usaamah Rahim," the statement said. "This tragedy has yielded many important questions that merit additional attention, and while we cannot expect all questions to be answered … our hope is that greater clarity and transparency will bring some peace to our congregation and the Boston community at large."
The Islamic Society of Boston Cultural Center said that it had had a limited relationship with Usaamah Rahim. A security firm it uses at the center hired him as a guard for a month in 2013. Rahim did not regularly pray at the center or volunteer or serve in any leadership position, the center said.
The FBI-led task force had been watching Rahim and two associates believed to be radicalized by ISIS and other extremist influences, according to a law enforcement official. Rahim had been monitored for at least a couple of years. Investigators were talking to the associates, and various locations in Massachusetts and Rhode Island were being searched, officials said.
The Rhode Island raid was connected to a third person believed to be associated with David Wright and Usaamah Rasim, according to two federal law enforcement sources. The third person was connected by more than just an "internet relationship," one law enforcement source said. The sources did not provide a name for the individual they were investigating.
The FBI is still investigating whether more people are connected with the three.
The FBI noted a recent change in Rahim's behavior, including social media threats against police, which prompted agents to try to approach him Tuesday, according to the official.
Evans, the police commissioner, said the shooting occurred about 7 a.m. Tuesday after officers and FBI agents confronted Rahim, who suddenly turned around with a large black knife and lunged at officers and federal agents. The officers had not drawn their weapons at that point.
The officers retreated and ordered the man to put down the weapon before they opened fire, Evans said. The shooting was captured by surveillance video and observed by witnesses.
"Unfortunately, he came at the officers and, you know, they do what they were trained to do and, unfortunately, they had to take a life," Evans said.
Rahim was struck in the torso and abdomen.
A Boston police officer and a federal agent opened fire on the suspect, Evans said.
The shooting is under investigation.
CommentsWrite a Reply or Comment: