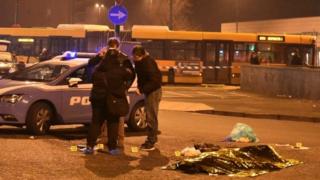 Anis Amri, the jihadist who rammed a lorry into a crowd at a Berlin market on 19 December, died in an exchange of fire with Italian police in Milan in the early hours of Friday.
The fact that Europe's most-wanted man was able to evade capture for three days and cross several borders has raised a number of questions.
The first is: How did Amri get from Berlin to Milan, more than 1,000km (600 miles) away?
Officials are tight-lipped on the subject, but French and Italian media have piece together details of the last stages of his journey. They say two train tickets found on Amri after he died show he travelled through France.
The first was for a journey from the city of Lyon to Chambery, in the French Alps, on Thursday afternoon.
The second ticket, later that day, was from Chambery for Milan, with some reports that he stopped in Turin on the way.
The fugitive is said to have arrived at in Milan at 01:00 on Friday. From the main station, he somehow made his way to the suburb of Sesto San Giovanni.
By then, authorities had clearly long lost his trail. It was a routine police stop at about 03:00 that led to his death: he drew a gun, wounding an officer before being shot dead by another.
'Needle in a haystack'
What about the first part of Amri's journey, from Berlin to Lyon? This part remains unclear.
Security services are sifting through surveillance footage and various train stations. But the search is unlikely to yield results soon. "It's like looking for a needle in a haystack," one security official told Le Parisien newspaper.
But foremost on many people's minds is the question of apparent security failures.
Germany issued a European arrest warrant for Amri on Wednesday. Pictures of the suspect, along with his various aliases, had been widely publicised.
France – which boosted security following attacks in 2015 – had further reinforced checks at key transport hubs.
Opposition politicians have been quick to what they see as a major embarrassment.
A spokesman for French centre-right presidential candidate François Fillon said: "It beggars belief that a terrorist sought by police across Europe was able to enter the country, obviously bearing weapons, and then leave undetected."
Marine Le Pen, leader of the far-right, Eurosceptic National Front, said: "This flight though two of three countries epitomises the total security catastrophe that is Europe's [passport-free] Schengen area."