A quarter century after Myanmar's generals denied Aung San Suu Kyi an election win, she led her party to victory, ousting a military-linked government and edging the Southeast Asian nation closer to full democracy.
The National League for Democracy secured 348 seats in the two houses of parliament, enough to choose the country's next president without seeking support from any other political party, according to official results from the nation's election commission. The NLD victory was so thorough that the ruling Union Solidarity and Development Party has won just 40 races so far.
"The people of Myanmar have been dutiful and it is time for the NLD to try to fulfill the wishes of the people," Tin Oo, a senior NLD leader, said outside of the party's headquarters. "The NLD has a responsibility to try hard for change."
The NLD, which won't take the reins of government until early next year, will be tasked with further opening of the economy, which began under the quasi-civilian Union Solidarity and Development Party government. The USDP allowed foreign participation in industries such as telecommunications, energy exploration and banking, helping spur some of Southeast Asia's briskest economic growth, which has averaged more than 7 percent during the past five years.
Vying for Influence
The vote is being closely watched in neighboring China and India, which both share extensive borders with the country and are vying for influence as Myanmar opens. Indian Prime Minister Narendra Modi sees Myanmar as India's economic gateway to Southeast Asia and backed a plan to build trans-national highways and railways.
For China, Myanmar is a source of raw materials like timber and jade and offers a way to reduce China's dependence on oil shipped through the Strait of Malacca. China has already financed construction of a natural gas pipeline and oil pipeline that span the country. China had signaled concern that an NLD government could tilt Myanmar more toward the U.S. and sought to woo Suu Kyi in the run-up to the vote.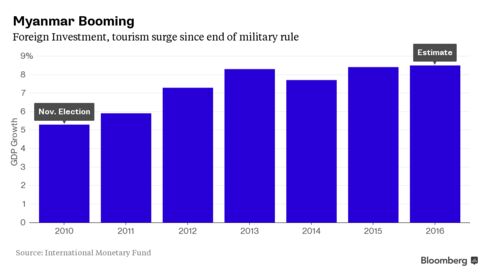 Suu Kyi, 70, and her party are the longtime antagonists to the generals who ruled Myanmar from a coup in 1962 until 2011, when they handed power to their political arm after a 2010 vote that was tainted by allegations of fraud and boycotted by the opposition. The Nov. 8 ballot was the most widely contested poll since 1990, when a first NLD landslide was ignored by the generals, plunging the country into another generation of repression and isolation. Suu Kyi was under house arrest at the time and had to accept the Nobel Peace Prize the following year in absentia.
'Tireless Effort'
Her opponents have signaled they are prepared for a shift to a civilian government after more than a half century of rule by the military and their surrogates. The army Wednesday offered its "congratulations" on the NLD's lead and said it was prepared for "national reconciliation talks." President Thein Sein said he was willing to meet with Suu Kyi to discuss the transition as soon as the results are final.
U.S. President Barack Obama called Suu Kyi on Wednesday to congratulate her on her lead and commend her "tireless efforts" on behalf of Myanmar. Japan's Chief Cabinet Secretary Yoshihide Suga said his country hopes for a peaceful transition of power and greater democratization in Myanmar.
It will be important for Suu Kyi to find a way to work with the military since it is automatically granted 25 percent of seats in parliament as well as control of key ministries such as defense, interior and border affairs. The new parliament will vote early next year on who takes the presidency, though it won't be Suu Kyi since she is barred from the role under a 2008 constitutional change because her children are foreign nationals.
Though she began her career as an Oxford-educated academic, she had politics in her blood. Her father, Aung San, led the fight for independence from the Britain only to be assassinated in 1947, months before it was achieved. Her mother became a prominent public figure who eventually served as ambassador to India, where Suu Kyi attended high school. After graduating Oxford and marrying Michael Aris, a Tibetan scholar who tutored the royal family of Bhutan, Suu Kyi dedicated herself primarily to academic research, studying her father's life and the birth of her nation.
House Arrest
After her mother had a stroke in 1988, she returned to the country and became increasingly political after a brutal military crackdown that year killed thousands. She formed the NLD party in September of that year and was first placed under house arrest in 1989. She eventually spent 15 of 21 years trapped in her home by the country's military leaders. The confirmation of her election triumph Friday, coincides with the fifth anniversary of her final release by the authorities.
Suu Kyi is revered in Myanmar. Her challenge will be to parlay her immense personal popularity into running an effective government that can contain the influence of the army, which has rigged the system to protect their interests.
'Rough Ride'
"Myanmar is in for a rough ride, but the military may have lost some of their
influence permanently and we can only hope that Suu Kyi does not allow personal ambition and chagrin at her present inability to seize the presidency to override the national interest," said Derek Tonkin, a former U.K. Ambassador to Thailand, Vietnam and Laos who is now on the board of Bagan Capital, a Myanmar-focused advisory firm.
Suu Kyi has repeatedly said that despite the constitutional ban, she will be running the government and be above the president. "I'll make all the decisions, it's as simple as that," she said in a Nov. 10 interview with the BBC.