Tuesday's Morning Email: Boy Scouts End Ban On Gay Leaders – Huffington Post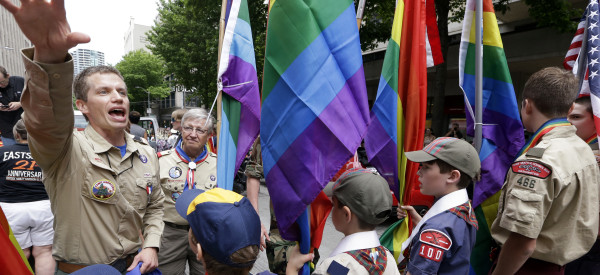 TOP STORIES
To get The Morning Email, HuffPost's daily roundup of the news, in your inbox, sign up here.
BOY SCOUTS END BAN ON GAY LEADERS "The Boy Scouts of America voted Monday to lift a long-established ban on gay adults as employees and volunteers within the organization. The BSA's full executive board voted 45 to 12 in favor of the change, effective immediately." The Mormon church is considering leaving the Scouts in protest. [Lydia O'Connor, HuffPost]
POTENTIAL BIPARTISAN PUSH AGAINST SENTENCING LAWS PICKS UP SPEED A bipartisan bill aimed at curtailing tough sentencing laws with potential backing from the president and Speaker of the House John Boehner (R-Ohio) could come as early as August. [NYT]
CHINA STOCKS UNSTEADY Despite government pledges, the market continues its historic sell-off. [NYT]
THE LOOPHOLE THAT ALLOWED THE LAFAYETTE SHOOTER TO BUY A GUN How John Russell Houser was able to buy the gun that he used to kill two women in a movie theater last week, and the problem that gun rights and gun control activists agree on. [WaPo]
SCIENTISTS FIND SIXTH 'TASTE' Fat now joins the ranks of sour, sweet, salty, umami and bitter. [WaPo]
STEPHEN HAWKING, ELON MUSK ARE VERY WORRIED ABOUT ROBOTS KILLING US ALL "Hawking warned … the 'development of full artificial intelligence could spell the end of the human race.' Musk has also repeatedly railed against the dangers of AI, comparing it to 'summoning the demon,' and saying the technology is 'potentially more dangerous than nukes.'" [Ed Mazza, HuffPost]
THIS LAND IS YOUR LAND "This Land Is Your Land is a new project from The Huffington Post documenting the changing face of America. Our aim is to find Americans who hail from every country around the globe." [HuffPost]
WHAT'S BREWING
BACHELORETTE KAITLYN BRISTOWE FOUND LOVE Congrats on her engagement to… [HuffPost]
BE CAREFUL WITH THAT CILANTRO "The Food and Drug Administration is banning imports of some fresh cilantro from Puebla, Mexico, after a government investigation found human feces and toilet paper in growing fields there." [AP]
SNAPCHAT TO ADD TWO MORE PUBLISHERS TO DISCOVER FUNCTION Buzzfeed and Vox are rumored to be joining the streaming service function on the app later this summer. [Re/code]
GOOGLE+ IS (ALMOST) OFFICIALLY DEAD Google will no longer mandate that your Google+ profile be your profile across all Google products. [Venture Beat]
WHEN YOU ARE *LITERALLY* ALWAYS CAST AS A TERRORIST "There is no group … more narrowly cast than the Muslim-American actors who earn virtually their entire livings pretending to hijack planes and slaughter infidels." [GQ]
THE 'TITANIC' WILL SAIL NO MORE On Netflix, that is, where the movie expires at the end of August. But at least "The Hurt Locker" is coming, along with a bunch of other award boats. [HuffPost]
THERE ARE NO GOOD EMAIL FONTS Arial — are you kidding me? [Bloomberg]
For more from The Huffington Post, download our app for iOS or Android.
WHAT'S WORKING
MAN WITH AUTISM CREATES EMERGENCY COMMUNICATION APP "A Belgian man with autism has created an 'Emergency Chat' app for communicating in situations where speech is not an option. Jeroen De Busser, a student in computer science at the University of Antwerp, came up with idea after experiencing an anxiety attack during which he found himself unable to communicate verbally with friends." [HuffPost]
ON THE BLOG
EXPLAINING THE PUERTO RICO DEBT CRISIS "The market has lost confidence in Puerto Rico's ability to repay debt. This kind of prophecy tends to be self-fulfilling." [HuffPost]
BEFORE YOU GO
~ This woman saved her toddler son before an escalator accident killed her.
~ A tick FAQ.
~ You won't be able to stop listening to Sam Smith's new song with Disclosure.
~ The ancient Mayan monument hiding in plain sight.
~ Bobby Brown speaks out about Bobbi Kristina's death.
~ This Tom Cruise-Jimmy Fallon lip-sync battle involves a "Top Gun" reenactment — yes, you should watch it.
~ You had us at pie: summer pies that have your name all over them.
~ Looks like Rachel McAdams might play Doctor Strange's female lead.
~ A giant 270-foot waterslide is coming to NYC.
~ When Venezuela runs out of beer.
~ Nope, you can't steal jokes on Twitter.
~ That scary airplane landing taking the Internet by storm? According to experts, it's not that bad.
~ Wedding favor ideas we'd all be happy to take home.
Send tips/quips/quotes/stories/photos/events/scoops to Lauren Weber at lauren.weber@huffingtonpost.com. Follow us on Twitter @LaurenWeberHP. And like what you're reading? Sign up here to get The Morning Email delivered to you.
CommentsWrite a Reply or Comment: