Prep School Rape Trial Opens With Email Between Victim and Alleged Attacker – ABC News
Opening arguments and testimony begin today for a rape case involving an elite New Hampshire prep school that has raised questions about the campus culture.
The defendant, Owen Labrie, 19, of Tunbridge, Vermont, is a graduate of St. Paul's School in Concord, New Hampshire. He is accused of raping a 15-year old girl on campus on May 30, 2014, days before he graduated.
Labrie's attorney, Boston defense attorney J.W. Carney, displayed enlarged printouts of email exchanged between Labrie and the alleged victim before that time, including what he called "romantic" language in French.
"Neither of us were there. None of you were there. What we have to focus on is the evidence," Carney told the jury this morning, asking them to zero in on the alleged victim's words about whether she was a "willing participant."
He read to the jury a text message conversation that allegedly took place after May 30 in which the alleged victim asked Labrie if he wore a condom and he asks if she was using "the pill," and the two text "haha" several times.
The trial broke midday as the defendant and lawyers for both sides joined the jurors on a trip to the school's Math and Science building where the alleged rape occurred. They also stopped at the Concord Police Department.
Labrie has pleaded not guilty to multiple felony accounts and says he did not have sexual intercourse with the student.
This morning, Labrie, wearing a dark gray blazer and white, had walked into the courtroom as his eyes swept the packed benches taking in former classmates, family members and national media.
His parents sat in the front row on opposite ends of the bench. They are divorced, according to records.
Officials were forced to set up a standing-room-only section in the back of courthouse.
Labrie stood when the judge read the 10-count indictment: four felonies and six misdemeanors, including three counts of aggravated felonious sexual assault, as well as using a computer on-line service to seduce, lure or entice a child younger than 16.
Merrimack County Superior Court Justice Larry M. Smukler instructed the jurors to "evaluate each charge independently" before prosecutors began opening arguments.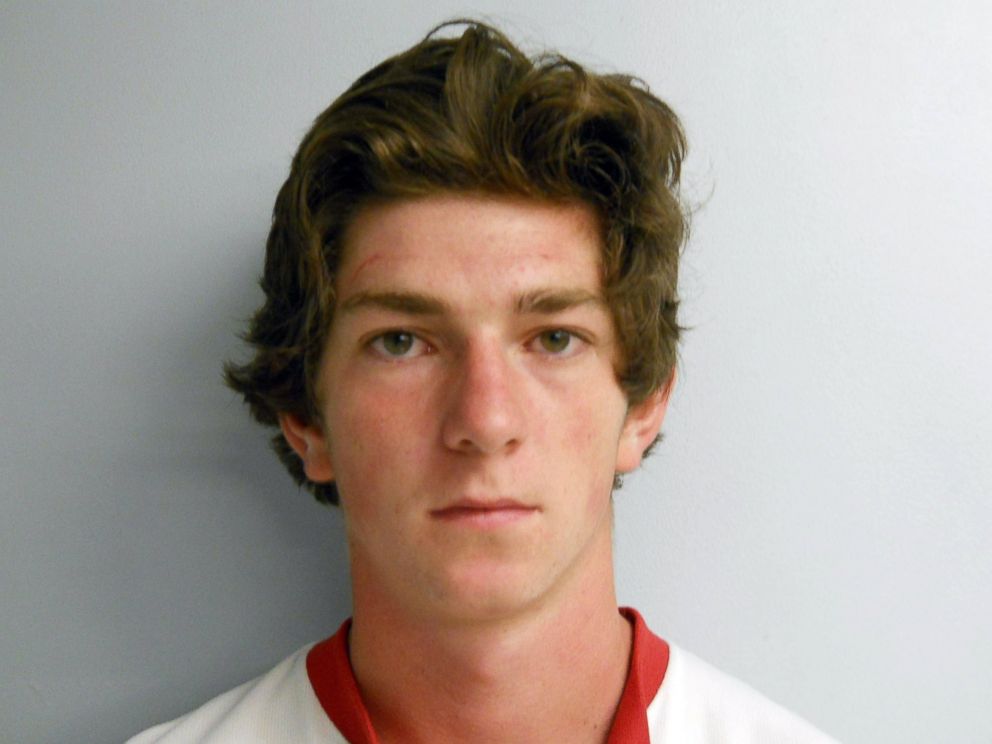 The alleged victim's name has not been released because of her age and the nature of the crime.
Jury selection Monday included three women and 11 men.
Labrie was interviewed by Concord police, who said he spoke willingly about an alleged practice at the Episcopal school called a "senior salute," according to the Associated Press. He claims it involved senior boys attempting to "score" with younger female students, taking their virginity, before the boys graduated. Deputy Merrimack County Attorney Catherine Ruffle Monday said the alleged practice is "the context for this entire event," according to the Associated Press.
Today, she said, "This case is about Owen Labrie sexually assaulting a 15-year-old girl," and not the school.
"It's about how he thought about this for months, how he made a plan, and he executed the plan in an isolated, secluded, mechanical room in the Lindsay building, on campus," Ruffle told jurors.
Ruffle say that Labrie called his sexual conquests "slays" and the only person whose name was capitalized in a list on March 1, 2014 was that of the 15-year old freshman.
Carney downplayed the sexual nature of the "senior salute" and argued that it was a tradition that's "decades" old and focused on kissing another student and not sexual intercourse.
The school, whose alumni include Secretary of State John Kerry and former FBI Director Robert Mueller, said in a statement Monday that the allegations about the school's culture are "not proven facts, and the judicial system will weigh them and determine how this case is ultimately resolved."
CommentsWrite a Reply or Comment: