Microsoft's Cloud Strategy Needs To Expand Beyond Office 365 – Seeking Alpha
Microsoft's (NASDAQ:MSFT) chairman and board members want Nadella to accelerate the software segment's transition to cloud-based distribution. The board is worried about the long-term effects of declining demand for on-premise or desktop Microsoft Office. Some of the suggestions made by the board are to revamp the Office/Azure sales and an increase in Research & Development.
The board is not satisfied that Office 365 and Azure can only contribute around 10.5% of Microsoft's projected $95.2 billion for FY17. My own take is that Nadella should consider expanding Microsoft's cloud offering beyond Office 365. Diversification is essential toward satisfying Microsoft's urgent need to increase its revenue from cloud-centric/subscription-based software.
An increase in Research & Development budget, or reshuffling of sales people will not reduce the threat from rivals of Microsoft Office. Investors should realize that expanding beyond Office 365 is the best way for Microsoft to grow its subscription-based cloud/software business. Microsoft has so much idle cash anyway.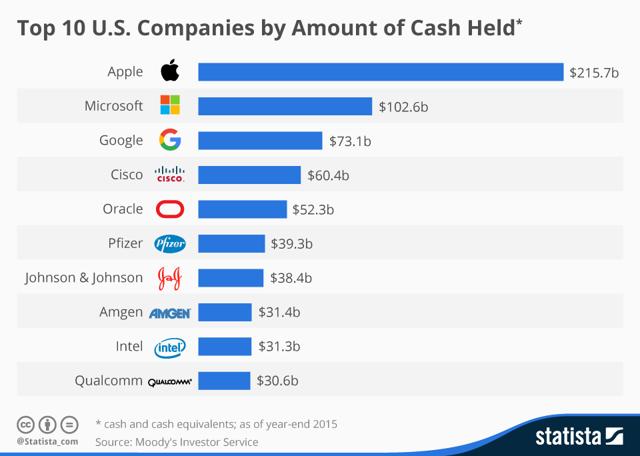 Click to enlarge
Microsoft needs to acquire firms that will expand its software portfolio and grow its online Windows app store. Yes, growing the Windows app store should also be part and parcel of Microsoft's cloud strategy. Apple (NASDAQ:AAPL) has multi-billion cloud-based revenue stream from getting a cut from third-party software/apps purchased from its Mac and iOS app stores.
My idea to sell not just Office/productivity software is better than Microsoft wasting money on acquisitions like Xamarin. Microsoft paid at least $400 million to buy cross-platform development tool Xamarin. After this acquisition, Nadella gave away Xamarin for free. Microsoft also made Xamarin open source. I disagree with this Xamarin treatment.
It's Time To Challenge Adobe And Autodesk
What I want to see is for Microsoft to buy companies with proprietary software products. Microsoft can then rent these software like Adobe (NASDAQ:ADBE) is doing with Creative Cloud. Adobe trades a sky-high valuation because of its fast-growing population of Creative Cloud customers.
Microsoft can and should try to break Adobe's pole position on graphic/design software. Challenging Adobe could help Microsoft improve its market valuation. Adobe has 62x P/E valuation, more than twice than MSFT's 28x.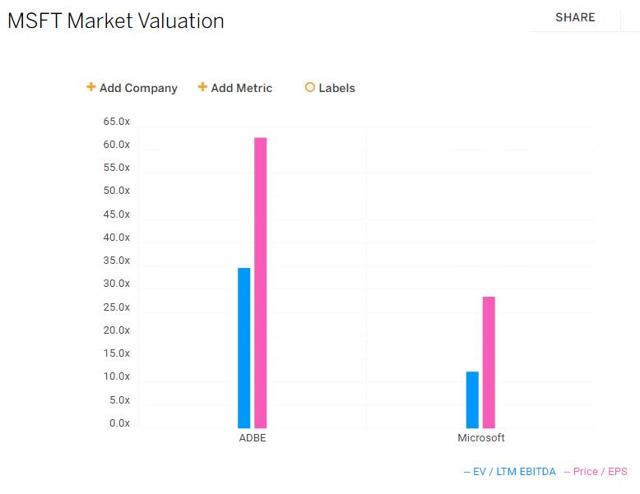 Click to enlarge
(Source: Finbox.io)
Autodesk has also followed the subscription-based business model of Adobe. Microsoft can compete with the subscription-only software products of Adobe and Autodesk by buying Corel Corporation. I know Microsoft and Corel are currently under a litigation war over alleged Office-related IP infringements.
Using Corel To Disrupt Adobe And Autodesk
I subscribe to Sun Tzu's philosophy that the supreme art of war is to subdue the enemy without fighting. Corel's WordPerfect and Corel Office software products are persistent rivals of Microsoft Office/Office 365. Buying Corel will make it an ally. After acquiring Corel, Microsoft can either kill or rent out WordPerfect/Corel Office. Adobe killed Freehand MX after it bought Macromedia. This was to protect Adobe's in-house vector drawing software Illustrator CC.
Taking control of Corel will also give Microsoft CorelDRAW Graphics Suite X8, Painter 2016, MotionStudio 3D, VideoStudio Ultimate X9, CorelDRAW Technical Suite x7, and CorelCAD. Instead of selling CorelCAD for $699, Microsoft could rent it out for $199/year to quickly disrupt Autodesk's lucrative $210/monthly plan for AutoCAD 2017.
CorelCAD is more user-friendly than AutoCAD while also offering almost the same features that mechanical/civil engineers and architects need. Instead of selling CorelDRAW Technical Suite x7 for $999, Microsoft should also rent it out for $199/year to disrupt Autodesk's $235 monthly fee for Inventor.
Microsoft can also rent out a bundle of VideoStudio, CorelDRAW Graphics Suite, and Painter 2016 for $19.99/month. This can quickly disrupt Adobe's$69.99/month enterprise plan for Creative Cloud. Corel has equivalent products to compete against Adobe Creative Cloud.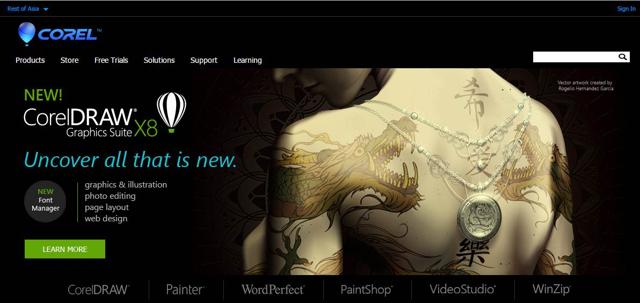 Click to enlarge
(Source: Corel Corp.)
Microsoft can market Corel products to their existing corporate Office/Office 365 clients. Big and small companies usually have in-house creative/design teams that use Adobe products. I'm confident that Microsoft's corporate influence will help it effectively diminish Adobe and Autodesk's presence in the enterprise.
I guesstimate that taking control of Corel Corp. will cost $500 million to $1 billion. This is still a small price compared to the$2.5 billion that Microsoft paid to buy Minecraft-maker Mojang. If Microsoft could waste $400 million on Xamarin, gambling $500 million on Corel Corp. is a risk worth taking.
Microsoft bought more than 20 million non-voting shares (no board seat) of Corel for $135 million in 2000. Microsoft then sold its 20% inutile stake in Corel to Vector Capital in 2003. I hope Nadella now realizes just how important Corel can be to his cloud-first, mobile-first master plan.
Corel's loyal pool of customers and strong portfolio of design-focused products can complement Office 365's revenue stream. Renting out Corel's software products could generate annual revenue greater than my estimated $140.8 million/year sales of Minecraft.
Office 365 Has Many rivals
Challenging Adobe and Autodesk is the best way to accelerate Microsoft's plan to increase its revenue from software sales. Yes, Office 365 now has more than 22 million paying customers. However, I see this growth peaking soon. There are other cloud/mobile Office suite available now.
Alphabet's (NASDAQ:GOOG) dirt-cheap$5/month plan for Google Apps For Work will eventually slow down Office 365's rapid growth. Zoho is another enterprise-centric online productivity suite provider.
Hancom also offers free cloud-based Office Suite, ThinkFree. The$44.95/year subscription fee of cross-platform WPS Office Business Edition is much cheaper than the $8.25 monthly fee of Office 365 Business.
SoftMaker also offers cheaper alternatives to Office 365. The cross-platform Pro version of Polaris Office cost only$59.99/year for up to 15 devices. The free and much-improved Android version of OpenOffice is available now. The development team behind LibreOffice is also working on the free Android version.
By giving away free mobile versions of Office to iOS and Android device owners, Microsoft itself is also hampering the growth of Office 365.
Final Thoughts
The board's enthusiasm for cloud-based software distribution is good for Microsoft. I just hope they are smart enough to see that, instead of spending more on Research & Development, they should consider buying other companies.
Nadella should only look to Oracle (NYSE:ORCL) on how to exploit the inorganic method of growing in the cloud. Oracle has been on a buying spree thats enlarging its cloud enterprise products.
Yes, Microsoft cannot afford the sky-high valuation of Adobe and Autodesk. It should instead buy the rivals of these two companies. Corel, Dassault Systemes (OTCPK:DASTY), Xara, and Serif Software can all help augment the software revenue growth of Microsoft.
Disclosure: I/we have no positions in any stocks mentioned, and no plans to initiate any positions within the next 72 hours.
I wrote this article myself, and it expresses my own opinions. I am not receiving compensation for it (other than from Seeking Alpha). I have no business relationship with any company whose stock is mentioned in this article.
Editor's Note: This article discusses one or more securities that do not trade on a major U.S. exchange. Please be aware of the risks associated with these stocks.
CommentsWrite a Reply or Comment: