Microsoft: The Case For $1 Trillion – Seeking Alpha
Microsoft's (NASDAQ:MSFT) entry into fiscal 2018 kicked off with a huge bang, and it's continually reminding investors that the company has successfully reinvented itself. This is no longer Steve Ballmer's Microsoft of the post-recession era, putting out spectacular failures like the Zune music player and ceding market share in its core software business. Satya Nadella, in three years at the helm, has returned Microsoft to its core focus: software for the enterprise, and now reinvented in the cloud.
Microsoft's strength in the cloud spans all layers of enterprise IT, beginning with core infrastructure services (Microsoft Azure revenue grew 90% y/y, far outstripping growth at its much larger rival Amazon (NASDAQ:AMZN), which grew a mere 42% y/y in its most recent quarter) and on to its traditional strength in applications. Within applications, Microsoft has successfully shifted its focus on recurring subscriptions – the traditional Office suite is now offered primarily as an annual Office 365 subscription – increasing the long-term runway for revenue sustainability and growth.
In addition, newer initiatives like Microsoft Dynamics, which encompasses cloud products spanning CRM and ERP software, is continuously pitted against entrenched software giants like SAP (NYSE:SAP) and Oracle (NYSE:ORCL) and taking share.
Unsurprisingly, investors have shown enthusiasm for Microsoft's transformation. Share are up ~35% y/y, slightly outstripping the share price advances of its two largest rivals in enterprise software.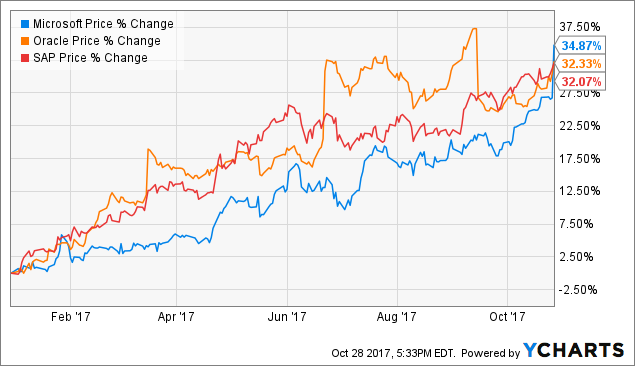 MSFT data by YCharts
Recall that this was once a stock whose share price flagged and stayed stuck in the mid-$40s, when investors were punishing Microsoft for its failed acquisition of Nokia in 2014 and took a $7.6 billion write-off just one year later. With shares pushing through the $80 level, momentum is on its side, powered by growth on both the top and bottom lines.
Microsoft deploys the kind of software that businesses hinge on – software like Excel is so deeply entrenched into business processes that it's impossible to imagine work without it. Its Azure infrastructure offerings and ERP systems that drive financial reporting are similarly entrenched, making it impossible to imagine a future without Microsoft. In addition, with its headline-dominating purchase of LinkedIn, Microsoft acquired its ~500 million users and valuable proprietary data that can add further value to its existing software portfolio.
Microsoft is a company that you can buy today, close your eyes, and ride the gains. Though it's a constant race between the Silicon Valley giants to reach the vaunted $1 trillion market cap marker, there's almost no doubt Microsoft will get there in the near future, with its cloud growth powering increases in top line revenue and earnings that analysts didn't think was possible. It doesn't matter who gets there first.
Microsoft generated a mind-boggling $21.2 billion in profit in FY17, more than the market caps of most companies in the S&P 500. With current results pointing to a ~20% earnings growth this year, a $1 trillion market cap would imply only a ~40x multiple to this year's earnings – an expensive target to reach, but within reach. If Microsoft doesn't get there this year, certainly the next, barring any macroeconomic disruption.
Breaking down Microsoft's growth
Typically, companies in Microsoft's multi-billion revenue range find it difficult to increase revenue by any amount (look at Oracle – despite its massive growth in the cloud, it's only barely replacing lost revenue from its legacy divisions). Microsoft, however, has managed to grow revenues by double digits. Q1 revenue of $24.5 billion was up 12% y/y, and beat analyst consensus of $23.5 billion by $1 billion. Analysts, too, were only expecting mid single-digit growth, but Microsoft gave them much more.
As a refresher, Microsoft reports its business in three segments: Productivity and Business Processes, which houses its core application software products including Office software for consumers and enterprise; Intelligent Cloud, which houses its infrastructure products such as Azure and SQL Server; and More Personal Computing, which comprises of its legacy Windows operating system licensing business, its Bing search engine, and its Surface hardware products.
On a segment basis, as expected, Microsoft's enterprise segments led the way in growth. According to its earnings press release,
Productivity and Business Processes posted $8.2 billion of revenue, up 28% y/y, driven by a $1.1 billion contribution by LinkedIn and double-digit growth in Office and Dynamics applications.
Intelligent Cloud posted $6.9 billion of revenue, up 13% y/y, with Azure leading the growth charge at 90% y/y growth.
More Personal Computing posted $9.4 billion of revenue, flat compared to the previous year.
See Microsoft's segment performance summary below, taken from its earnings release:
Figure 1. Microsoft segment results


The company also broke out revenue growth for select products, as shown in the chart below:
Figure 2. Microsoft revenue growth by product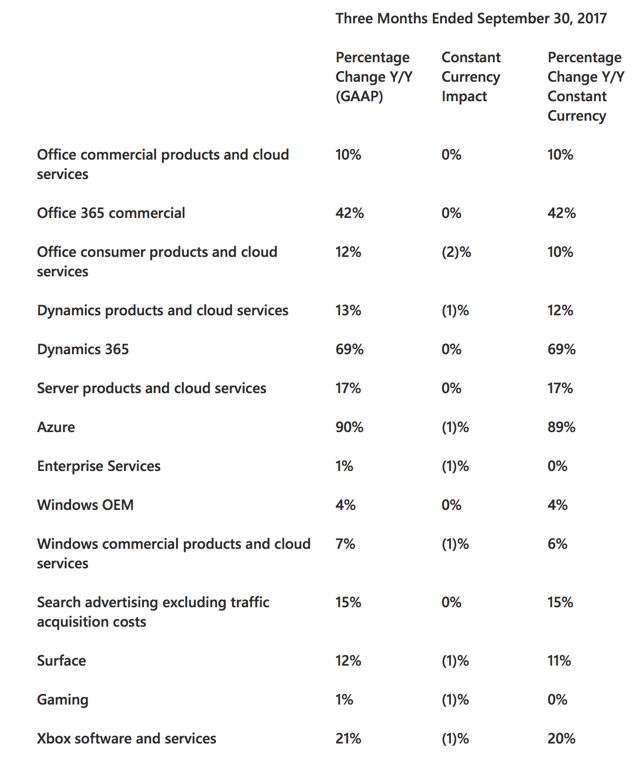 The standout here is Xbox software, which Microsoft has broken out from Gaming for the first time, showing 21% y/y growth. This chart also shows the strength of Microsoft's core application suites, with the enterprise edition of Office 365 up 42% y/y and Dynamics 365 up 69% y/y.
A company that's shifting its revenue model from perpetual licenses to subscriptions typically sees revenues decline, as the one-time revenue influxes derived from huge one-time license deals are chopped up into smaller subscription revenue streams. That's not the case with Microsoft, however, as its "365" subscriptions are powering revenue growth without seeing too much revenue bleeding from perpetual licenses.
Earnings continue to expand
For a company of Microsoft's size, revenue growth is almost meaningless unless it's also accompanied by profit expansion. Microsoft doesn't fail to deliver in this area either.
Figure 3. Microsoft earnings performance

Microsoft posted $6.6 billion of net profit in the quarter, up 16% y/y. This translates to EPS of $0.84, which handily beat analyst consensus of $0.72, as reported by Reuters. Evidently, analysts weren't expecting any growth year over year.
The growth in earnings is a function of both its top line growth as well as the naturally greater profitability of subscription-based software, a tailwind that Microsoft will carry at its back for the foreseeable future. The subscription model brings in far more revenue over the long term than a perpetual license, even if it hurts cash intake in the short term.
Once a customer is locked in on Office or Dynamics, unless a competitor comes in and offers a vastly greater deal, that customer is likely billable revenue for life. And this recurring revenue stream is almost pure profit – it costs nothing additional to provide Office 365 to the incremental customer beyond the nearly inconsequential hosting costs of that customer's data.
Free cash flow also increased 10% in the quarter to $10.3 billion, much higher than GAAP earnings.
How should investors react?
Microsoft's post-earnings lift seems to be just the beginning. Enthusiasm for the company has returned and it's not likely to cool down anytime soon. A long position entered now, while it may not earn the fantastic double-digit gains of SaaS startups and recent IPOs, is a relatively safe bet.
Aside from Microsoft's core financial results showing top and bottom line growth, another equally important point of discussion is the fact that Microsoft has crossed the $20 billion cloud run rate for the first time, and it continues to grab more and more share.
This cloud run-rate is approximately double the cloud run rates of the likes of Oracle and Salesforce (NYSE:CRM). While it's true that these companies are much smaller than Microsoft, Microsoft's larger market cap is also supported by its more diversified mix of businesses. Though its consumer division is no longer a star, and the Windows OEM business isn't the growth monster that it used to be, Windows is still the dominant operating system and the business is producing massive profits for the company overall.
These steady, legacy businesses are providing strong cash streams for Microsoft to invest in expanding its cloud strength as well as develop new technologies in its more recent initiatives, such as augmented reality and artificial intelligence. It's a recognized thought leader in these new fields, and any breakthroughs in the coming years will provide additional avenues for growth.
In addition, Microsoft's newer cloud app products have garnered much industry acclaim, solidifying its place in the enterprise IT world. Multiple Microsoft products have earned the Leader distinction from Gartner, the leading software industry analyst, including Microsoft's Power BI product (edging out over BI competitors Tableau (NYSE:DATA) and Qlik (NASDAQ:QLIK)). Dynamics CRM also shares the Leaders quadrant with longtime leader Salesforce Sales Cloud, and Microsoft SharePoint is a Leader in Content Services.
It's easy to grasp the picture: Microsoft dabbles in many fields, and in each of these fields, it's generally in a leading position. The continued profitability of legacy divisions, growth in cloud acclaim, and relentless pursuit of next-gen technologies further propel Microsoft's path to $1 trillion. It's hard to envision a scenario in which this doesn't happen. With double-digit revenue and earnings growth, a $1 trillion market cap would be fully supported by earnings (a 40x multiple to estimated FY18 earnings, as previously discussed).
Stay long on Microsoft and use any pullbacks in the wider market to add to your position. If there's one company that's sure to keep barreling forward, it's this one.
Disclosure: I am/we are long ORCL.
I wrote this article myself, and it expresses my own opinions. I am not receiving compensation for it (other than from Seeking Alpha). I have no business relationship with any company whose stock is mentioned in this article.
CommentsWrite a Reply or Comment: