Microsoft Still Has Plenty Of Room To Grow – Seeking Alpha
Over the years Microsoft's (NASDAQ:MSFT) shares have had a great run, which seems to have accelerated over the past year or so. The great performance of this stock has caused both a high total value and high valuation multiples with a P/E of 30. While the company is known for its great performance, it is getting difficult to justify a high valuation since it's getting more difficult to find new ways to drive significant growth. This is what is currently on the minds of many investors. But while these thoughts are certainly far from absurd, I do believe that Microsoft is making the right moves in certain growth markets and its shares could therefore go even higher.
Financial results
Microsoft has performed great financially over the past few years as can be seen below: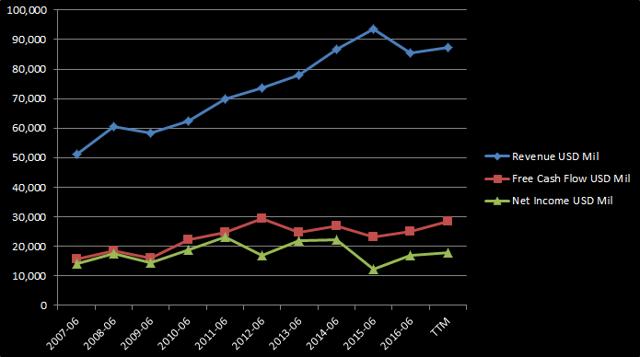 The small revenue dip last year might seem as a troubling development to some. There are those who are starting to grow pessimistic about Microsoft's future. Not because it is a bad company, but simply because they believe the large amount of revenue it earns makes it more difficult to generate any significant growth. I do not believe you should worry about this too much. Because despite the fact that this company already has grown its market cap to $529 bln while making around $90 bln in revenue annually, there are actually still plenty of opportunities to grow its business.
LinkedIn
One way to grow its business is by way of acquisition, as the company did not too long ago when it acquired LinkedIn. Accelerating growth with LinkedIn is a top priority for management. It will try to drive this by the redesign of its desktop and by creating more value for both members and customers. So far progress already is being made with LinkedIn as it marked an important milestone by exceeding 500 mln members with more than 10 mln jobs posted.
The most recent quarter was also the first full quarter of results of LinkedIn for Microsoft. The impact on the results could already be seen with LinkedIn adding 4 points of revenue and gross margin growth. LinkedIn has just been added to the company and therefore it might take a few quarter before Microsoft will enjoy its full potential.
Cloud and IoT
Microsoft's cloud segment already is seeing tremendous growth and will be a growth driver for its revenue going forward. Its commercial cloud segment is built up out of Office 365 commercial, Dynamics 365, Azure, and other cloud properties. After putting up a great performance in the most recent quarter, Microsoft now has a commercial cloud revenue run rate of over $15.2 bln, growing 52%. Revenue derived from Azure grew 93% over the most recent quarter. The cloud industry is growing fast with SaaS gaining a lot of popularity. Microsoft's IoT Central is the first SaaS offering that provides the end-to-end solution for all organizations to manage their entire IoT ecosystem. It is expected that the cloud industry could double in value by 2020:
"2016 has been a good year of growth for the cloud industry overall, but the real benchmarks have been set by the industry leaders – specifically, the breaching of the $10 billion barrier for annual cloud infrastructure revenue run rates, and the creation of the next big milestone – $20 billion in cloud revenues by 2020."
Since Microsoft is performing so well on this front and offering great SaaS, the company is expected to benefit a great deal from this growth. This could drive Microsoft's cloud revenue even further. Its current growth rate is already good for an $8 bln revenue growth annually, which is almost 10% of its revenue.
AI
One segment that could turn out to be huge for Microsoft is that of AI. It is becoming clearer by the day how much this industry has to offer for companies that play their cards right. A great example of this is the stock Nvidia (NASDAQ:NVDA). AI has been one of the great reason that this stock has surged these past two years. This is what its management said about AI during NVIDIA's last earnings call.
First of all, AI is going to infuse all of software. AI is going to eat software. Whereas Marc (Andreessen) said that software is going to eat the world, AI is going to eat software, and it's going to be in every aspect of software. Every single software developer has to learn deep learning. Every single software developer has to apply machine learning. Every software developer will have to learn AI. Every single company will use AI. AI is the automation of automation, and it will likely be the transmission.
Microsoft too has been making progress in this industry. Just during their last quarter Microsoft made their cognitive services for face recognition and computer vision available to enable any developer to become an AI developer. Also, the SQL server 2017 will be coming out this fall. The server will be the first with cloud tiering and AI built in. This segment is expected to perform well, but we must acknowledge that this industry is still in its very early days. AI will take over the tech world but it will take some years before this will have a big impact on Microsoft's revenue.
Valuation and conclusion
I mentioned that this stock has high valuation metrics earlier in this article. A P/E ratio of 30 on a stock with a market cap of $536 bln of course results in a risky investment. That being said, Microsoft is looking at a bright future thanks to factors discussed above. Despite a huge market cap, Microsoft's earnings are expected to increase over the next year, that the forward P/E currently stands at 20 with significant growth opportunities for the long term. Management also stated its interest in buying back more share going forward, which also lowers the valuation metrics like the P/E. A dividend yield of 2.25% is also fairly attractive to long term investors, although it is not exceptional.
Therefore I see Microsoft as a company with a great historical performance with a bright future ahead. The company has proven that it is capable of finding new growth areas and it seems like it has find some that will bring growth to the company for years to come. Some might find it too risky to buy at the current valuation, which is very reasonable. I would suggest to buy this stock whenever it pulls back 10 percent.
Disclosure: I/we have no positions in any stocks mentioned, and no plans to initiate any positions within the next 72 hours.
I wrote this article myself, and it expresses my own opinions. I am not receiving compensation for it (other than from Seeking Alpha). I have no business relationship with any company whose stock is mentioned in this article.
CommentsWrite a Reply or Comment: