Microsoft: Shareholders Are Set To Benefit From This Stock – Seeking Alpha
Investment Thesis
Microsoft (MSFT) delivered impressive results which I argue that in spite of the seemingly punchy price tag for its stock it's not actually fully pricing the opportunity facing Microsoft and its stock is mispriced, allowing for a great investment return for potential long term shareholders. Upside potential 35%.
Recent Business Highlights
Microsoft's runway into its cloud operations which have been picking up strength in the past several quarters continued its momentum in 2017 Q4 and allowed it once again to deliver solid results.
The opportunity in the cloud is immense and its addressable market continues to be highly fragmented. It's a sector which is truly embryonic and promising super growth rates for years to come. The problem being that there is considerable uncertainty in which the company will come to dominate this space.
Presently, there is enough business for all companies wishing to service this industry as demand from companies is still unmatched with supply.
There are a plethora of companies wishing to update their back office systems, ranging from large to small, from Jet.com to Dixons Carphone and many others, wishing to offer their customers consistent and seamless experience online.
The cloud business continues to deliver fantastic growth in revenue and was up 97% in 2017 Q4, compared to the same period a year ago. This growth coming on the back of the previous quarter's 94% revenue growth for Azure.
Financials

Source: Morningstar.com; author's calculations. This table does not include the most recent 2017 Q4 results.
Microsoft's margins have always been phenomenal so it should come as no surprise to see that it still has industry leading margins combined with superb returns on invested capital.
It is reasonable to expect that its very high margins will persist over the medium-to-long term as it migrates its offering to cloud a platform business. Evidence for this thesis comes from its latest results, 2017 Q4, where gross margins remained strong driven in part by growth in Azure revenue as well as improvements in Azure's gross margin.
While Microsoft does not break down its margin for its Azure business it does disclose in Azure's reportable segment – Intelligent Cloud – its margins, with its Intelligent Cloud segment's gross margin being up 15% in 2017 Q4 compared with its revenue for the segment which was up 11%. This once again implies that Azure's gross margins must be particularly high and able to push up this segment's margins.
Valuation Relative to Peer Group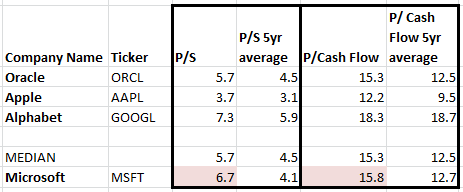 ource: Morningstar.com; author's calculations.
The table above shows that MSFT is currently trading more expensively than its peers on both P/S and P/cash flow ratios. However, those backward-looking valuation metrics from the past five years do not fully incorporate its new venture into the cloud and offer investors only part of its valuation story with a DCF calculation offering investors a more complete appraisal.
DCF Analysis
In my previous article titled Microsoft's Future Growth Will Come From Azure, Investors Are Missing This Opportunity, I elaborated why felt a 6% discount rate for its future cash flow was appropriate once one considers its overseas cash and cash equivalents. In that article, I estimated Microsoft's overall valuation to be at least $750 billion. Realistically, I now suspect that its valuation will be most likely higher, but that is a good and safe starting point.
Investment Risks
Google (GOOGL)(GOOG) has been a persistent risk to Microsoft's dominance for a long time, but I suspect that this competition will only intensify near term as these two companies go head-to-head to control the top spot for a cloud-services offering. While Microsoft's cloud offering is generating strong cash flows, Google has the technical talent, capability and drive to make a fully fledged attempt to offer a competing service. Microsoft shareholders should not mistake Microsoft's current dominance in the cloud which arose from its first-mover advantage for a sustainable competitive advantage.
Microsoft's investment into the creation of large datacenters certainly provided it with the infrastructure it needed to support its scale and diversity in its offering. However, Microsoft's competitors such as Amazon (AMZN) also have the ambition and financial resources to mount a meaningful head-on challenge to Microsoft's Azure with Amazon's AWS platform leading the way. While Amazon's AWS platform is still not as large as Azure, led by the mighty Jeff Bezos and which has a track-record of being highly disruptive in the markets he competes in backed by a highly technical team, it might get AWS where it wants to be.
Conclusion
It's important to emphasize that Microsoft's overall mix of legacy and cloud businesses will continue to change and favor the latter. Moreover, while the cloud's addressable market is large, in Microsoft's case there is a platform which is already servicing large multinational and Fortune 500 companies, supported by a strong management team which has delivered solid cash flow which ultimately caused Microsoft's FCF to jump 50% YoY. The stock remains undervalued with more than 35% upside potential.
Please do your own due diligence to reach your own conclusions. If you have enjoyed reading this article, please click "Follow" to get more articles of mine in real time.
Disclosure: I/we have no positions in any stocks mentioned, and no plans to initiate any positions within the next 72 hours.
I wrote this article myself, and it expresses my own opinions. I am not receiving compensation for it (other than from Seeking Alpha). I have no business relationship with any company whose stock is mentioned in this article.
CommentsWrite a Reply or Comment: