Microsoft Lumia 950 XL review blog: Living with Windows 10 Mobile – The Indian Express
Microsoft Lumia 950 XL is one of the first devices to run Windows 10 Mobile and comes with flagship standard specs
For Microsoft, it is a do or die situation in mobile. Microsoft will never shut shop, but it definitely does not want to be out of the smartphone segment, which occupies so much mind space at the moment. I still remember the early days when I had a HTC phone with slide out keyboard, stylus and Windows Mobile. Yes it was a time when only three types of mobile devices existed – BlackBerry, Windows Mobile and feature phones. It is worth reflecting that all the three have lost ground. Microsoft is trying hard to revive its mobile fortunes with Windows 10 Mobile.
Under CEO Satya Nadella, Microsoft's mobile ambitions are certainly clearer than ever before. Microsoft will only make devices that consumers would care to know about (buying is a definite second thing). And the initial products based on this sentiment are the Lumia 950 and Lumia 950 XL. We finally have the Lumia 950 XL with us, and I will put across my experience with this Windows 10 Mobile device in this daily blog.
First Impression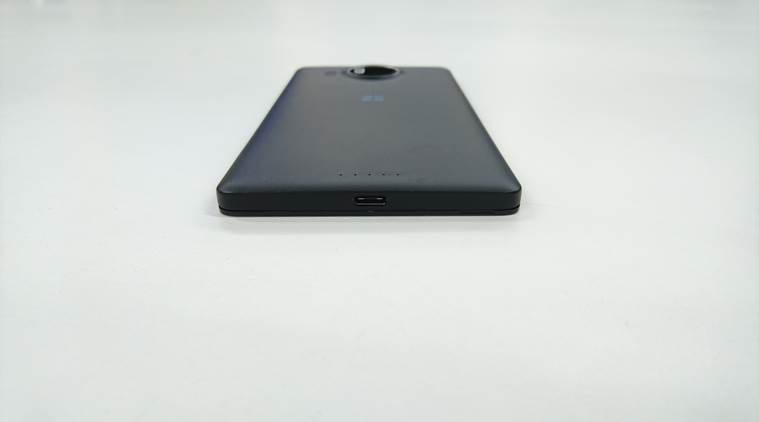 Microsoft Lumia 950 XL is made out of plastic mold and it feels lighter than other metal and glass flagship devices
The moment I unboxed Lumia 950 XL,the plastic design of the phone left me wondering whether it's priced right. Not an impressive sign to start the review. While most flagships, including those mid-range Chinese flagships, feature metal or glass in their construction, the Lumia 950 XL comes out of a plastic mold. The plastic is definitely of better quality here; it doesn't crank or make any creaking noises.
I would say this one is built way better than Google's plastic Nexus 5X. The plastic build does have one advantage – Lumia 950 XL is lighter than iPhone 6s Plus and Sony Xperia Z5 Premium in terms of weight. Also Lumia 950 XL is wider than competing smartphones, and I did find it different yet attractive.
Microsoft has already lost when it comes to design, but the idea here is to serve you a great smartphone experience. In order to do that, Microsoft Lumia 950 XL comes with a spec sheet that will put Galaxys, Nexuses and iPhones of this world to shame.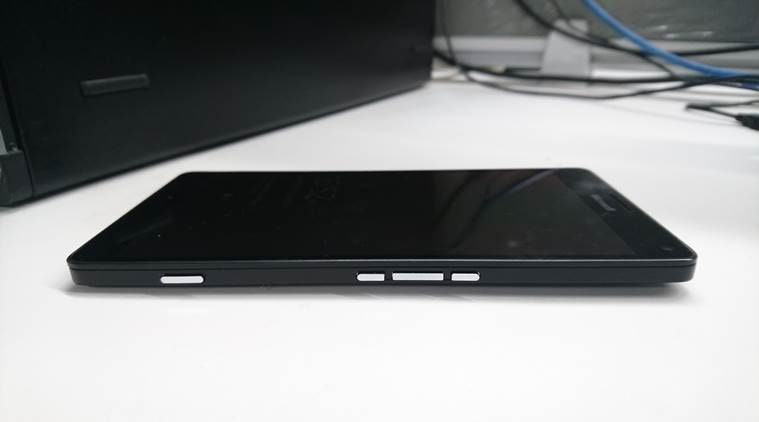 Microsoft Lumia 950 XL weighs 165 grams and is 8.2 mm thick
The Microsoft Lumia 950 XL sports a 5.7-inch ClearBlack AMOLED display with Quad HD (1440 x 2560) resolution, and it is undoubtedly one of the best displays ever put on a smartphone. As the name suggests, the blacks are really deep and colour saturation is better than any other Lumia launched before. To be precise, this display won't give you any complaints.
The Lumia 950 XL is powered by Qualcomm's most powerful processor available right now – Snapdragon 810 and there is 3GB RAM to keep things flowing. The review unit came with 32GB internal storage with 29GB memory available out of the box. There is absolutely no bloatware here like most Android flagships and Microsoft's own apps consume very little space.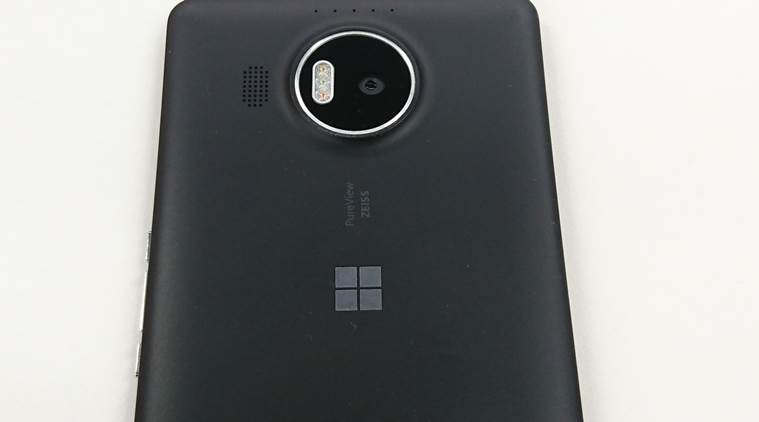 Microsoft Lumia 950 XL retains the proprietary Pureview image sensor. It is now 20-megapixels and has optical image stabilisation
That brings me to the camera – Lumia camera. Ever since Nokia introduced Pureview 808 followed by Nokia Lumia 1020, even its budget smartphones have got stunning image sensors and Lumia 950 XL is no exception. The 20MP Pureview image sensor comes with optical image stabilisation, and the full manual mode is in a league of its own. I clicked some pictures and didn't find any reason to complain, but I would like to click more before really calling it best.
To summarise, I think Microsoft has got the hardware right this time but I am yet to set this device up as my primary phone.
Follow the blog tomorrow for my experience setting up the device, transferring data and most importantly finding and downloading my favourite apps.
CommentsWrite a Reply or Comment: