Microsoft Corp. has teamed up with Code.org, the nonprofit that offers free programming tools for kids, to bring its best-selling personal-computer game Minecraft to the group's popular Hour of Code tutorials.
Kids will be able to go to Code.org's website and find a tutorial with 14 levels of Minecraft including a free-play board, said Deirdre Quarnstrom, director of Minecraft education at Microsoft, which is Code.org's biggest financial backer. The agreement is the second this month for the computer-science educational group, which added Star Wars to its lineup last week.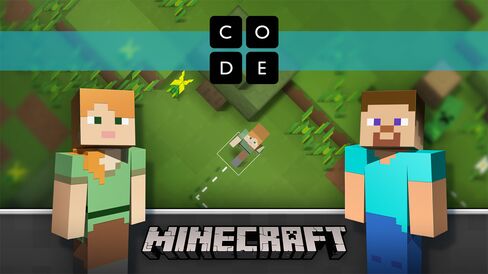 Minecraft, which Microsoft acquired with its $2.5 billion purchase of software company Mojang AB in 2014, puts users inside a vast pixelated 3-D landscape and allows them to build with blocks made of different resources.
Code.org was started in 2013 to make computer-science education available to more children, with a goal of boosting participation in the field by women and students of color. More than 100 million students have tried out Hour of Code, which uses popular entertainment like Flappy Bird and the game from the movie "Frozen" in the tutorials and tries to get schools to participate during Computer Science Education Week, this year Dec. 7-13. The nonprofit, founded by former Microsoft executive Hadi Partovi and his brother, Ali, also provides free teacher training and computer-science curricula.
Adding Minecraft has been the most popular request from students and parents, Hadi Partovi said, including when he visited classrooms during last year's Hour of Code.
"I got a string of thank-you cards from one classroom and when I looked, most weren't actually thank-you cards, they were Minecraft requests," he said.
The open-ended nature of Minecraft's game play will help teach students programming skills that have been hard to demonstrate with previous lessons that involved guiding a character through a fixed landscape. In this case, students can learn how to use conditional "if, then" statements, such as if there's hot lava, then don't step in, which are important in programming, Partovi said.