Microsoft: Azure fuels Dividend Growth – Seeking Alpha
Microsoft (MSFT), a global technology giant, has turned into a growth stock ever since Satya Nadella took over the CEO position from Steve Ballmer in 2014. The stock has almost doubled since summer 2014 and has been beating the S&P 500 profoundly.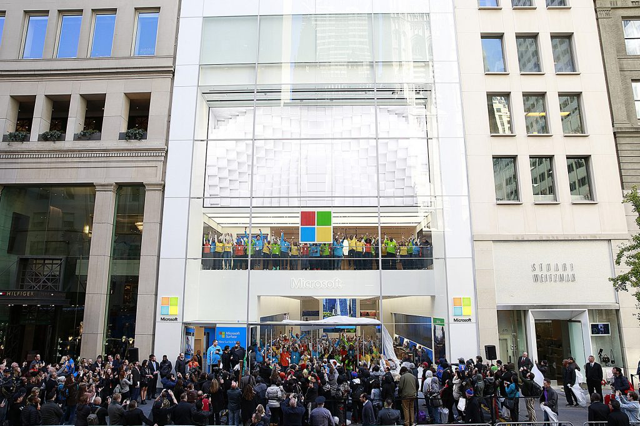 Source: Microsoft Blog
Nadella transformed Microsoft from a sleepy, lazy slowly reacting giant to a global technology leader in software and cloud. This rejuvenation paid dividends throughout the company and the stock chart adequately reflects that.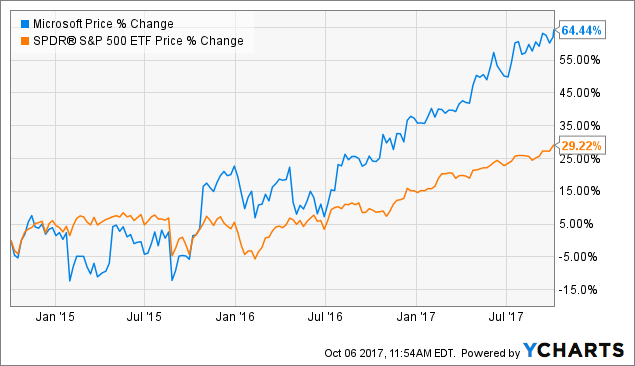 MSFT data by YCharts
Microsoft has long been a powerful dividend stock boasting 13 years of consecutive dividend growth and its future driven by the Azure cloud looks great. Let's find out why I consider Microsoft a compelling investment.
What is going on at Microsoft?
Microsoft's most recent FY2017/Q4 results showed very strong EPS and revenue beats. The real profit driver was the performance in its Intelligent Cloud segment which grew by 11%. Inside that segment, Azure's revenue almost doubled (+97%) which is a more than staggering achievement.
In the Productivity and Business Processes segment, revenue grew by 21% to $8.4B driven by Office products and in particular by Office 365 commercial (+43%). Microsoft's third and largest segment "More Personal Computing" saw a slight 2% decline following a drop of 2% in Surface revenue.
Operating cash flow came in at a staggering $11B while dividends only amounted to a bit above $3B. Free cash flow for 2017 amounted to over $31B. Liquidity-wise, Microsoft has abundant liquidity with cash and cash equivalents totaling $133B, although similar to Apple (AAPL) and Cisco (CSCO), the majority of that is held overseas. Still, such a giant liquidity reserve provides ample protection in case of more difficult times or to trigger more acquisitions. Speaking in terms of acquisitions, Microsoft just paid $26B for Linkedin but is still sitting on more than $130B. That's literally a luxury position to be in.
Microsoft's balance sheet is as solid as it gets, and hence, the company is rated triple-A by Moody's, with the only other company to hold that rating being Johnson & Johnson (JNJ).
In terms of valuation, the stock looks pricey trading at a P/E of 28 which is above the S&P 500 which trades at 25.5 times earnings. Factoring in Microsoft's anticipated growth, the forward P/E of around 23 times earnings looks far more attractive.
Microsoft's future lies in its Azure platform which is growing at high double-digit growth rates and is expected to trade in double-digit territory for many more years. Despite that, we should not forget that Microsoft's traditional business of selling software for office work but also for productivity tools generates very strong growth rates spearheaded by its Office 365 offerings.
Regarding its Office offerings, the great thing is that Microsoft is hardly facing any competition here as its Office suite is so deeply entrenched in corporate IT and home usage globally that I cannot imagine any real competitive threat here right now.
In Microsoft's cloud segment, competition is more fierce, specifically with Amazon (AMZN) and its market leading position of Amazon Web Services. Microsoft's market share is at 14% while AWS commands 41%. Hence, in Microsoft's race to cloud leadership, there is a long way to go.
This is a market which is expected to hit $383B by 2020, up from $209B in 2016. Even if Microsoft is only able to maintain its current share growth rates, it will be in healthy double-digit territory. If Microsoft is able to command Amazon's current market share by 2020, growth rates would be phenomenal and its stock should follow suit. Competition, though, is not only restricted to Amazon as both Big Blue IBM (IBM) and Alphabet Inc. (GOOG) (NASDAQ:GOOGL) are in contention for significant market share.
All this bodes particularly well for dividend investors.
Dividend Analysis
Microsoft is one of the most solid dividend stocks in the technology sector yielding 2.2% and currently paying a dividend of $1.68 per share. That dividend was recently raised by 7.6% and continues the company's dividend history of consecutive annual dividend increases since the year 2004. Microsoft's current yield easily beats the sector which yields 1.34% on average.
Microsoft's dividend and its growth is safely supported by a 56% EPS payout ratio and a very low 38% cashflow-based ratio. As the dividends almost doubled from 2013 onwards, the cashflow-based payout ratio increased much less by only around 50%. This leaves ample growth for future dividend increases.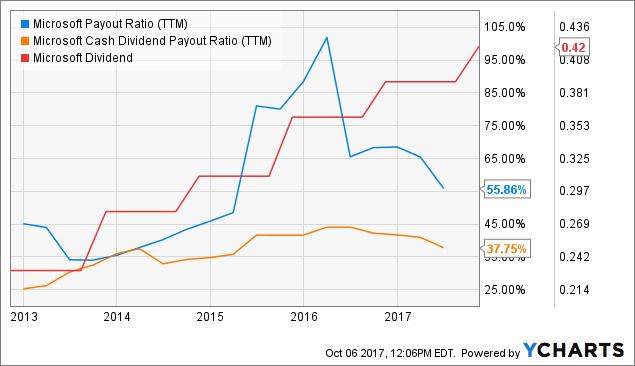 MSFT Payout Ratio (TTM) data by YCharts
Speaking in terms of increases, the last 5 increases were 7.6%, 8.3%, 16.1%, 22% and 15% which translate into a 5-year compound annual dividend growth rate (CADGR) of 12.8%. Naturally, the strong double-digit growth phase seems to be over, but the most recent dividend increases in the 8% area are classy nevertheless.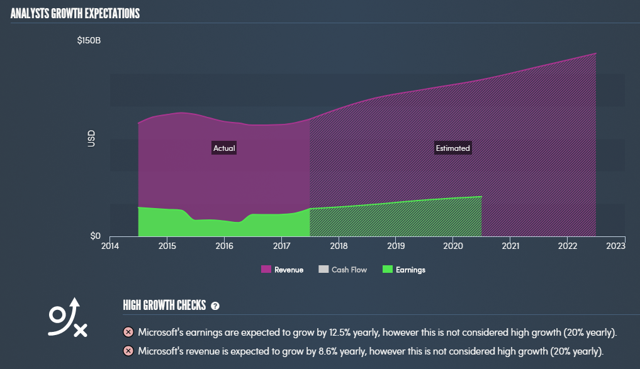 Source: simplywall.st
Projecting $0.03 per share increases for the next 5 years would result in a CADGR of 6%. This is a fairly conservative assumption given that Microsoft's earnings are expected to grow by about 12.5% over the next three years. Growing the dividend at such pace over the next years would represent a YOC of around 4%. Thus, despite the strong run in Microsoft's stock price over the last couple of years and today's yield of only 2.2%, the stock remains very interesting and a compelling buy for dividend investors. Sitting on a 4% YOC in 5 years in one of the global technology leaders is a very beneficial situation.
On top of that, as mentioned above, Microsoft has abundant liquidity of $130B largely waiting to be transferred back to the U.S. Such a move could easily result in a special dividend, a new buyback program, help support dividend growth or simply all of these.
The biggest risk with Microsoft and tech companies in general is that they stop innovating and/or miss key industry trends. Microsoft experienced that in the 2000s when it completely missed the mobile marketplace and when it finally entered that market with its Windows phone and cooperation with Nokia Lumia iOS and Android were already firmly in place and ruling the market.
Under Nadella's tenure, Microsoft has innovated aggressively in all core technology trends such as cloud, business intelligence, AI and machine learning as well as virtual reality and gaming. Failing to miss new or existing trends in a world with intensifying digitization could easily result in large market share losses. The technology sector features relatively low entry barriers and is thus perfect for small startups to potentially disrupt the industry. Technological super weights like Microsoft thus not only have to keep a very close eye to their competitor's action but also on the vibrant startup and venture capital world in Silicon Valley and beyond. Microsoft with its giant cash war chest is perfectly positioned to launch respective actions here.
Investor Takeaway
Microsoft's stock chart looks staggering over the last couple of years, and while from a valuation perspective it currently looks pricey, future growth largely qualifies that statement. Trading at around 23 times forward earnings is certainly not cheap but fair.

Source: simplywall.st
For dividend investors, Microsoft is a great stock to get exposure into the high-flying technology sector while at the same time collecting an attractive dividend paired with potentially double-digit dividend growth going forward.
The dividend is as stable as it gets and Microsoft's balance sheet together with its AAA rating is top in class. Microsoft's strategic re-positioning under Nadella is turning out to be very profitable, and with further growth in the cloud market driven by Azure, the stock's very strong run could very well continue.
Microsoft will report earnings in a couple of weeks and investors should closely eye Azure growth and if the company gives any hints to its future cash allocation.
What do you think about Microsoft? Are you a buyer at current prices or waiting for a correction?
If you enjoyed this article the only favor I ask for is to click the "follow" button next my name at the top of this article. This allows me to develop my readership so that I can offer my opinion and experiences to interested readers who may not have received them otherwise. Happy investing
Disclosure: I am/we are long MSFT, AAPL, JNJ, CSCO.
I wrote this article myself, and it expresses my own opinions. I am not receiving compensation for it (other than from Seeking Alpha). I have no business relationship with any company whose stock is mentioned in this article.
CommentsWrite a Reply or Comment: