Microsoft And The Dynamics Of Enterprise Software – Seeking Alpha
If you taste success after doing something once, the natural tendency is to keep doing it as much as possible. That's exactly what Microsoft (NASDAQ:MSFT) is doing with its Dynamics 365 suite of CRM (Customer Relationship Management) and ERP (Enterprise Resource Planning) tools on the cloud. The success of such Software-as-a-Service – SaaS – products as Office 365 has allowed the company to expand further into the enterprise software segment. And slowly, but steadily, Dynamics 365 is growing, which is making Microsoft's already strong position in the enterprise software market that much stronger.
How much stronger? Let's see.
When Microsoft wrote a check for approximately $26 billion to buy a professional networking site, its key motive was data. Yes, LinkedIn is also a valuable asset raking in not-too-shabby revenues, but the primary motive was data. Microsoft had at least 450 million reasons to make such an expensive and apparently risky bet.
The truth is, it's not even about data. LinkedIn was Microsoft's doorway to enterprises around the world, the segment where Microsoft wants to sell as many software products as possible using its new-found strength in cloud computing. And those 450 million reasons comprised LinkedIn's user base, a very potent prospect list for any company targeting the enterprise segment.
So, it was not really a surprise when Salesforce.com (NYSE:CRM), another strong player in the enterprise software market, was also in the race to buy LinkedIn. In fact, here's what Salesforce.com's Chief Legal Officer, Burke Norton, said in a statement:
"By gaining ownership of LinkedIn's unique dataset of over 450 million professionals in more than 200 countries, Microsoft will be able to deny competitors access to that data, and in doing so obtain an unfair competitive advantage."
How is Microsoft Leveraging this Advantage?
Salesforce.com does not compete with Microsoft in the office productivity software segment. It is a major player in the CRM software market, a section of the enterprise software industry where Microsoft has deployed its own offering: Dynamics 365.
One of the reasons Microsoft bought LinkedIn was so that it could jump start Dynamics 365 and expand its reach in both the CRM and ERP markets.
Microsoft has already made several moves to integrate Dynamics 365 and LinkedIn. In April this year, Microsoft integrated LinkedIn Sales Navigator data with Dynamics 365 for the CRM market, while it simultaneously launched Dynamics 365 for Talent, an HR management tool for the ERP market.
Microsoft has long been a player in the enterprise software scene, but it has always trailed CRM leader Salesforce.com and ERP leader Oracle (NYSE:ORCL) by a huge margin. In 2015, Salesforce.com held 19.7% of the CRM market, Oracle had 7.8% and Microsoft 4.3%. Things weren't that great on the ERP side either, with SAP Hana (NYSE:SAP) holding 20.3% market share, followed by Oracle with 13.9% and Microsoft Dynamics 365 holding 9.4%.
But now, Microsoft is well on its way to changing the dynamics of the whole enterprise software industry, and that can be seen in its numbers.
Until recently, Microsoft only provided Dynamics products and cloud services revenue numbers. Now, during the third and fourth quarters of the current fiscal, it has started providing Dynamics 365 revenue growth numbers as well.
Dynamics 365 revenue grew a stunning 81% during the third quarter and 74% during the fourth quarter of the current fiscal. Though some of that growth momentum is from the growth of the CRM and ERP markets themselves, those segments aren't growing at near-triple-digit percentages.
Clearly, Microsoft's growth during the last two quarters shows that it has started to grow its market share at a rapid pace.
To put Microsoft's growth pace in perspective, let's take a look at those of its chief competitors in the space.
Salesforce.com grew its revenue by 25% during the first quarter and has projected its revenue to grow in the 22% to 23% range for the current fiscal. Oracle, which got a huge fillip to its Cloud ERP offering by buying NetSuite, grew its Software-as-a-Service revenue by 67% during fourth quarter and 61% for full year.
Microsoft, the company with single-digit market share in both the ERP as well as CRM markets, has now recorded the fastest growth rate out of the three. As a company with much smaller footprint in this domain, Microsoft does have the liberty of growing faster than the bigger cousins. But even then, achieving such growth in the fiercely competitive enterprise software market is easier said than done. This would not have happened if the product didn't find enough resonance in the marketplace.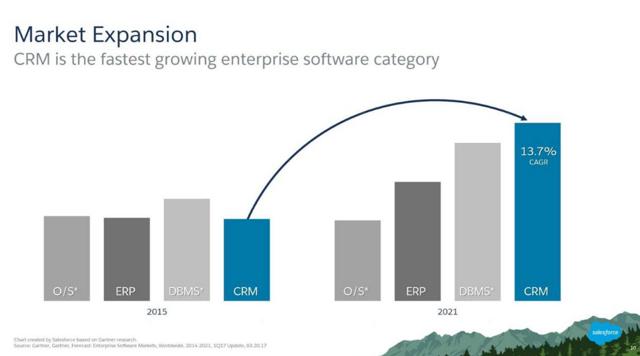 Source: Salesforce.com BOFA Merrill Lynch Technology Conference Presentation
Investment Case
What's interesting to note is that Office 365 is hogging all the limelight, but Dynamics 365 is quickly creeping up to grow equally strong alongside its bigger cousin.
The CRM market is expected to reach $36 billion in size by 2017 and, according to Salesforce.com's own estimates, it is expected to grow at 13.7% CAGR through 2021.
The ERP market is expected to grow at a decent pace to reach $41 billion in size by 2020.
With a potential market of $75+ billion over the next few years and signs of growth exceeding the industry's own momentum, Microsoft's market share will only get bigger over time. And, as the company starts challenging the market shares of the segment leaders, its future revenue streams become more secure.
With such a predictable growth trajectory in a highly competitive segment like enterprise software, up is the only direction the stock can move. The risk of this not happening is very slight, as the numbers have shown us.
Now, combine this part of Microsoft's business with the rapidly expanding Office 365 user base and its strong cloud presence, and what you have is an extremely compelling offer for enterprise companies. What you also have is an equally compelling case for investors.
Disclosure: I/we have no positions in any stocks mentioned, and no plans to initiate any positions within the next 72 hours.
I wrote this article myself, and it expresses my own opinions. I am not receiving compensation for it (other than from Seeking Alpha). I have no business relationship with any company whose stock is mentioned in this article.
CommentsWrite a Reply or Comment: