A little-known stock listed in London has become a trade of choice for investors looking to profit from the technological megatrend known as the Internet of Things.
Telit Communications Plc, which sells hardware that lets everything from vending machines to rental cars transmit data wirelessly, has surged almost sixfold since the end of 2012. This year alone, shares of the company have rallied 37 percent, far outpacing its main industry rivals.
The Internet of Things — tech speak for the proliferation of connectivity and electronic functionality in everyday items — will generate hundreds of billions of dollars in revenue in coming years, analysts say. Among the countless companies seeking to profit from it, Telit — a company founded in Israel in 1986 — has emerged as a standout.
Chief Executive Officer Oozi Cats is trying to boost profit margins by expanding into the more lucrative business of collecting and analyzing the data sent by those "smart" machines. He's also made acquisitions to position Telit as a supplier for Internet-connected cars, one of the fastest-growing areas, according to technology research firm Gartner Inc.
"The world is festooned and swimming with small, ankle-biter companies," said Eric Goodness, a Boston-based analyst at Gartner. "There are very few companies that can say they've been around a long time in the legacy manufacturing and industrial community, yet are able to play in the very dynamic IoT market."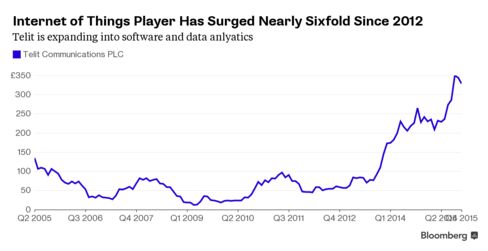 Telit began as a research and development shop for international telecommunications companies. It went public in London in 2005, primarily as a maker of machine-to-machine wireless gear.
As costs fell and wireless bandwidth became more available, Telit broadened its ambitions. It has 22 subsidiaries today, and its products collect, transmit and analyze operational data for companies in at least nine different industries, from health care to security, according to an investor presentation.
Intelligent, Elegant
"Telit is playing the data aggregator," Cats, the CEO, said in a telephone interview. He owns 20 percent of the company. "We are the most intelligent and elegant way to actually take data from those edge devices and to deliver" it to companies' management software.
Investors should temper optimism about stocks tied to the Internet of Things because the biggest beneficiaries of the trend will likely be non-tech companies that use machine data to wring greater efficiencies from their operations, said Ben Rogoff, who oversees about $2 billion in technology stocks for Polar Capital Partners LLC in London, including Telit shares. The pace of tech adoption is also uneven and hard to predict, he said.
"What Telit is tackling is about as good as it gets, but the truth is, the near term is still far more prosaic," Rogoff said. "Investors should be mindful of that."
Shares Outperform
Telit's stock has still outshined competitors like Sierra Wireless Inc., which is down 49 percent this year after being handicapped by supplier shortages, and Gemalto NV, which has lost 11 percent amid a slump in its main business of selling SIM cards, said Benjamin May, an analyst with Berenberg Bank in London. The FTSE AIM All Share Index, which tracks small-cap stocks on the London Stock Exchange, is up just 4.9 percent this year.
May has a price target of 410 pounds for Telit, which implies a 25 percent gain over the next 12 months from Friday's close of 329 pounds.
Telit's net profit rose 34 percent to $13.4 million in the first half of 2015 from a year ago, while revenue climbed 13 percent. Adjusted earnings after income taxes were 10 percent of revenue, compared with nine percent in the first half of 2014.
Full-year sales are forecast to accelerate to 19 percent this year to $350 million. Cats says he's aiming for $500 million in revenue as early as 2017.
Cats is betting on the company's investments in cloud computing and cybersecurity software for cars to fuel that growth. Telit bought assets from NXP Semiconductors NV last year to set up an automotive unit, and Cats says the company has 10 car customers so far, including Audi AG.
"People are thinking they can replicate large contracts with other car manufacturers," said Berenberg's May. "For a $300 million revenue business, it can be material."