Getting In Bed With Amazon Made Microsoft Stronger – Seeking Alpha
Microsoft (NASDAQ:MSFT) is the fastest-growing rival of Amazon (NASDAQ:AMZN) in cloud infrastructure. Azure and AWS are the two leaders in the $11 billion/quarter cloud infrastructure business. However, they have entered into a new partnership. Microsoft and Amazon agreed to let each other's voice-based artificial intelligence platforms Alexa and Cortana work together.
By collaborating, Microsoft and Amazon positioned themselves to better benefit from the coming $13 billion (estimate for 2024) market for smart speakers. This initial cooperation can also lead to Azure and AWS accessing each other's user population. Microsoft is promoting Cortana for the enterprise. Alexa is also being proposed to help small businesses. Some of the 20,000 Alexa skills available today allow businesses to interact with their product/service users/buyers.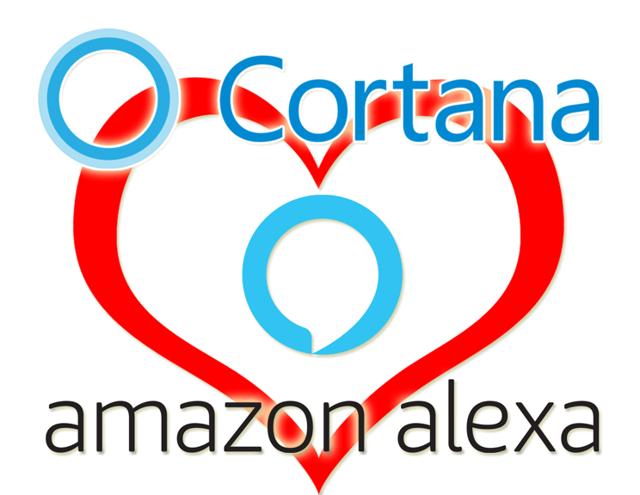 (Source: Motek Moyen/Amazon/Microsoft)
This new alliance can help negate the looming threat of Alphabet's (NASDAQ:GOOG) (NASDAQ:GOOGL) plan to offer its Google Assistant to third-party device manufacturers. Google Assistant is already considered as the best digital assistant. Amazon and Microsoft needed each other to keep pace with Google Assistant. Amazon and Microsoft both failed as a smartphone vendor. They can help each other become decent vendors of smart speakers.
Bing has been providing the search engine requirement for Alexa-powered devices like the Echo. It could also become the default search engine for people accessing Alexa-enabled AWS services from their computers, tablets, and smartphones. Voice-based digital assistants can help Microsoft improve Bing's low share in search engine usage (7% on desktop and 1.5% on mobile). People are now using Cortana as a search engine on Android/iOS devices and Xbox consoles.
Going forward, voice assistants are important channels where businesses can interact with their customers. Instead of using touchscreen devices and computers to serve real-time AI services, screen-less devices like the Amazon Echo can be more convenient to ask about a company's products/services. Instead of putting up expensive CRM solutions, businesses can code a Cortana or Alexa chatbot to build lasting relationships with their customers.
An AWS client who makes an Alexa chatbot can interact with its employees/customers through Alexa and Cortana-enabled devices. The same thing holds true for an Azure customer who makes a Cortana chatbot.
What's In It For Microsoft
Microsoft is coming up with a Cortana smart speaker made by Harman Kardon. The 20,000 Alexa skills can help Cortana make the Harman Kardon immediately useful for many applications. Going forward, I expect Surface-branded home speakers to also eventually be sold.
I declared that Windows 10 Mobile is left for dead. However, I think Cortana could be Microsoft's ace-in-the-hole playmaker on non-PC devices.
Cortana's partnership with Alexa allows Microsoft to access Amazon's industry-leading online market place. Cortana users could shop for groceries and other items from Amazon or Whole Foods (NASDAQ:WFM). Microsoft isn't going to get any cut on Amazon shopping done via Cortana. However, it can gather user data/intelligence from Amazon shoppers which can help its digital advertising business.
Yes, sir. Amazon letting Cortana and Bing work with Alexa is a boost to Microsoft's data gathering efforts. Microsoft needs a growing library of personal data to improve its advertising business. Improving the accuracy of targeted Bing search ads and display ads requires Microsoft to build a library of personal data as large/intrusive as Google's. Amazon's Alexa users can help improve Bing's position in the $102 billion search advertising industry.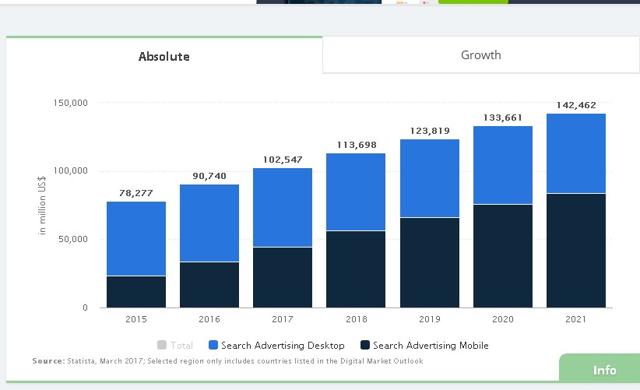 (Source: Statista)
Product manufacturers and their chosen marketers would love to know the personal shopping habits of Cortana and Alexa users.
Why Amazon Decided To Get In Bed With Microsoft's Cortana
Amazon decided to marry its Alexa to Cortana because it will compel Microsoft to stop engaging in a price war against AWS. Microsoft's Azure is growing faster than AWS, IBM (NYSE:IBM) Cloud, and Google Cloud because of its willingness to lower subscription prices. Sharing its crowd-sourced 20,000 Alexa skills to Cortana is a small price to pay to slow down Azure's growth. Letting Microsoft take a peek on people's online shopping habits is not detrimental to Amazon's core e-commerce business.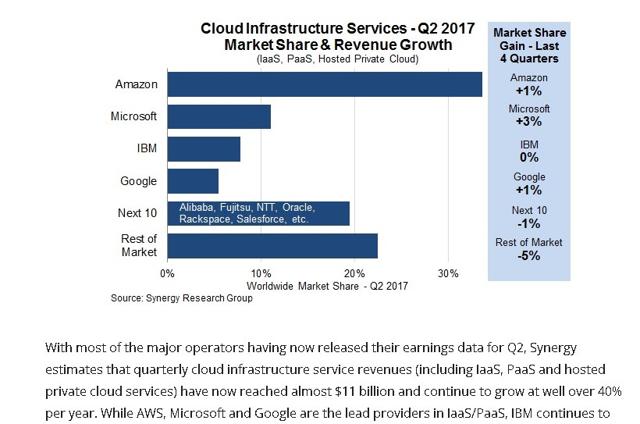 (Source: Synergy Research)
Amazon's already razor-thin net profit margin can get worse if Microsoft continues to lower its Azure prices just to catch up with AWS. Amazon needs the higher margins possible from AWS customers to help offset its low-margin approach to online selling. A prolonged nasty pricing war on cloud infrastructure services is bad for all players concerned.
Conclusion
MSFT and AMZN are worth adding to your long-term portfolios. Microsoft's push for Cortana smart speakers needed Alexa's robust number of third-party developed skills. Bing Ads needs the personal shopping habits of Amazon shoppers. Amazon needs Bing and Microsoft's 145 million Cortana users. Cortana users who can now access Alexa could become loyal shoppers at Amazon/Whole Foods.
It is a symbiotic partnership. Google will probably have to team up with eBay (NASDAQ:EBAY) or Alibaba (NYSE:BABA) to equalize this Microsoft and Amazon alliance.
Disclosure: I am/we are long MSFT, AMZN, GOOG.
I wrote this article myself, and it expresses my own opinions. I am not receiving compensation for it (other than from Seeking Alpha). I have no business relationship with any company whose stock is mentioned in this article.
CommentsWrite a Reply or Comment: