From Gaga to Affleck, latest release shows who had Clinton's personal email … – Fox News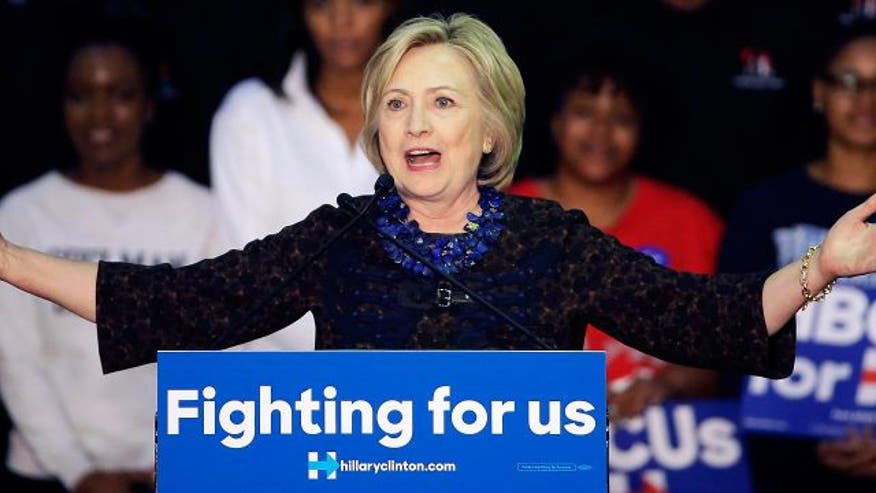 Americans will have to wait until President Obama leaves office to see his email exchanges with then-Secretary of State Hillary Clinton. But a new batch of State Department emails from when Clinton ran the agency reveals the breadth of her personal network — from Lady Gaga to then-British Prime Minister Tony Blair.
The 7,000 emails released Friday show her Rolodex included powerful celebrities, CEOs, political advisers and politicians that she's now tapping for her Democratic presidential campaign.
The release, the largest since the State Department began posting the records in May, show Clinton and her aides balanced requests from a long list of boldface names.
Lady Gaga complimented her, Blair praised her for doing the "Lord's Work," Myanmar's pro-democracy leader Aung San Suu Kyi asked for technology help and former President Jimmy Carter pitched in on negotiations with North Korea.
But as with prior releases, any communication between Obama and Clinton was absent. 
An administration official told Fox News there is a "small number" of such exchanges and described them as "mostly non-substantive" because the two leaders conducted most their discussions in person or by phone. 
The White House position is that the president's communications are not subject to public record requests under the Freedom of Information Act and can be withheld until he leaves office in 2007.
The George W. Bush White House likewise held that his correspondence would not be released until he left office, while the Clinton campaign has pledged to make her records public. 
Meanwhile, the State Department plans to release a total of 55,000 emails handed over by Clinton, who was using a private email address and server during her tenure as secretary of state, from 2009 to 2013.
A State Department spokesman said the latest batch contains 200-300 emails with information that has since been deemed classified. 
Heavily redacted exchanges regarding Burma, Iran, Iraq, Syria and Yemen are among the retroactively classified emails in the batch. 
Clinton has faced questions about whether her unusual email setup, which involved a private server located at her New York home, was sufficient to ensure the security of government information and retention of records.
At least two Senate committees are still investigating her email arrangement and seeking the release of correspondence from her top aides. The FBI is also investigating the security of Clinton's private setup.
Clinton has maintained all along that she had never received or sent any classified documents under the setup.
Republicans and others investigating the 2012 terror attacks on a U.S. outpost in Benghazi, Libya, have shown that Ambassador Chris Stevens, who died in the strikes, made numerous official requests for additional security. However, he did not appear to have Clinton's private email address. 
Unclassified exchanges include an email from close adviser Sidney Blumenthal, who refers to Obama's faltering poll numbers, calling it the "vulnerability of charisma." Blumenthal has been a frequent name among the thousands of emails already released, often offering the then-secretary advice and gossip on foreign policy flashpoints, including the run-up to the intervention in Libya. 
Though past email releases showed Blumenthal offering advice mostly on Libya, this batch showed him also writing to Clinton about Syria and other countries. 
Some communications even pertained to the use of personal email. 
A June 2011 email from senior official Anne-Marie Slaughter to Clinton advised "it would be a great time for someone inside or outside to make a statement/ write an op-ed that points out that State's technology is so antiquated that NO ONE uses a State-issued laptop and even high officials routinely end up using their home email accounts to be able to get their work done quickly and effectively." 
Republicans zeroed in on the fact that hundreds more emails contained retroactively classified material. 
"This court-ordered email release is another reminder of why Hillary Clinton cannot be trusted in the White House," Republican National Committee Chairman Reince Priebus said in a statement.
While Clinton's private email address was unknown to much of official Washington, at least one Hollywood celebrity wrote to her there. Actor Ben Affleck, a longtime Clinton supporter, urged her in April 2012 to review a draft of a report about security problems in the Democratic Republic of Congo.
Roughly half of Clinton's 30,000 work-related emails are now public, and the State Department's effort to release the rest will linger into next year. Most of the correspondence made public to date involves the mundane workings of government — scheduling meetings, organizing secure phone lines and booking flights.
A few of them hint at the ways Clinton maintained her network of campaign donors, even while serving in a position at a distance from electoral politics. In a June 2011 message, an aide informs Clinton that longtime donor Susie Buell contributed $200,000 toward a summit at which Clinton was scheduled to speak.
"She wants it to be wonderful for you," wrote Clinton aide Melanne Verveer.
Other emails highlight the struggles of her daily life at the State Department.
In April 2011, daughter Chelsea Clinton, using the email alias Diane Reynolds, emailed her mother a link to a Wall Street Journal story headlined "The Sleepless Elite: Why Some People Can Run on Little Sleep and Get So Much Done."
Fox News' Ed Henry and The Associated Press contributed to this report.
CommentsWrite a Reply or Comment: